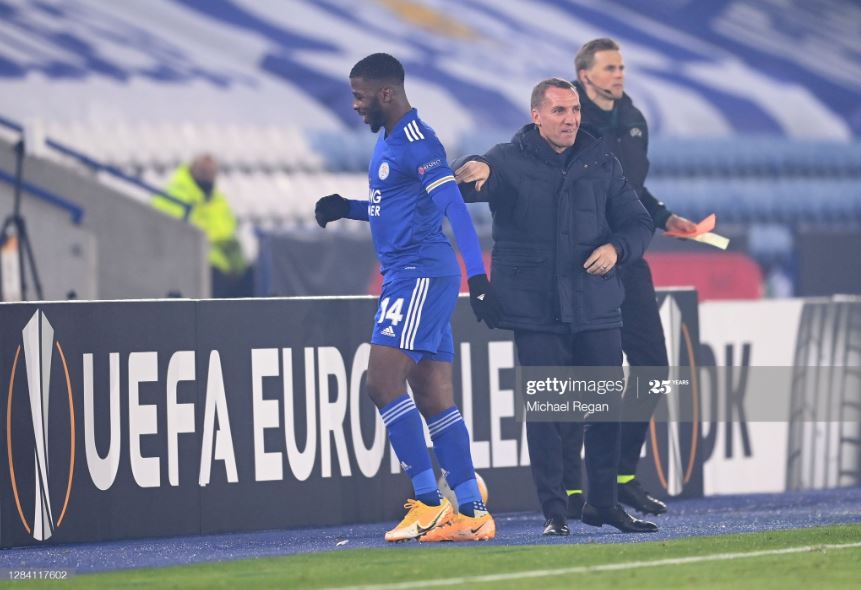 On the back of a great run of form, Leicester City host Wolverhampton Wanderers in the hopes that they can carry on their winning streak.
The Foxes come in off the back of a five game winning run in all competitions, with the latest coming in the form of a 4-0 victory over SC Braga in the Europa League.
Wolves too find themselves in a good run of form, with three wins in their last four games as they come into the game fresh off a 2-0 win against Crystal Palace.
Brendan Rodgers faced the media ahead of the match and here are some of his key quotes.
On the opponents
"Last year we had two 0-0s! It will be a tight game. Nuno's teams have a clear structure, that back five, and he's done a fantastic job. They've been very consistent. They've got no European football this year so have a clear run. I think he's done an outstanding job.
"They've got a balance in their team. Conor leads them so well, a great communicator and plays with real quality. Jimenez has great mobility and scores all types of goals. They're a very good side. I'm looking forward to it on the back of how we've been playing."
After two closely fought stalemates last season, both sides will want to gain the edge this match.
The trajectory of both teams has been very similar from their time in the championship to now, with both sides looking to gatecrash the top six. Leicester will likely set up with the five at the back which has served them well, meaning that they will match up with Wolves' preferred formation, further emphasising the similarities between both sides.
On Kelechi Iheanacho
[Rodgers on whether Iheanacho will be Vardy's replacement] "I don't really think of that. At this moment, the boy is doing fantastic. He's a player I love working with, he plays with a smile on his face. We want him to run in behind more and he did that last night constantly, as he showed on the first goal. He's got a lovely touch and is hard to knock off the ball. He's been invaluable for us. It was great to see him get his goals and work hard for the team."
Iheanacho has been in scintillating form for the Foxes when he has been called upon, with his European performances catching the eye in particular.
Despite Rodgers denying the claim, a successor to Vardy will be soon, if not now, on the minds of those associated with Leicester as their talisman's time will now be somewhat limited due to his age.
While Iheanacho's move to Leicester from Manchester City has not always looked like a success, the Nigerian's progress under Rodgers has been exceptional and due to the busy schedule ahead, he will surely see a lot more minutes.
On squad depth
"I'll always support them because when I ask them to play for me, you're putting them in a stress situation, but they've been incredible. It typifies the professionalism the guys coming in have. We spoke about that in pre-season. It's a testament to the guys that have come in and how they've performed to a really high level. They're a group with a great spirit.
"We lost a couple of games, but they learned from that and have played some fantastic football. With the Premier League, you have to have humility, because no matter how well you're doing, you've always got a tough game coming up next. That's what we're looking forward to against Wolves."
Due to the injury situation that the club finds itself in, the entire squad has had to be ready to step in as the games come thick and fast.
Plenty of members from the squad has shown with their success of late that they have not been disheartened by not being picked and instead, looked to take their chances with both hands. It is a testament to both the players and Rodgers for the mentality around the club as everyone looks united towards the same cause.
On experience within the squad
"Firstly it's behaviour. When players are experienced, they come in and have a way to prepare. They get in early and get themselves right for training and then they give everything. The young players here are very fortunate. Looking from afar, Morgan, Albrighton, Fuchs, they have real authority around the place. They're real leaders. You don't have so many leaders nowadays but I've got lots. They'll talk to the young players and tell them. If you're clever as a young player, you'll pick up on that."
Since the title win, Leicester have done well to lower their average age as they look to the future, while keeping experience within the squad to help the young heads.
The players that Rodgers highlighted had all won the league with the Foxes and have enjoyed successful careers with the club, something that will act as inspiration to players with the majority of their careers ahead of them.
On football in the pandemic
"We're in a period now where it feels normal in terms of our testing. We train and work in a bubble. I read a story about where a supporter was going through the turnstiles and was crying because he couldn't believe he was going back in. There are many people who go to work and don't enjoy their job and there one relief is football. At the minute, they don't have that. Our wish is to get supporters back. Until that happens, we'll cope as best we can."
It has been a hard period for everyone involved with football, from the clubs themselves to the fans.
While the players may get more acclimatised to the situation, it would be wrong to say that they could get used to it as the situation is unprecedented.
It has proven difficult for clubs to involve their fans as they cannot replace the act of attending matches, as it has been for the players to channel support in order to inspire them but as Rodgers says, all everyone can do for now is cope.