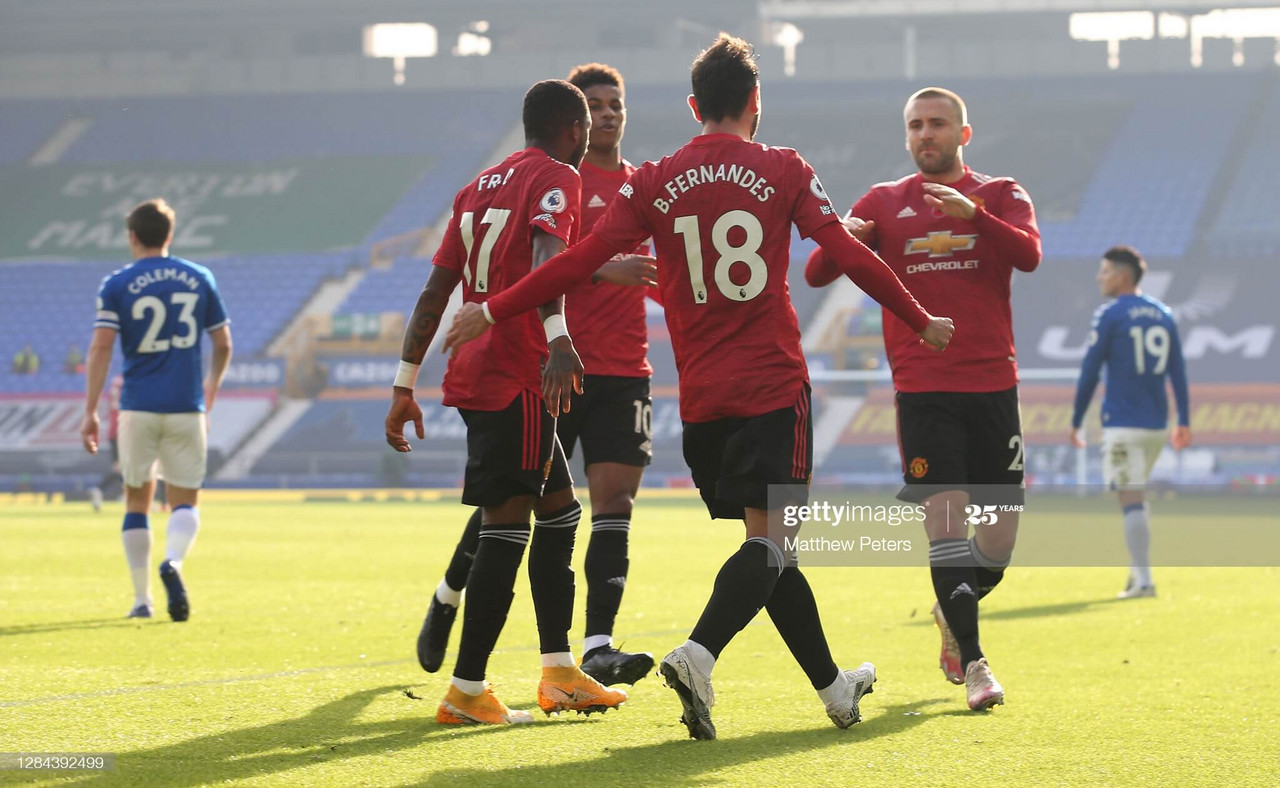 Ole Gunnar Solskjaer will be grateful to Bruno Fernandes this evening after the Portuguese playmaker scored twice and set up the third as Manchester United came from behind to defeat Everton at Goodison Park. The United manager was not quite in the danger zone come kick-off but he wasn't far away following a challenging week.
In reality, two defeats don't make a crisis and one win doesn't fix one, so without reading too much into United's week and without taking too much from this victory, Solskjaer will be happy to have two weeks to himself and regather his thoughts in what is one of the most challenging yet rewarding jobs in football.
United better suited away from home
Despite United's inconsistencies, which have come to the fore in a contradictory start to the campaign that's featured some good and equally a lot of poor displays, they remain consistently solid away from Old Trafford in the Premier League. This was their seventh successive such win, equalling the club record set by Sir Alex Ferguson's team in 1993, and it is not since January that they last lost, against Liverpool.
That is in stark contrast to United's league form at home, which has only seen three goals scored in four games and is yet to feature a win. This was further evidence that United are currently better suited to playing away.
Fernandes gives his all
Fernandes overturned Everton's opener by powering home a header and dinking a ball goalwards which didn't require a touch as it spun in off the post. It was also Fernandes's charge forward in second-half stoppage-time that led to United's third. He broke upfield and played in Edinson Cavani for his first goal for the club having come on off the bench.
This was ultimately a pivotal performance from Fernandes but it was not his best in a United shirt. He gave away the ball more than usual and was searching for fouls and the referee's attention just as much as the next goal. In fact, it would not be too much to say that Fernandes was fortunate not to be sent off. He was already booked when he clattered into Seamus Coleman, his duelling partner for the afternoon, in what was a second bookable offence in the final 10 minutes.
Solskjaer upset with authorities
After the game, Solskjaer was irate at the scheduling of this fixture with United having travelled to play in Turkey on Wednesday and then being given the early kick-off on Saturday. The United manager branded the decision an "absolute shambles" and pointed the finger at the Premier League.
"I can't praise the boys enough for the character they have shown," Solskjaer said. "Those boys deserve better than being thrown out here to fail. The authorities set us up to fail. How can, after a Champions League game on Wednesday night in Turkey, they set us a Saturday 12:30 kick-off?
"You have to understand how these players, in these times, how mentally and physically draining this is. And you set them up like this? We've lost Luke Shaw [who went of injured in the second half] because of that. Set us up on Sunday then, there is no argument whatsoever. It's just a joke!"
Everton no longing flying
If this victory was a valuable victory for United then it was further evidence that their opponent's fantastic start to the season is over. Carlo Ancelotti's team have now lost three consecutive league games and drew the one prior meaning that their four game winning run at the beginning of the campaign has been followed by a four-game winless sequence. This was their first loss at Goodison Park and will provide Ancelotti with food for thought.
The Everton manager addressed the team's defensive issues before the game; they have only kept one clean sheet so far this season in the league. They allowed United, and specifically Fernandes, to craft their way back into the game. Their defensive press was not aggressive enough despite seeing two first-teamers in Coleman and Mason Holgate return to the defence following injury lay-offs.
Richarlison a huge miss
Everton's defence may have been wobbly for some time but earlier in the campaign they countered that with a potent attack. It is too easy to say that they miss Richarlison, who was serving the third game of his three-match ban for a foul on Thiago Alcantara in the Merseyside derby, but it was clear that they do. Everton have now lost each of the eight games that the Brazilian has missed since joining the club in 2018.
Here, the home side created very little that tested David De Gea. Dominic Calvert-Lewin was often left isolated and despite trying to influence the game when the ball was sent towards him, he was well marshalled by Harry Maguire and Victor Lindelof. Bernard, Everton's goalscorer with their only shot on target, was their brightest spark and performed with dynamism on the left having been given a rare start by Ancelotti.
But that was not enough; James Rodriguez was quiet and Everton's attacking reserves (Alex Iwobi and Cenk Tosun) were hardly inspiring. It fell to Abdoulaye Doucoure who had the best chance to salvage something for the home side late on but he is not known for scoring and skied his effort. Everton's deteriorating form, both in defence and attack, will be starting to concern Ancelotti.