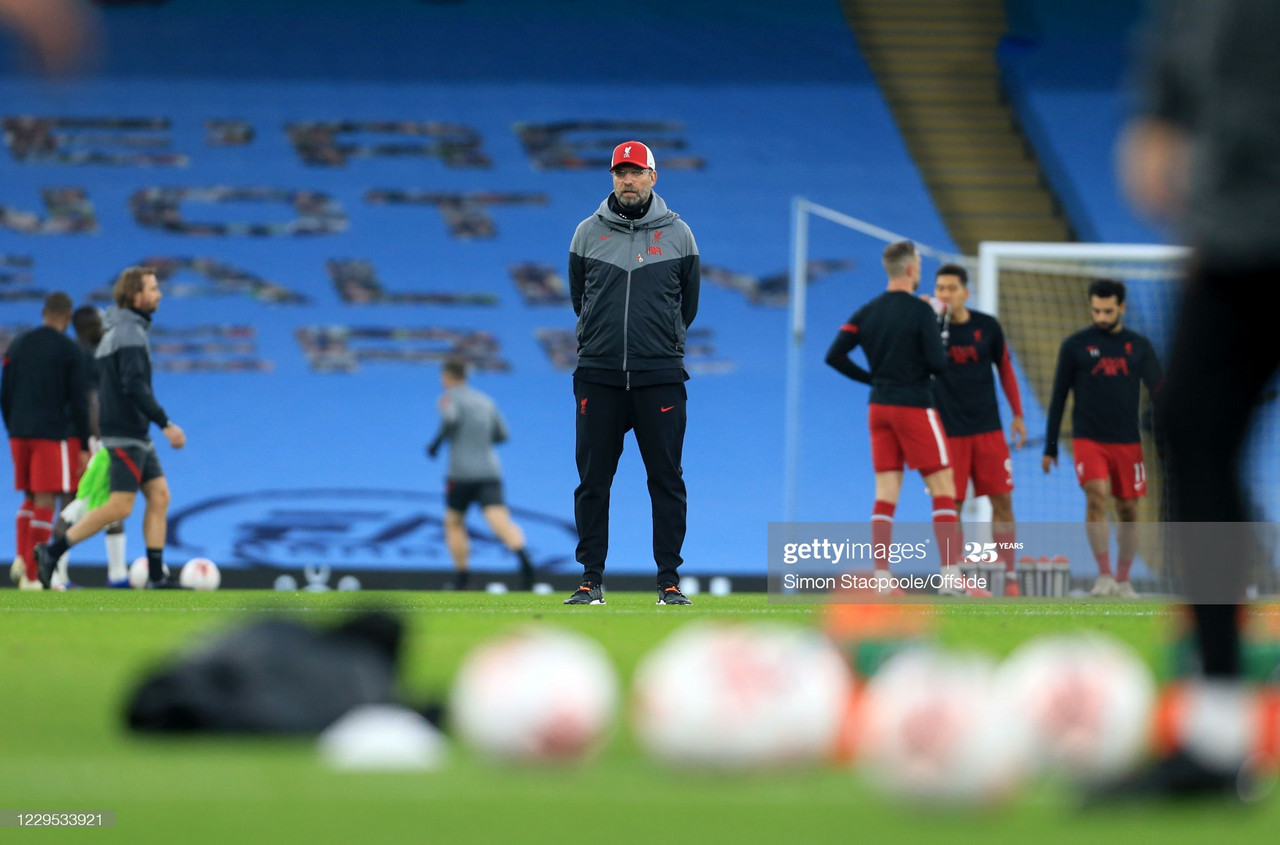 Liverpool go into the international break a point off the Premier League summit after a tense draw with Manchester City.
Mohamed Salah's penalty rewarded the Reds' electric start before hosts City responded through Gabriel Jesus.
Pep Guardiola's men were poised to complete the turnaround when Craig Pawson made the divisive decision to penalise Joe Gomez for handball, but Kevin de Bruyne inexplicably sent his spot-kick wide.
After a compelling first half, City shaded a scrappier second period but couldn't strike a blow to the reigning champions.
Here are the headlines from Jurgen Klopp's post-match press conference, with the full transcript available on liverpoolfc.com.
On his chief frustration
"The start was probably our best period. Against City you have to use your chances. For the football we played in that period we didn't have enough, 100%."
For the first quarter of the game, Liverpool were on top. They were sweeping up the pitch with the pace and purpose they had displayed in their midweek rout of Atalanta.
Either side of Salah's penalty, there were openings. City were initially struggling in the face of the Reds' unexpected aggression.
But too often those four-on-four openings were not leading to clearcut opportunities. The final ball tended to be undercooked, forcing players to check their run, or overhit, taking some of the venom out of the attack.
And Klopp clearly feels that, had the Reds been more ruthless, they could have taken command.
Overall, though, he was 'really happy' with a point in a fixture he had billed the toughest in football.
On the novel 'front four'
"From now on we can play that system, it worked well tonight. We wanted to use the skills and the power of the four up front. I don't think Pep knew we'd play that."
To Klopp, the scintillating form of Diogo Jota created an opportunity rather than a headache.
He sprung a surprise by selecting both Jota and an out-of-form Roberto Firmino in his starting line-up.
The resulting 4-4-2 worked well at first, but in the second half City were able to harness their numerical advantage in the middle of the park.
Indeed, it is an apparent trade-off between attacking overloads and a thinner midfield presence.
Even though the Reds were repeatedly forced into rather hopeful long balls after the break, Klopp saw enough to talk up the long-term prospects of the new shape.
He did admit, though, that disrupting Pep Guardiola's plans was part of his motivation. Now, managers will be prepared for the 4-4-2 eventuality.
On the handball rule
"Handball, offside, armpits, all these things, why do we talk and not people who can make a difference? Maybe they think it's right?"
Klopp confessed that he had not yet seen the replay of the penalty that went against his side.
Joe Gomez's running motion appeared natural before Kevin de Bruyne's whipped cross struck his trailing arm.
For Klopp, the ongoing debate isn't proving to be constructive.
The footballing rationale for these deeply unpopular decisions requires explanation, he says.
On Trent Alexander-Arnold's injury
"Trent will be out for England, that is clear.
"What he has, we don't know, but he cannot play for England. He will not be the last and not the only one who Gareth [Southgate] will miss for this international break."
Liverpool's injury woes show no signs of abating.
Their latest concerns surround Alexander-Arnold, who was withdrawn on the hour with what looked like a calf injury.
A scan on Monday should reveal its seriousness.
But his absence will be expected to extend beyond three international fixtures. Liverpool are set to face the current league leaders Leicester on their return to action, and they will likely do so without their principal playmaker.
On the 'necessity' of five subs
"All the other teams have to understand. It's not an advantage, it's a necessity. We have to talk again. [Richard] Masters sold it completely wrong. We are the only big league with three subs."
The latest muscle injury prompted Klopp to again air his dismay at the decision to revert to three substitutes.
He issued the strong accusation that Premier League Chief Executive Masters had shown 'a lack of leadership' on the issue.
To Klopp, it was unfairly presented as a competitive advantage to the top teams with the deepest squads.
But the Liverpool boss thinks it a matter of player protection when, in his words, squads continually face a level of fixture congestion usually reserved for the festive period.