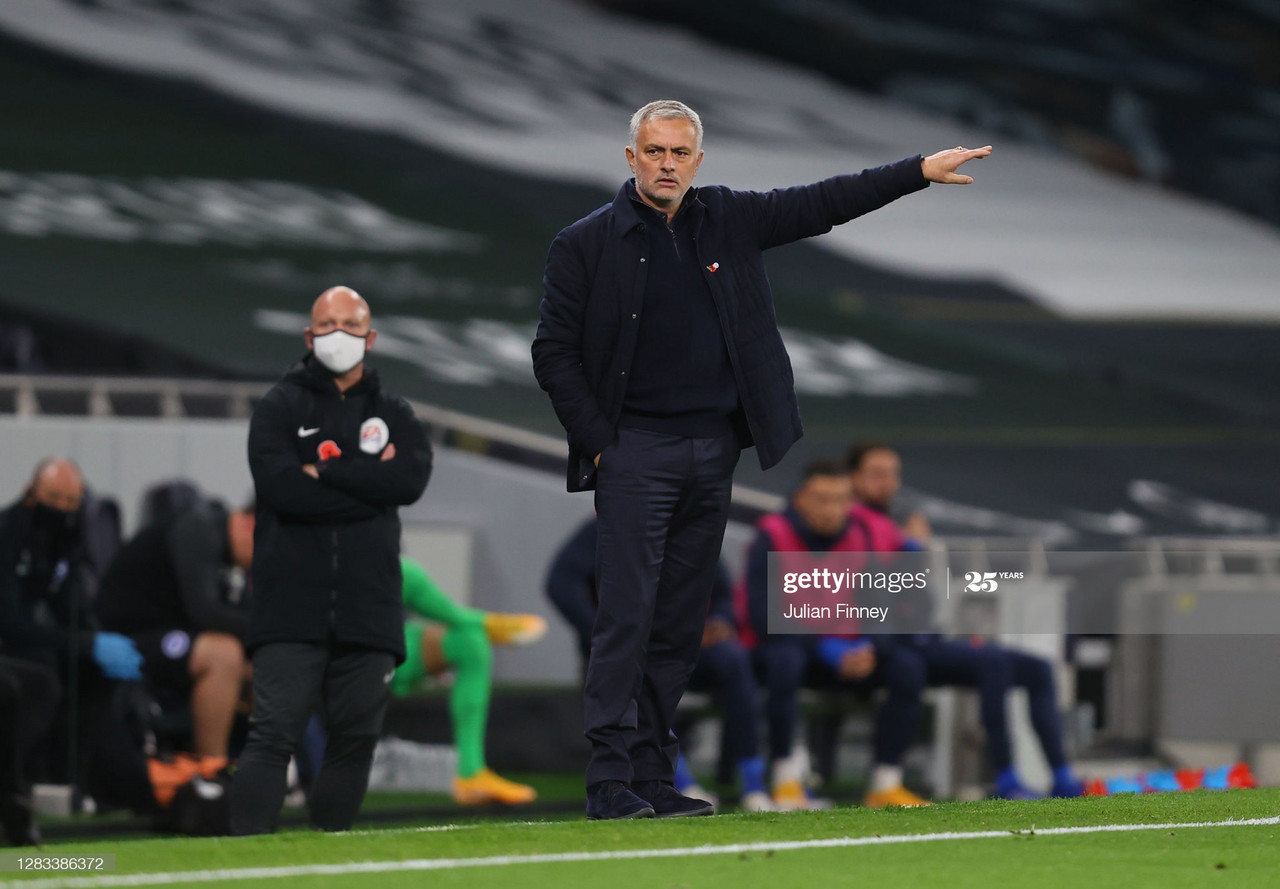 In around the 80th minute of Sunday's game at West Bromwich Albion, it felt Tottenham Hotspur might have to settle for a 0-0 draw.
Spurs had their moments but were painfully average in attack, and made life far too easy for the hard-working West Brom side.
Tweets, Facebook posts, and text messages were being sent out throughout the country along the lines of:
"Typical Spurs. Bottle the chance to go top of the league against West Brom. Spursy!"
At which point, Jose Mourinho's team seemed to come to a crucial collective moment where they decided they were not going to let this happen.
They started to throw everything at it, and so in a crushing climax, they set about finding an opening. It didn't matter how, why, where, or who. Just score a goal.
When Matt Doherty sent a searching ball into the West Brom box, it was met by Harry Kane's head, but it was also met with a brilliant visual showcase of what Tottenham are about nowadays.
This is what Mourinho's Spurs are starting to do: find a way. Win ugly.
But this new, grinding out results look is only a sudden revelation, as the opening involvements of the season showcased this team's other vibrant trait where they score goals for fun.
It's only been eight matches, but this campaign has shown Spurs' split personality disorder. This is not a negative thing though.
Let's delve into Jose Mourinho's Jekyll and Hyde Tottenham:
Before we focus on the more current topics, it is important to state that we have witnessed Spurs score lots of goals this season, and also blow some teams away.
Tottenham have scored 19 goals in the opening eight games, which is only one behind the most Chelsea, on 20.
The trips to Southampton and Manchester United are the two best examples of when this team can explode into life, and exploit teams where it hurts.
They scored 11 goals in these two games and showed what they can do when they come out of their shell. The two fixtures both have something in common, which correlates as to why Spurs were successful.
Let's go over both of them.
Southampton use a ferocious pressing system under Ralph Hasenhuttl, and rarely contain a common tactical shape, as when they lose the ball, they attempt to win it back rather than regroup.
In an attempt to enforce this, they also deploy an extremely high line to try and suffocate teams with their high press.
This can be extremely effective, and it's been a key component towards their excellent start to the season which sees them in fourth position going into the international break. But all of this fell straight into Mourinho's plan.
Tanguy Ndombele and Harry Kane, who both operated as 'free eights', are both extremely press resistant so they bypassed Southampton's pressure well.
Kane was on top form that day. When he got past the press and in the lines, Son would run in behind the high-line and the England captain spoon-feed four goals for the Korean. Yes, four assists.
Manchester United now.
United looked to press high up the pitch with a man-oriented setup. However, the front three didn't support the press wholeheartedly.
As soon as the ball was played out wide United's fullback would step up. Paul Pogba and Nemanja Matic attempted to cover the central positions.
This was a very risky strategy deployed by Ole Gunnar Solskjaer because if Tottenham was able to play out the press and switch it to the opposite flank it would result in a huge problem for United's backline to timely shift across in their normal shape.
Yeah, you guessed it. Spurs were hugely successful in executing their plans and they completely outclassed United's strategy and pressing system.
The two stunning performances of the season have been when the opponent tries to press-high and have intentions to attack them.
When teams allow too much space, Spurs can seriously crush teams with their counter-attack transitions.
Other recent performances, where they have been lazy, are when the opponents allow them the ball and deploy a low-block while restricting space effectively.
Hyde does have negative connotations, but in this case, it's the opposite. Every top team needs to have this exact trait.
Take this with a pinch of salt, as this is the sort of meaningless statement that you can never prove. But Spurs do not win that game against West Brom last season.
You take a look at the previous campaign, and while it's only one example – it's by far the best. Bournemouth away, 0-0.
It was a game squashed right in the middle of the hectic project restart. Tottenham failed to muster up a shot on target and looked generally off the pace for most of the affair while having the lion-share of possession. Fairly similar, right?
Okay, it's one example and football is much more complex than that. Stop shouting at me. But come on, how many games last season can you name when Spurs won but didn't deserve it?
Maybe one or two, but there's already been three in the last two weeks. Burnley, Brighton, and West Brom.
Burnley: Poor and lazy build-up play. Burnley restricting Spurs to nothing in the final third. Heung Min-Son and Kane combine at a corner. 1-0. First shot on target.
Brighton: 1-1, 70th minute. Getting out-worked and Brighton are dictating the affair. Sergio Reguilon cross finds Gareth Bale, who heads home. 2-1.
West Brom: 88th minute. Pretty average, should've scored before this but West Brom containing Spurs fairly well. Doherty cross, Kane header. 1-0.
Right, many will ask the big question. Why are you gloating about this? Spurs have, in the main, played poorly in these games while also riding their luck.
Yes, this point stands. However, life would be bliss if we could just stick our feet up, sip on a cocktail while watching Spurs blow away lower sides every week. It's a shame because that sounds rather nice, but it's just not the case.
Although, three games in a row to win in this sort of manner is a bit much. Not only for the mental health of Spurs fans but because a team that owns this quality should be making easy work of at least one of these games.
As is the way with everything, context is important. They had three Europa League fixtures squashed in the middle of all of these fixtures. Mourinho names strong teams for these games , meaning a lot of players have to share their minutes between.
Two of those games involved trips to Belgium and Bulgaria. It's so often stated about the problems playing on Thursday – Sunday, and the myth states that it results in sluggish and lazy performances on the Premier League game.
This is without a doubt a massive contributing factor to why Spurs have looked fairly underwhelming in these games.
But this is why the overall point is so meaningful - they achieved nine points out of these games, while also grabbing two clean sheets on their way. On paper, it's been a great run.
It is also important to remember that the team are still working on it's cohesion, while also slowly getting fine-tuned into Mourinho's ways that for sure require time and training to be fully comfortable in.
This team isn't the finished product yet.
For example, it took Jurgen Klopp three years to carve out the perfect squad to deliver his complex pressing system constantly. The process was trusted, and he has taken over world-football.
But if this is school, and Spurs are learning the subject of Mourinho's system, they are getting A+ in all their exams at the moment.
This is all so wonderfully Mourinho. Grinding out the games, finding an opening, winning the game, and seeing it out cleverly. Rival fans hate it, and his own fans lap it up.
The West Ham United slip up was a horrible, alarming anomaly. But the reaction has been fantastic.
The three ugly wins in a row were met by multiple heart attacks but also a great sign that this team is capable of doing what every top team in history has done: win when playing poorly.
Their next three Premier League fixtures include Manchester City, Arsenal, and Chelsea. Which Spurs will show up?
Whatever different opponents throw at them, it looks like Mourinho's Tottenham have the answers on how to win.