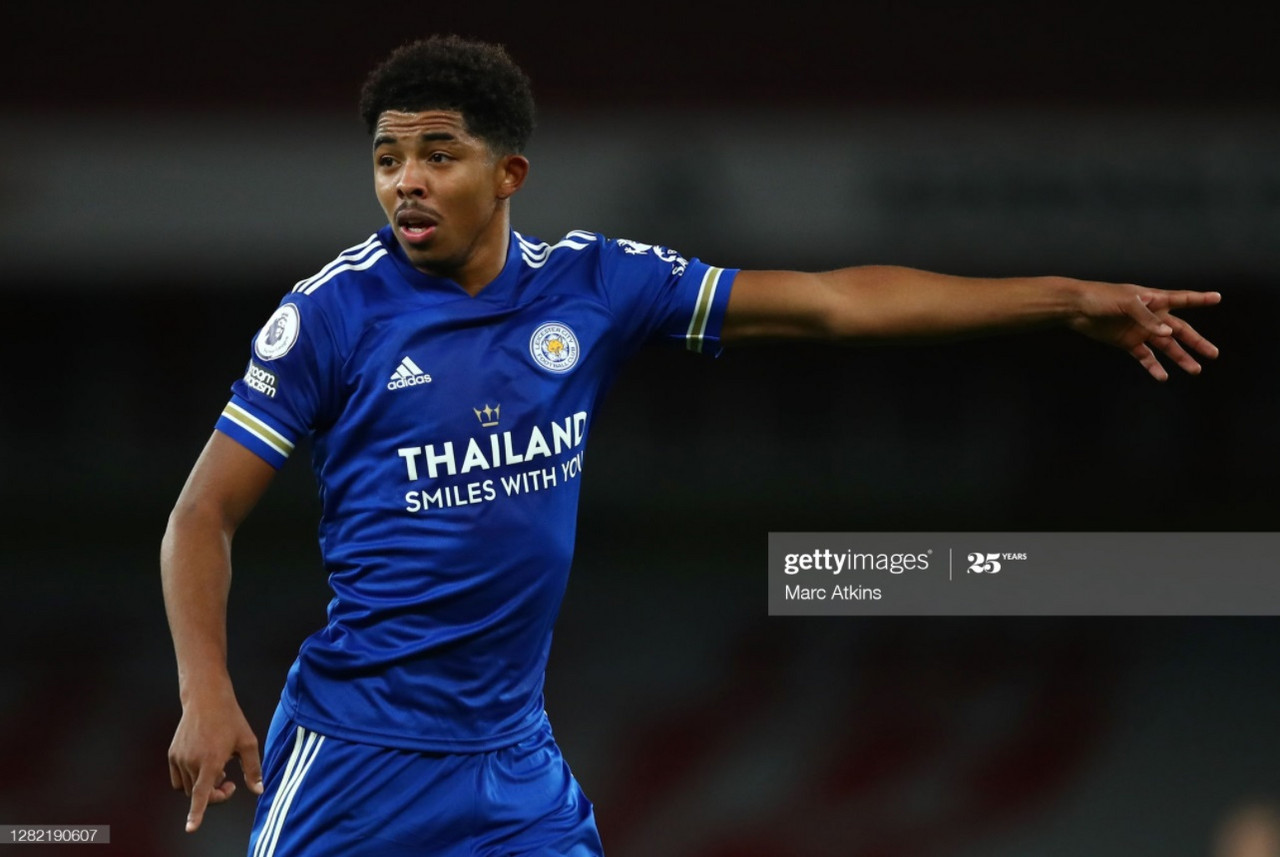 It would be an understatement to suggest that Wesley Fofana has had an impressive start to life at Leicester City despite the risk in bringing him to the club.
Signed for approximately £30m from Ligue 1 outfit Saint-Etienne in the summer transfer window, the 19-year-old has thus far defied his tender years by putting in a series of accomplished showings, those usually expected of far more experienced centre-backs.
Whilst still early days, Fofana's numbers throughout the 2020/21 season put him in the upper echelon of defenders in the Premier League and indicate why the Foxes were so keen to secure his services.
Instant impact
Since making his debut for Leicester City, the Frenchman has gone on to make seven appearances for the Foxes, somewhat due to the respective absences of regular centre-back pairing Caglar Soyuncu and Jonny Evans.
In that time though, Leicester have been in excellent form, winning six out of seven matches in all competitions, claiming top spot in both their UEFA Europa League group and the Premier League table. In fact, Brendan Rodgers men possess the joint-best defensive record in the league having conceded nine goals in eight games, with just two of those goals coming in matches where Fofana has played, meaning the respective absences of Evans and Soyuncu have gone relatively unnoticed.
On the front foot
One of the compliments that supporters and Rodgers have paid to the France U21 international so far is his proactive approach to defending.
Following the slender 1-0 win against Wolverhampton Wanderers last weekend, the Foxes boss said of the centre-back: "We knew he [Fofana] was a top player for someone so young, and when we spoke to people out there and seeing all the clips, you could see he has anticipation as a defender, he has speed, he has aggression, he defends forward, so all the attributes we like here."
That style is certainly been clear to see so far, with Fofana producing 12 interceptions in his four Premier League matches.
When comparing these statistics to the stellar performances of Virgil van Dijk last season, and Aymeric Laporte in 2018/19, as well as former Foxes defender Harry Maguire last campaign, Fofana comes out way on top with three interceptions per game. The Liverpool, Manchester City and Manchester United defenders are some way behind at 1.1, 1.2 and 1.9 respectively per 90 minutes.
Excellent awareness
Despite his age, Fofana has also already developed an elite, and almost innate, awareness of danger. Throughout his four Premier League appearances to date, he has produced 18 clearances, almost 4.5 per match. Again, that means he continues to out-perform the likes of van Dijk, Laporte and Maguire in those instances.
Those numbers will of course level themselves out as the season progresses but they are already particularly impressive considering that he is a teenager playing outside of his home country for the first time.
A defender first
One of the main reasons that Brendan Rodgers and his charges brought Fofana to the East Midlands was his comfort on the ball and that has been vindicated with the Frenchman possessing an impressive 83.54% pass accuracy rate. It's not just his passing ability that stands out though, his defensive actions are also in the elite category too.
The former Saint-Etienne man has averaged two tackles per match in the Premier League. When considering that Leicester use a possession-based approach, that is outstanding. If that figure was to be extrapolated over a 38-game league season, he would produce 76 tackles, which would have made him the second-highest tackling centre-back in the league last season – only behind Sheffield United's Chris Basham.
Meanwhile, Fofana is out-performing both Maguire and Laporte at arguably their peak performance levels in the air, with a better aerial duel success percentage than both of those (71.43%), indicating he is equally adept with his head and his feet.
Foxes supporters and Rodgers then will be delighted with Fofana and his start to life at the King Power Stadium, already performing like a seasoned and well-rounded defender. He looks like a risk that was certainly worth taking.