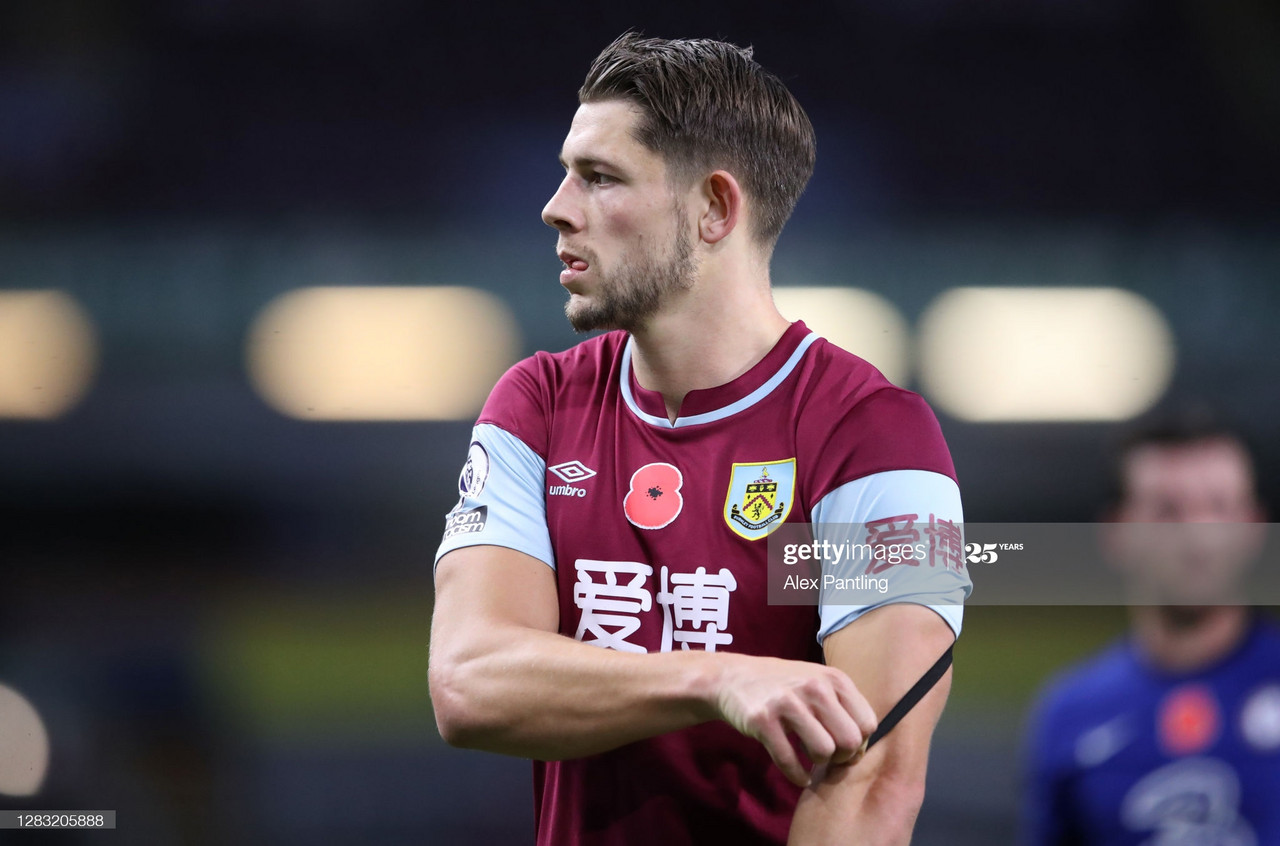 James Tarkowski has expressed his disappointment at not leaving Burnley in the summer in an exclusive interview with The Telegraph. The news has not gone down particularly well with many Burnley fans but should perhaps people shouldn't be so quick to condemn honesty.
The 27-year-old, who turns 28 later this month, was subject to a number of bids in the recent transfer window. West Ham United were the most ardent pursuers, bidding up to £31-million for the central defender, but Burnley would not budge.
Tarkowski had to bide his time after joining the Clarets from Brentford in January 2017. However, after Michael Keane joined Everton, Tarkowski became a regular starter and his performance levels have gone from strength to strength.
Open talk
In discussion with Matt Law, Tarkowski was open about a recent contract offer from Burnley and his ambitions to play elsewhere.
"Burnley offered me a contract near the start of last season," Tarkowski admitted.
"For me personally, it was nowhere near what I was going to sign and I think the club understood. And they've come back again this year, and still, for me, it's just not right.
"Finances do matter, but, at this particular stage, whatever path I take I will get financially rewarded so the financial side is not even in my thinking at the moment. It's more about my football."
The Englishman expanded on his frustrations but also added that he would remain absolutely professional whilst playing for the Clarets. But he also indicated that he may push for a move, later down the line, as his contract moves into its later stag
"We've had two transfer windows now where the club have decided, for whatever reason, that whatever has been offered on the table hasn't been enough and that's fine because I signed a contract for four-and-a-half years. So I won't whinge or not turn up, I just need to deal with it and get on with my football.
"But the longer my contract runs down, I feel I gain the control of my career more than Burnley having the control of it, which is what I feel like I need right now.
"There is nothing I have heard or has been put to me that makes me think there is a scenario in which I would sign a new contract at Burnley. That can change, but currently that is the situation."
Mixed reaction
Social media has been polarising in its reaction to the news. Many fans are annoyed at the timing of the interview with Burnley still without a win in this Premier League season.
Sometimes, you need to get things off your chest. That's the same whether you're a footballer, a businessman or a labourer. Mental health is a big thing and it is now talked about more than it has ever been. Bottling up emotions and frustrations is never a good thing.
It's also worth noting that nothing in his interview is particularly disrespectful. He doesn't take aim at the club in any way and doesn't bring any specific names into the discussion. Nothing has been said to cause friction within the club.
People will argue that talking to a national newspaper is not the best way to express your emotions but it does give the defender a very public platform. He hasn't thrown a tantrum. Instead, he has given a very balanced account of his current thoughts and feelings.
There is an argument that Tarkowski could improve on the pitch as a result of this move. Now, he has nothing to hide and he can play with the knowledge that he has placed his cards on the table for all to see.
It shouldn't be a crime to tell the truth. We are in a world in which telling the truth is overrated. Too often, people, inside and outside of football, favour public relations over authenticity. Honesty should be credited, not criticised.