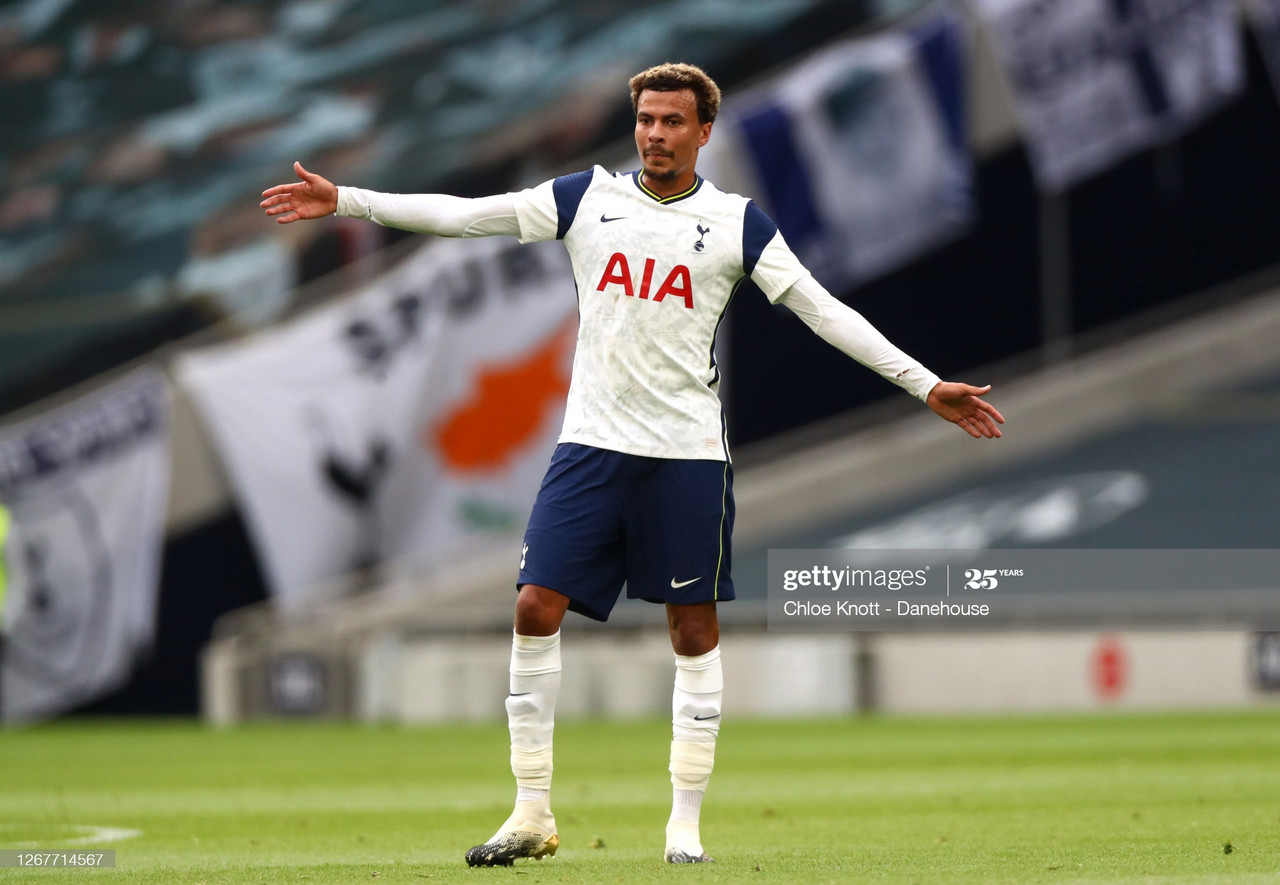 Dele Alli. Where do we start?
A 24-year-old who has played a key role in England reaching a World Cup semi-final, started a Champions League final, and won the PFA Young Player of the Year award in each of his first two Premier League seasons.
As recently as March, he became the youngest English midfielder to score 50 Premier League goals — three years ahead of his closest competitor Frank Lampard. David Beckham, Paul Scholes, and Steven Gerrard are the next names on the list.
Yet, somehow, here we are. He hasn't been called up to the England squad yet again and his last cap was in June 2019.
It would be a genuine surprise if he gets any minutes in Tottenham Hotspur's next three matches against Manchester City, Arsenal, and Chelsea. Even making the bench is a challenge for Dele at the moment.
So, how on earth did one of the best youngsters in world football get to this point?
Before he moved to Tottenham in 2015, he had a stellar breakthrough season at MK Dons in League One. Dele, who was just 18 years old for the majority of the campaign, had a direct hand in 25 of the team's 101 goals to help clinch promotion to the Championship.
It was that dual ability to create and score that led to Spurs spending £5 million to secure Dele's signature. Not many could predict his sudden rise to glory, but the stars aligned perfectly with Mauricio Pochettino's project which was moving at 100mph.
The jump from the EFL to the Premier League is a scary jump, and if you don't make it – it's a horrible fall that leaves your fate in a state of possible no return.
Dele has now placed down the template to every young player who makes the jump, as he took everything the Premier League threw at him in his stride.
His first season transformed the attacking midfielder from a young talent to the next big thing in world football. Probably even the current big thing, given he won the PFA Young Player of The Year.
He achieved 19 goals and assists all while being a key asset to Spurs' title charge that ultimately fell short. His career snowballed from there, and his reputation was growing by the day.
The next season was his best in a Spurs shirt. Only 20-years-old at this stage, he went onto achieve 25 goals and assists, while also shining as the shadow striker in Mauricio Pochettino's system.
He was a breath of fresh air - vibrant, exciting, and a deadly finisher.
This was the peak of his career so far, but also the peak of Pochettino's era at Spurs. They finished 2nd but didn't lose at home and just fell short of Chelsea.
Dele followed this up with a decent season, but just short of the ridiculously high expectation he has set himself.
His stock was still very, very high. Dele was also a key part of England's World Cup semi-final finish in 2018.
This was it. He has proven he can perform at the highest level for three seasons in a row, and his route to stardom was well underway. Nothing could stop him from carving his name amongst the best.
Well, not quite.

At 21-years-old, with the world at his right-foot, no one would even consider Dele having this trajectory that we have seen just before the 2018/2019 season.
This season was the first where we began to witness Dele's progression slightly halt, and not improve his game much at all.
He only achieved five goals and three assists. This might be slightly unfair, as he was deployed deeper after Moussa Dembele departure left a gap in the midfield.
But, even with this, Dele looked a bit lost. His pressing wasn't the same, his fox in the box style was getting found out – it was a frustrating season for him.
An injury that kept him out for three months didn't help affairs either.
Saying this, Dele's talent obviously still sparkled from time to time. His delicate touch to Lucas Moura for the last-minute goal in Amsterdam was wonderful and goes under the radar to this day.
Dele had his chance to reclaim his falling reputation by putting his stamp on the Champions League final but failed to do so. To be fair, no one in that game really did that.
Still, even with all of this, the English international still had his mark on the game, but his fall was starting to be recognised.
Last season was when it started to gain some legs. Spurs' poor start to the season saw Pochettino sacked.
Jose Mourinho's presence, to the surprise of some, saw Dele have a mini-renaissance when he was shifted into a more attacking role and scored five goals in seven games. But it didn't last.
Harry Kane and Son Heung-Min unfortunate injuries at the same time meant Spurs had virtually no presence up-front. Dele was the chosen player to lead the line but was very ineffective.
His reputation was starting to fade, and slowly but surely, he was forming into the shadow of his former self.
Spurs fans were now starting to get frustrated at his lack of top-level performances. The blame was being shifted everywhere and anywhere, but some looked to point aim at Mourinho treating him poorly. This claim has only increased in the current season.
Mourinho has generally been measured in what he says in press conferences. There has been no spite in his voice. He has said he wants Dele to knuckle down and that the player will remain at Spurs.
Mourinho is still talking about him being a "nice kid" even if, deep down, he perhaps is actually more frustrated with him than he might be willing to let on. The only criticism of Mourinho that seems valid here is that he has been unable to solve the mystery that is Dele nowadays.
We all witnessed the All or Nothing documentary where Mourinho called Dele "f*****g lazy" in his first-ever training session. Their relationship status is unknown, but everyone would love to be a fly on the wall this season.
Long story short, Dele's story this season has become one of the most interesting sub-plots of the Premier League. He has amassed a grand total of 66 minutes in the opening eight games.
He is constantly left out of Premier League squads, struggling to make the bench and only getting a sniff at Europa League fixtures.
His time at Tottenham could be coming to an end, but is there a way back?
Dele has now reverted to a puzzle.
It isn't easy to know where he fits into the team. He likes to be a 10, but Spurs are now an increasingly a 4-3-3 operation.
There is no denying that other players currently deserve to be ahead of him. Ndombele is coming into a consistent form, as is Lo Celso.
And we haven't mentioned yet that Spurs have just signed some fella from Real Madrid. Gareth Bale has slammed Dele a step-down the pecking order in the final third.
In all honestly, Spurs have hardly missed him this season. They are second in the table while looking very comfortable in their new system.
So, this raises the question. Should they cash in?
He's English, 24-years-old, and has shown that when on top-form, he is some player. Daniel Levy will for sure be thinking he can get good money for him.
But is that a completely stupid revelation?
This Tottenham team is already rich in attacking assets, but if you can somehow get the best of Dele, it could seriously be devastating. It feels like a complete waste of potential for him to be sitting on the bench.
Mourinho, as he has throughout his career, has got a riddle to solve. Does he admit he's lost, and get rid of the 24-year-old?
Or does he attempt to remodel his game to fit this new effective system? We have seen him play in central midfield before.
A lot of the emphasis is on Mourinho, but Dele also has to change his tone to force himself back into Mourinho's plans.
Something has to give. But what will it be?