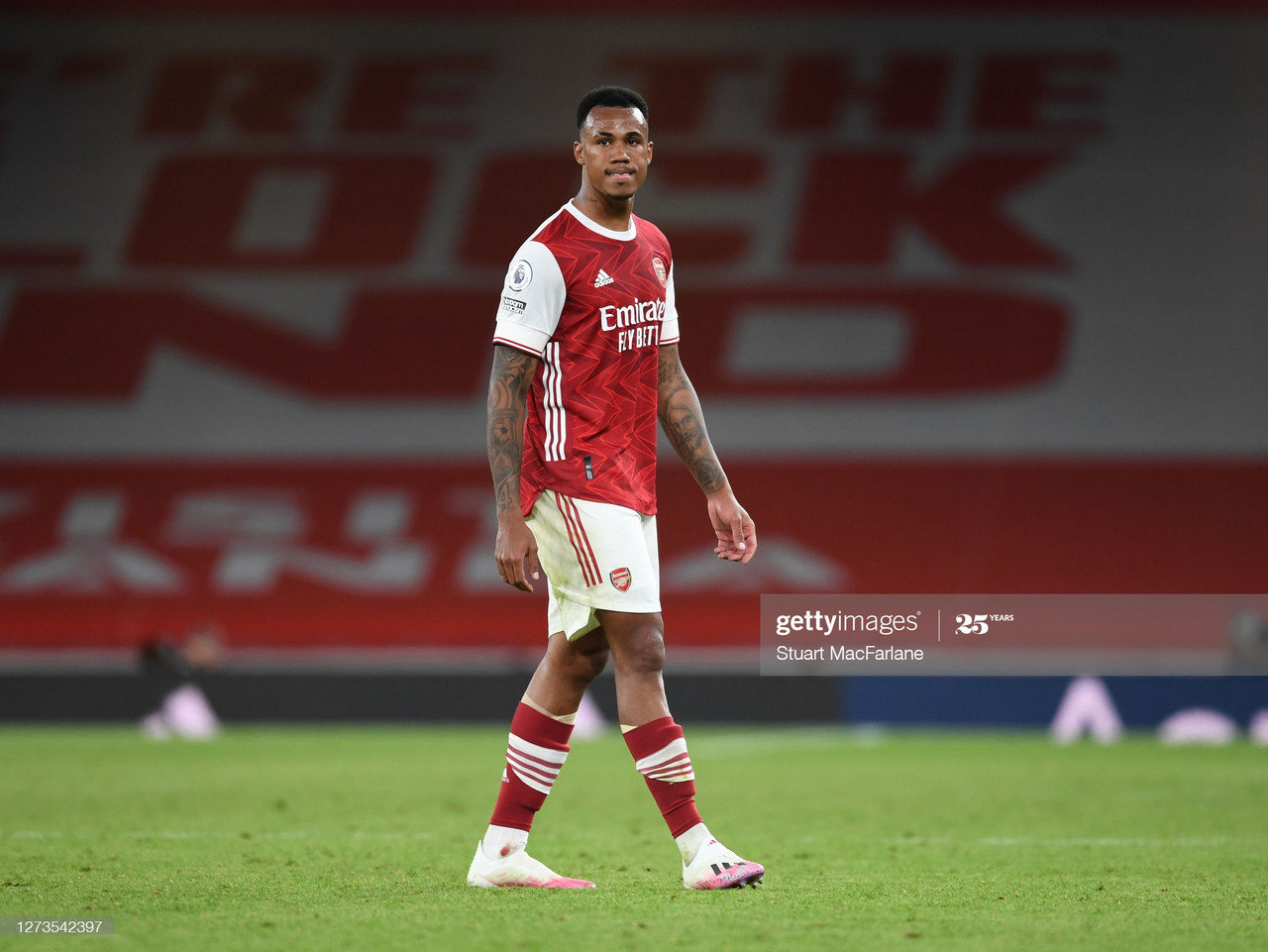 Signed in the summer for around £27million, Gabriel Magalhaes was slotted immediately into the Arsenal starting eleven and the 22 year old adapted very quickly to his new surroundings.
This week, that was emphasised when he won the Arsenal Player of the Month Award for a second consecutive month, but just how good has he been so far?
Arsenal themselves have had quite a mixed start to the season and currently find themselves 11th in the Premier League table. Gabriel however has still be a bright spark in the team bringing much needed stability to the backline.
For many years The Gunners have been searching for a player to sort out their leaky defence, which has often come up for criticism.
Already Gabriel has made a difference in this regard. Before the 3-0 defeat to Aston Villa, they had only conceded seven goals, which literally equated to one goal conceded per game, which was at the time the best defensive record in the league and even now only five teams boast a better record.
Gabriel has played seven out of the eight league games so far and in that time has won an impressive ten tackles and eleven interceptions, while only being dribbled past three times.
He is constantly on the tail of the oppositions attackers, not giving them a moments rest, pressuring them into losing the ball, which was best equated in the away win at Old Trafford vs Manchester United where he was a worthy man of the match winner.
A decent partnership with David Luiz was hampered by Luiz getting injured, but despite the language barriers, he has managed to form a solid one with Rob Holding, which club legend and former captain Tony Adams claimed has the potential to be one of the best in the league.
One of the main criticism's aimed at The Gunners has been a lack of a spine. The addition of Thomas Partey in midfield has played its part in fixing that, as has Gabriel's contribution in defence.
Both have been aggressive off the ball, meaning oppositions haven't had it as easy to form attacks to break through the Arsenal defence.
Playing Out From The Back
Mikel Arteta from the off implemented a philosophy of playing out from the back, which has continued in the 2020-2021 season.
Gabriel was signed on the pretence of being the perfect player to fulfil that role, which he has definitely delivered on.
He has confidence on the ball to drive forward and confidence enough in himself to play passes around the back line, to start an attack, knowing exactly where his fellow players will be.
The stats don't lie. In his debut, away to Fulham, Gabriel completed 107 of his 113 attempted passes and touched the ball 121 times, all of which was the most by any player on the pitch that day. As well as this, he of course scored his first goal.
The Brazilian has continued this great form, with his passing accuracy never dropping below 80% in the league.
As well as being a top class defender, Gabriel has fitted straight into Arteta's ideals of being able to move with the ball and form the first line of attack.
Last season, nearly half of Arsenal's goals were conceded via a set piece.
This is a staggering figure and shows the difference that could be made if that area of their game can be fixed.
In Gabriel, they may have just found a solution.
In the seven league games he has played in, he has managed to win 17 aerial duals. As well as this the north London outfit have not conceded a set piece goal so far this season.
Opponents have found it difficult to create chances in and around the area, in the air, with Gabriel being key in preventing opposition from playing the long ball and forcing them to playing on the ground.
Offensively, his ability in the air offers a threat too, with his goal being a headed effort from a corner.
At only 22 years old, Gabriel has all the abilities to be a long term asset at Arsenal and may just be the player they have been looking for to fix their questionable back line.
The hope among many Arsenal fans is that himself and 19 year old William Saliba can form a partnership that can last for many years. Should he impress when given a chance, there is no reason why not.
But for Gabriel there is no denying that he has been Arsenal's stand out player and should he remain as consistent, it could stem a change in the team's fortunes, if they are able to sort out their other problems on the pitch.