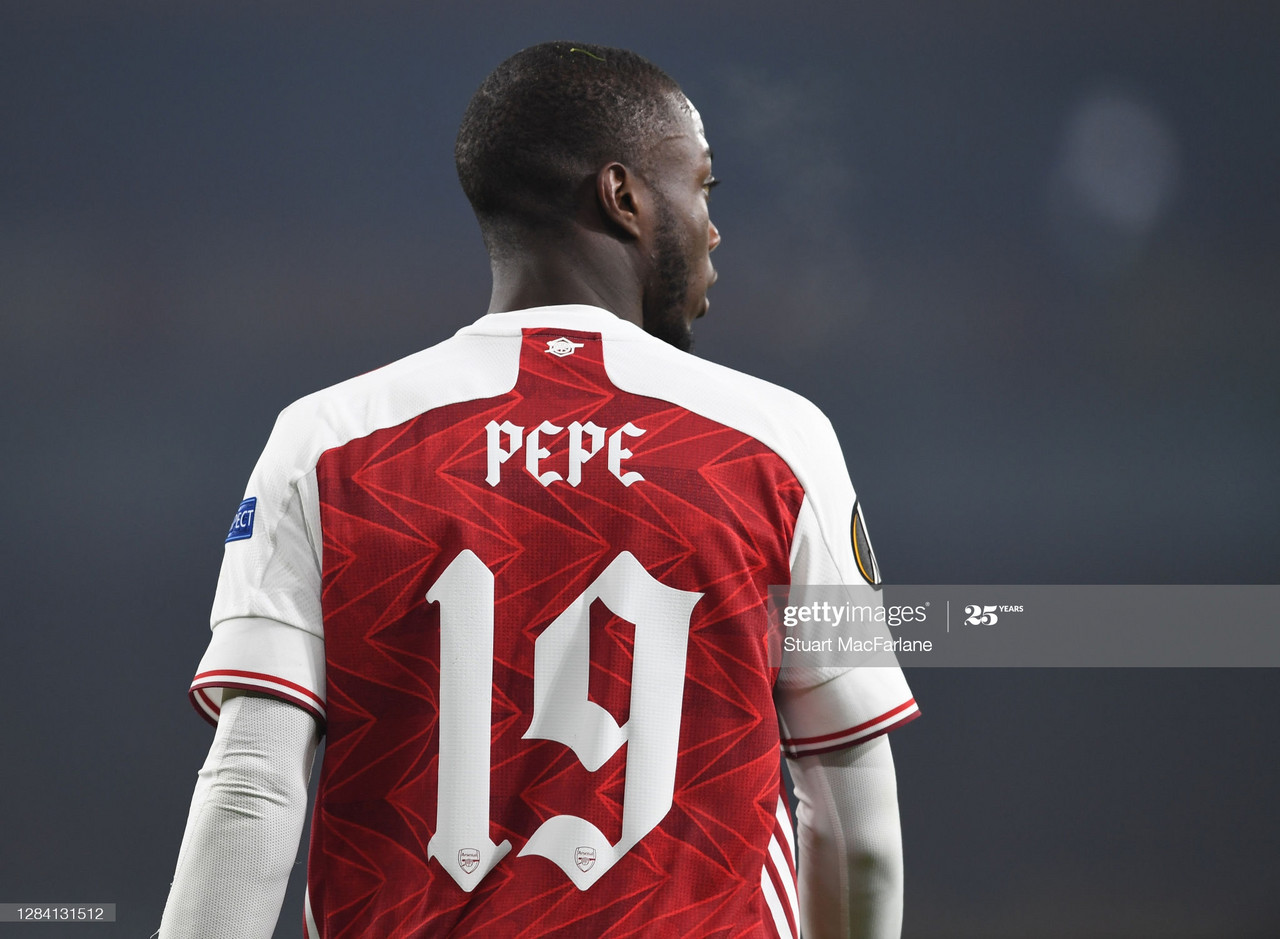 The £72 million Nicholas Pepe, who was signed in the summer of 2019, has proved to divide opinions between Arsenal fans and manager Mikel Arteta.
The 25 year old has only started once in the Premier League this season in a 1-0 defeat against title challengers Manchester City, where he failed to make a significant impact.
However, the Ivorian has taken his chances when given them in the Europa League.
Playing alongside the likes of Joe Willock and Eddie Nketiah, Pepe has presented his creative and goal scoring abilities.
The winger has scored twice in three games, as well as assisting David Luiz and Willock in Arsenal victories against Molde and Rapid Wien.
Arsenal legend, Martin Keown, praised Pepe on BT Sport after Arsenal's 3-0 win against Dundalk, presenting how his creativity and technique allows The Gunners to create important and significant chances.
"These are the moments from Pepe that we were expecting when he first arrived. We haven't seen enough from this player.
"We saw that little bit of magic there, he's creative, he's got technique, but its about bringing those out in key moments for Arsenal."
Pepe also secured an important three points in the league for Arteta's side against Sheffield United, coming on as a substitute to score the decisive goal.
Normally replacing the Brazilian Willian, Pepe offers more space and freedom on the right hand side, providing pace and agility.
Although he has proved his importance to the side in games against Sheffield United and in the Europa League, there is still some inconsistency.
In eight of the Premier League games so far this season, the Ivorian has come on six times, only making a significant impact in one.
As well as this, last season Pepe failed to live up to his astonishing price tag by only scoring five and assisting six in 31 league games.
Now having to fight for his place in starting 11, Pepe needs to continue his form in Europe, and when given a chance in the league to prove his ability.
The Ivorian has recently voiced his frustration on not starting for The Gunners when speaking to Canal Plus: "My goal is to play more. Have a little bit more playing time.
"A player who plays is happy. For me, I would like to play a little more to find that smile.
"Arteta wants me to be 100 per cent focused during the 90 minutes of the match. Afterwards, I see during training that I will be substitute the following weekend.
"But the coach speaks to me, he also has assistants who are there for that. But it is frustrating for any player to be on the bench."
Following recent issues at the Emirates involving Matteo Guendouzi and Mesut Ozil, it is doubted that Arteta will grant Pepe more playing time due to speaking out.
The Arsenal boss has yet to respond to Pepe or to the press regarding recent issues with the winger, but questions will be answered in the following weeks with fixtures against Leeds United and Wolves to see whether the Ivorian will get his chance.
Lack of Arsenal chances and disappointing league position
The Gunners have had a poor start to this years Premier League campaign. After eight games with four wins and four losses, Arteta's side currently sit 11th in the league table.
The disappointing start could be explained by the lack of Arsenal creativity and goals.
Arsenal are currently 15th for goals scored with nine in eight matches, as well as 15th for shots on goal with 28.
The Gunners also only have 29 possessions per game that lead to being in the final third, being the second lowest in league, just in front of Newcastle United with 26.
Arsenal captain Pierre-Emerick Aubameyang has only scored twice in eight Premier League matches, with most of them games being played out of position, either on the left or right wing.
However, Arteta backed poor formed Aubameyang and explained it was more of a team issue:
"The end product is something we have to improve on. It is a team function and a collective thing. We have to do more.
"When things were working [for Aubamenyang] and he was scoring that debate wasn't there.
"With scoring these amount of goals, it is impossible to be fighting with the top teams."
When Arsenal have made chances they have been of good quality, with the third highest goals per shots in the league of 0.12. But there just hasn't been enough of them.
Because of Arsenal's slow build up play, Aubameyang, Willian and Bukayo Saka, who are all quick in transition, are not receiving the ball in dangerous situations, failing to create opportunities.
With the failings to create decent chances, Pepe may have the chance to shine in Arsenal's upcoming games due to his recent top form in Europe and lack of creativity in Arsenal's Premier League starting 11.
His ability and technique will allow him to make a positive effect on Arteta's side. However, he must remain consistent.