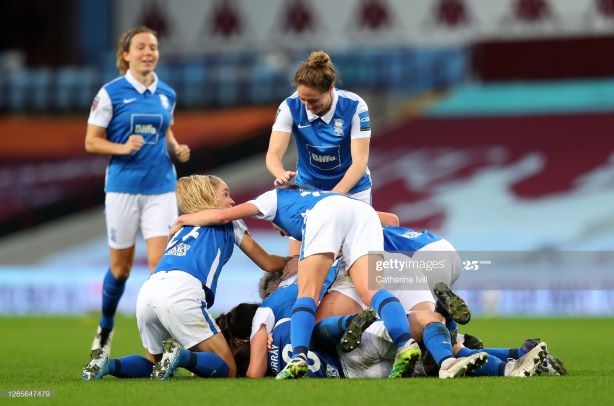 Claudia Walker's fifth goal in five games was enough to give Birmingham City the win over local rivals Aston Villa.
It was the first ever Second City Derby in the Women's Super League and Birmingham went into the game with a paper-thin squad. Both Sarah Mayling and Jamie Lee-Napier were missing from the squad through injury, meaning the Blues could only bring 13 players to Villa Park.
However, it was unlucky 13 for Aston Villa as Blues rode the storm of Villa's pressure to come out with a massive three points for their season. This result plunges Villa into potential relegation doubt, leaving them three points above bottom placed Bristol City, albeit with a considerably better goal difference.
Story of the match
Birmingham found the breakthrough with star striker Claudia Walker firing home on 72 minutes.
Substitute Lucy Whipp did brilliantly to keep the ball in play by the goal line and fired in a cross. Elisha N'Dow was there to meet it, but her header away was tame and only found Walker who cannoned in her effort off the crossbar. It came slightly against the run of play as Villa were beginning to take back control of the game, but Carla Ward's side shrugged off their injury concerns to take the win.
The first half was lacking in chances as the two rivals wouldn't let each other build any real momentum. From the outset, both sides were losing possession cheaply in midfield and struggled to get forward and launch any attack on goal. Villa still started the stronger of the two sides and saw the majority of possession, but there weren't any real chances until halfway through the half.
Shania Hayles, playing her usual role of a pressing forward, won the ball just outside of the Birmingham area. Taking a touch to cut inside to the area, she was able to carve enough space for a shot, but it went straight at Hannah Hampton. Most of Villa's attacking play went through Hayles, but she was unable to make any of the chances she created count.
Villa's best effort again fell to Hayles, but this time from a chance created by Chloe Arthur. Shortly after Hayle's first chance, Arthur played a perfectly weighted long ball up towards Jodie Hutton who took the ball past Connie Scofield with he first touch. Hutton fired in a cross towards Marisa Ewers at the back post, but she could only head it back across goal towards Hayles who couldn't get her foot up high enough to tap it in.
Birmingham began to take control of the game towards the end of the half with strong counter attacking play. All three of their chances fell to Mollie Green, with the clearest coming in the 37th minute. Scofield received the ball in central midfield and found the run of Green well. The midfielder beat Anita Asante with ease, but the shot was completely mishit and spat up into the gloves of Lisa Weiss.
It was a very even first half, seeing two counter-attacking systems essentially cancel each other out. Both teams sat deep on defence but relied on looping balls over the top of defenders to get forward. Villa especially left themselves vulnerable to counter attacks by often leaving just Lisa Weiss in their own half whilst on attack. Green was able to use her pace to exploit the space left by Villa's defenders but failed to punish the hosts.
The second half began much the same as the first ended, with Birmingham dominance. A defensive mix-up between Asante and Weiss gave Villa flashbacks to the opening day as Mollie Green fired an effort just wide, but Villa held on. The hosts made four changes to try and change the game, but nothing worked for them. It was a poor response to going a goal down against their rivals and Gemma Davies will be looking for her players to step up next time out.
As for Birmingham, it was another brilliant response to a difficult off the pitch situation. Despite having just 13 players in their squad, Carla Ward's side yet again defied expectations to take home a massive win and continue their recovery from last season.
Takeaways from the game
Carla Ward is doing a fantastic job with Birmingham
When she was appointed Birmingham City manager during pre-season, Carla Ward was gearing up for a relegation battle.
The Blues had scraped survival by virtue of a marginally better points per game record than Liverpool last season and most of their senior players left the club as a result. One of those players, Chloe Arthur, crossed the city divide to join Villa and now lies four places and six points below her former employers.
Ward's side have defied expectations to not only survive, but thrive at the top level of the game. Even with most of their first team squad injured, they were still more than a match for Villa.
Villa have a lot of learning to do
The score line from this match may not reflect the balance of the game, but it was certainly what both sides deserved.
Villa ended the game with 58% possession and 11 shots compared to Birmingham's eight. Despite this dominance of the ball and having more shots, they could only muster a single shot on target. They had more than enough of the ball to carve out at least an equaliser, yet they did very little with it.
Gemma Davies' side have looked impressive at times this season and it must be remembered that they have made the transition to a professional side at the worst possible time due to the current pandemic. However, if they intend to stay at this level they must start learning fast.
Star players
From a Villa perspective, the star of the show was undoubtedly Chloe Arthur. Before being subbed off, she bossed the midfield for Villa and let nothing get past her. Her range of passing came to the fore today with all positive play starting with her. Villa undoubtedly missed her when she was subbed.
It is difficult to narrow down the star player for Birmingham to just one player. It was a fantastic performance by all of them, but the best candidate would be Connie Scofield. She started the match out on the wing and later drifted infield, but her defensive tenacity coupled with her quick passing pushed Birmingham forward.