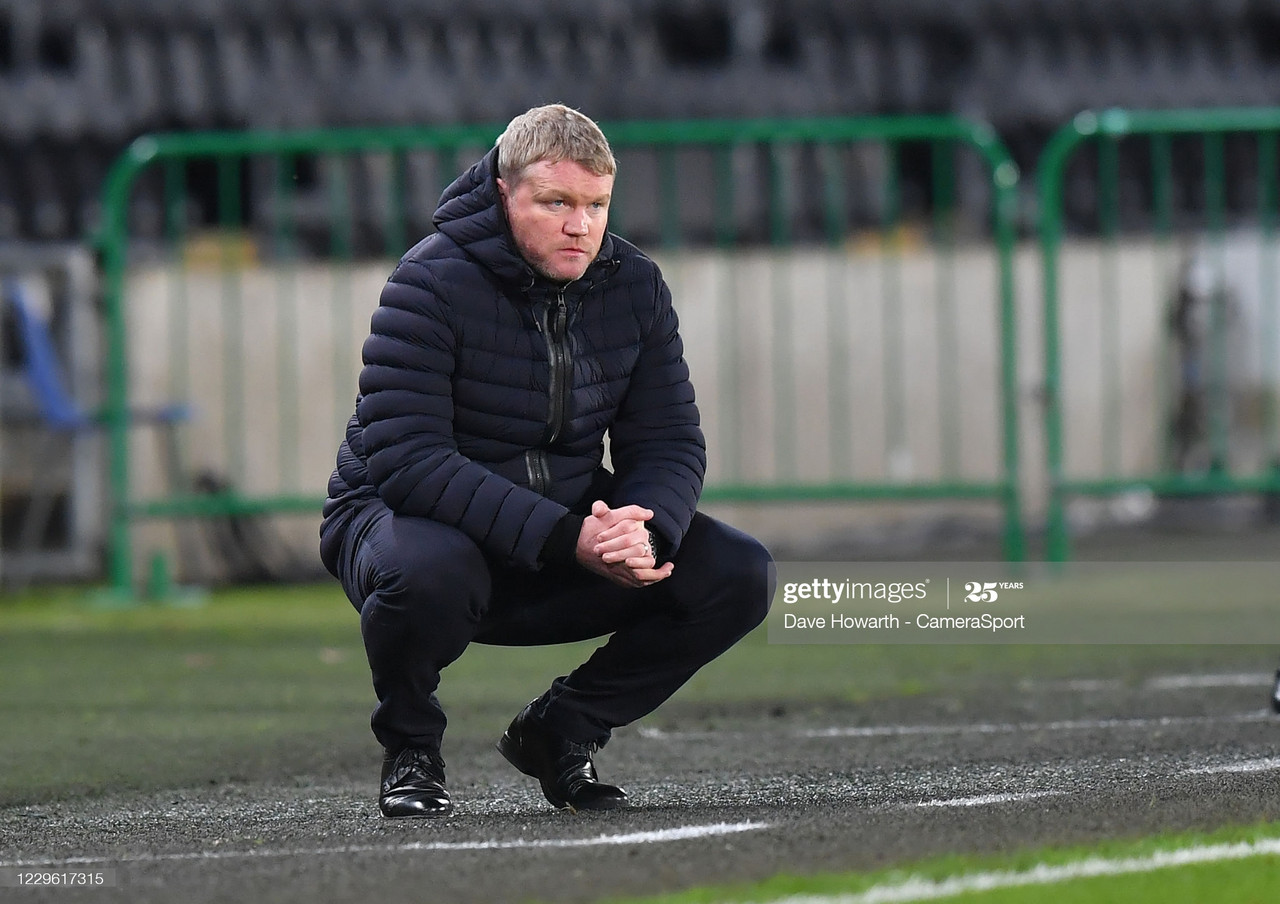 Grant McCann will have felt that it was a job well done in the end by his Hull City side on Saturday afternoon. After Burton Albion went down to ten men with barely twenty minutes on the clock, the visitors proved to be a tough nut to crack as they put bodies behind the ball and disrupted City's guile and endeavour as much as they could.
After an hour, though, the deadlock was broken by Mallik Wilks who smashed home a loose ball in the area following a free kick by Callum Elder. Tom Eaves had the chance to seal the game, but it wasn't until three minutes from time that Hakeeb Adelakun made sure of the win with a good finish from outside the area.
McCann spoke to the press afterwards, and was full of praise for the way his side stuck at the task of breaking the Brewers down.
On the half time substitutions
McCann made two substitutions at half time, with Thomas Mayer and James Scott departing for Tom Eaves and Hakeeb Adelakun. "I thought that the difference in the second half was that we moved the ball quicker as a team," McCann said. "The message at half-time was: 'Don't get frustrated, stay calm, the goal will come. But don't get frustrated if it does not come in the first ten or 15 minutes - keep plugging away and moving it quickly and trying to overload them on the outside. It was pleasing to see."
"Another goal came from a set-play and Haks had the second one late on to make the game more comfortable for us.
It probably wasn't their best games - Scotty (James Scott) and Tommy (Thomas Mayer) today - I felt Tommy deserved an opportunity and he's one of the front players that hasn't started a game this year. He didn't play so well at Harrogate - particularly second half - but he's been impressing people with what he's doing on the training ground. It didn't come off for him today."
Another change McCann made was moving Wilks from the central out to the right hand side at half time. "I just felt we needed a wee bit more physicality with Mallik on that right hand side (Wilks started the game through the middle)," he said.
"We knew their left back - who to be fair had a good game against Mallik - it was his league debut, and we wanted that physicality against him. They gave us a spark - gave us a lift - and it was nice to get the job done".
On the forward's goal, McCann was complimentary about his ability. "He had to stay concentrated, it was bouncing and bobbling. It was a good finish," said the Northern Irishman.
"I thought Mallik had a good game. Probably the best he has had for a while, which was pleasing, so hopefully he can continue that."
"He's got that ability to shoot with no backlift quickly. He's obviously been struggling a little bit with his ankle. He's had an injection and wasn't himself for a while. He was probably a little bit rusty at Harrogate also, but he's getting back to where he is, and he's the sort of player who can see things others can't. He's a very clever player and hopefully we can keep him fit now."
He picked up the injury in the game where he scored (against Plymouth) and he wasn't himself, so I asked the physio to have a look at him and he had to have the injection in it. But now he's feeling good and he can be a real asset for us this season."
On Tom Eaves and potential penalty claims
It was put to McCann that Eaves was currently dividing opinion between Hull City fans, but McCann was quick to jump to the forward's defence. "He's similar to Haks in that they've both been very stop start this season. James Scott is the same," he said. "It's going to take him to get up to speed. He's starting to get better and better in training. The reason we didn't play Tom today was because we felt Mallik's pace would cause problems in behind them and I think you saw that in the first 15-20 minutes.
He (Eaves) had a good chance to make it 2-0, and I said to him when he came off, the disappointment of missing that chance is something he needed to get over quicker because there was a chance that came his way about 30 seconds later and he wasn't there, because he was still disappointed.
We should have had two penalties in the second half. Really surprised that the referee hasn't given one if not two of them. The one on Hakeeb, he's been kicked straight down the shins by Bostwick, and agains for the second one Bostwick has pulled Tom Eaves down in the box. He's almost rugby tackled him and pulled him behind, so I'm disappointed we didn't get either of those".
On the COVID problems Burton faced
"I'm pleased you've mentioned the COVID problems they've got, but if you look at their starting eleven today they had 60+ starts this season in League One between the whole squad. Our starting eleven had 70, so I knew that was going to happen. I knew that was going to be made out to be more severe than it actually was and I primed the boys for that.
They had two players missing, we had three - Magennis, Lewis Potter and Coyle. So we knew this was going to be a difficult game. They're an experienced team, not just at this level but the one above. We had to be calm, we had to be patient - we ended up winning the game comfortably in the end."