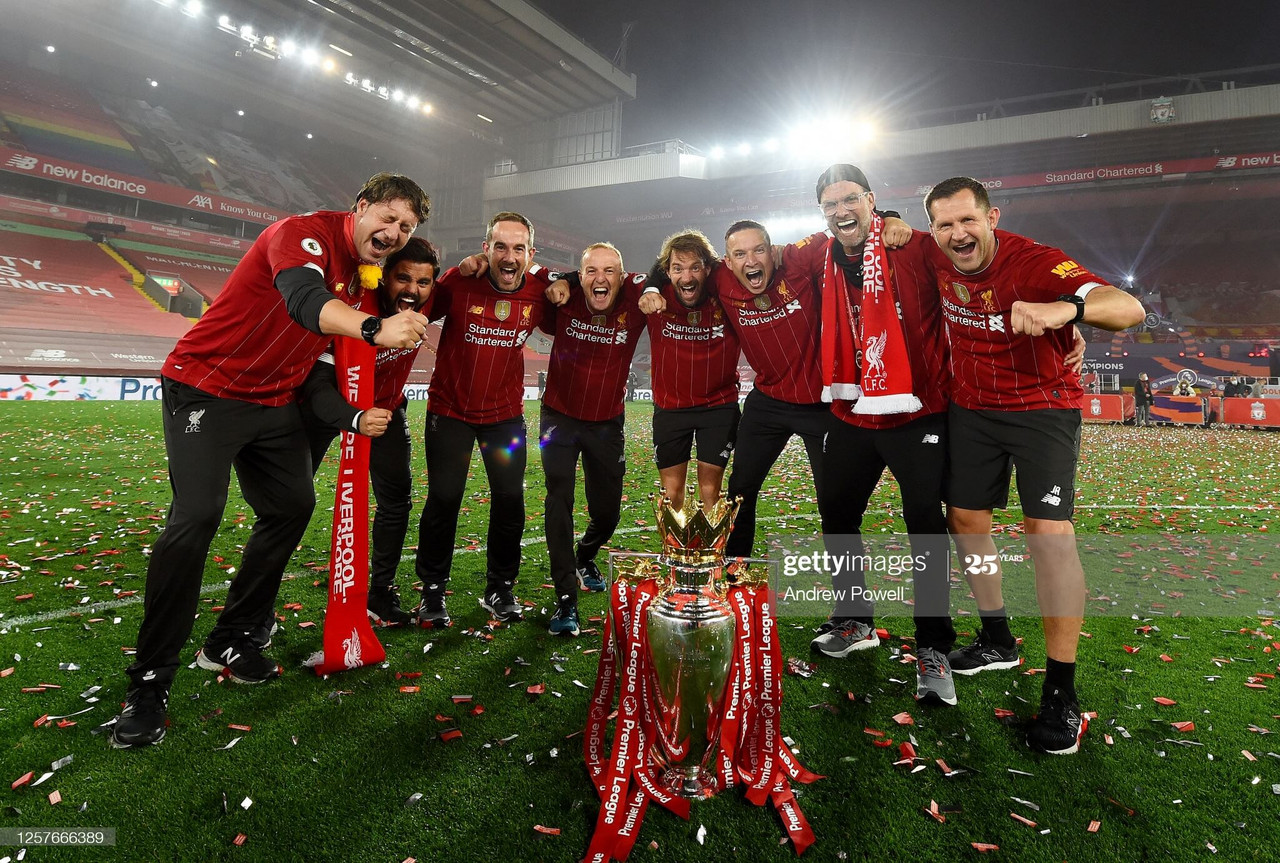 After Liverpool romped to their first Premier League title, club legend John Barnes reflected on their journey under Jurgen Klopp.
"I was delighted with them last year," he recalled in his interview with talkSPORT. "97 points and finishing second, winning the Champions League..."
"In fact, I think they were probably better last year, but Man City were just incredible."
On the surface, this was a strange take. 'A BOLD CLAIM', according to the site's own headline.
Liverpool had remarkably improved on that points tally. And this time around, they had comprehensively crushed their opposition, their advantage peaking at 25 points in their final league game before the season was suspended.
But the stats bear Barnes' argument out.
We can begin to measure the quality of a team's all-round performance by looking at their expected goals for and expected goals against, as provided by Understat.
Relative to 18/19, champions Liverpool created fewer high-percentage chances and gave more up to the opposition.
Strikingly, had their matches conformed to what you might call 'xPectations', they would only have picked up 74 points, leaving them runners-up by seven points.
The previous season, their expected points tally was considerably higher - 83.
In fact, if you extend the comparison back further, you see that the Liverpool of 2017/18, the European silver-medalists, also posted superior xG and xGA tallies.
The trend is illustrated by the graph below. 'Expected goals for' is in blue, 'expected goals against' in orange and 'expected points' in grey.
You can see that the projected tallies from the opening eight matches of 2020/21 have also been added.
They show marginal attacking improvements but increasing defensive openness.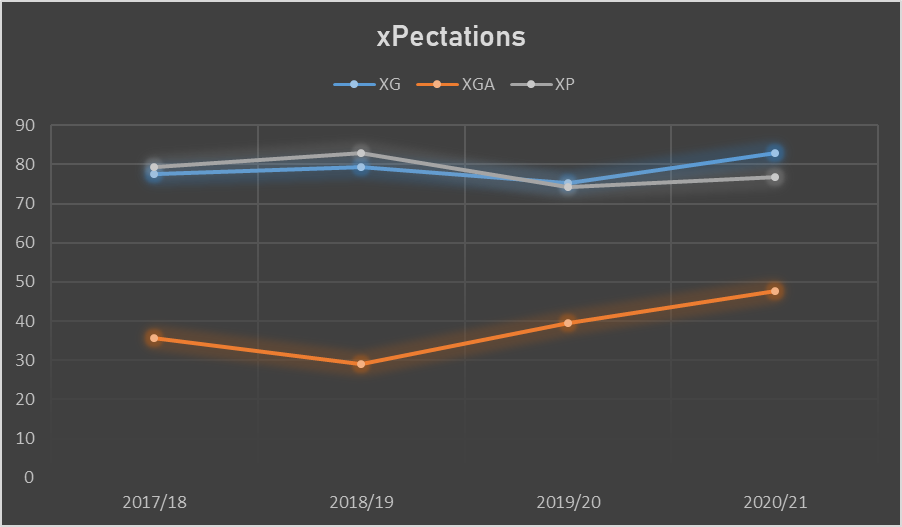 The temptation at this point is to scoff at the expected goals metric. After all, you can't seriously argue that Liverpool have declined in the past three years.
We can add nuance, though. Liverpool have grown far more resilient in this period.
Let's look at the number of 'ugly' or characterful victories. That's wins by a single goal and victories from behind.
In 2019/20, more than a third of Liverpool's 32 victories were settled by a single goal and they won five matches from losing positions.
This was clearly their gutsiest season under Klopp, as our second graph illustrates. Wins by a single goal are in blue and wins from behind are in orange.
This time, the 2020/21 data is not a projection. With just over two months elapsed, Liverpool have already mounted more successful comebacks this season than they did in the whole of the 2017/18 campaign.
The hypothetical curve you could sketch across this data is poised to continue upward.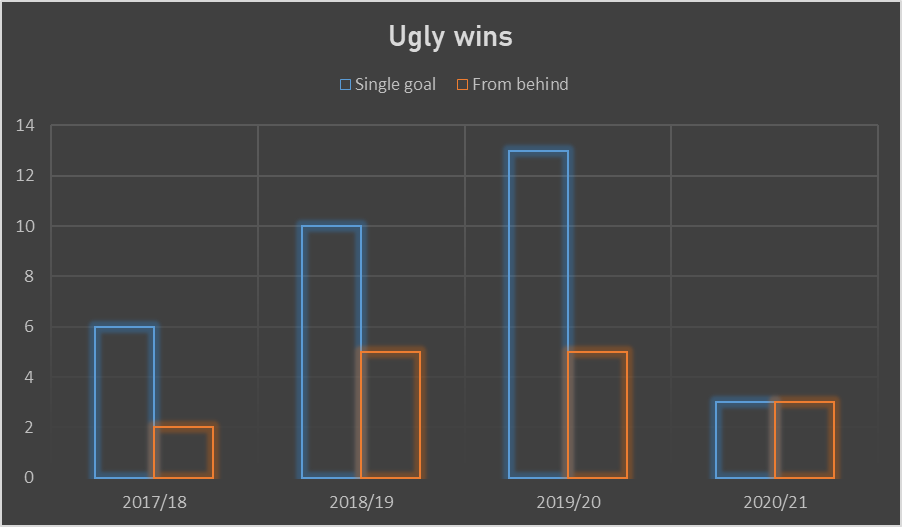 This Liverpool team wins at a historic rate. But overwhelmingly, it wins without nudging its theoretical potential.
Since the start of last season, how many league games can you pick out where Liverpool's collective display has merited a 9 or a 10?
Leicester away last December, Crystal Palace at home post-lockdown, Arsenal at Anfield in September perhaps. A few others are arguable, like the crucial 3-1 victory against Manchester City.
In that time, the sides who compete with Liverpool for the moniker of Europe's best, principally Bayern Munich and Manchester City, have turned in considerably more stylish, slick and spectacular displays.
The vintage Liverpool win is a battling one. Think of Southampton (A), Sheffield United (A), Aston Villa (A), Crystal Palace (A), Spurs (A), Wolves (A), Norwich (A), West Ham (H) or Bournemouth (H) last year. Or even the fightbacks just last month against the Blades and the Hammers.
The list of 'it's the result that counts' kind of days is exhaustive, but it was important to labour the point.
'Just you wait for Liverpool at their best,' we were told as the Reds embarked on their glittering campaigns.
Well, we kept waiting, save for some glorious flashes, and Liverpool just kept winning.
The possible explanations
How are Liverpool achieving more without playing quite as well, in relative terms?
Perhaps it's the case that Liverpool are more clinical and that they have been reaping the rewards of a world-class goalkeeper? That could certainly be an initial response to the dip in xPectations from 18/19. It's how you might consistently prevail in spite of sub-par performances.
Liverpool did indeed out-perform their expected goals by a full 10 last season, but they did exactly the same the previous year.
In 18/19, perennial Golden Boot chasers Mohamed Salah and Sadio Mane needed 6.2 and 4.0 shots respectively for every goal. Last year, that climbed to 6.9 and 4.2
What about at the other goal?
Well, according to data from FBREF, Alisson was at his best in his debut season when he 'should' have conceded 27 goals but impressively limited the total to 22.
Despite an injury lay-off, he conceded one more in 19/20, fractionally overshooting the xGA.
So that theory doesn't stand.
What if Liverpool are more pragmatic now?
After so many near misses, the primacy of winning above all else becomes increasingly plain.
In football we often bemoan playing styles geared towards efficiency at the expense of entertainment.
Even those managers who have maintained a respectable winning percentage through unspectacular tactics are said to be doing a disservice to fans.
But that neglects the immense satisfaction of victory, however it is achieved.
Liverpool are not a 'boring' team by any stretch of the imagination, even if Burnley boss and avowed defender of the long ball Sean Dyche suggested 'anti-football' won them the Champions League.
But missing out on the title with one defeat and 97 points ahead of that final in Madrid was without doubt a seminal moment for this team.
To make it reductively simple, they were done with near misses.
The side which jittered in the wake of City's defeat at Newcastle has been characterised by impenetrable steel ever since they solemnly lapped the Anfield pitch after a hollow victory against Wolves.
In what way are Liverpool more pragmatic? Well, they are very aware of their strengths and extremely good at harnessing them.
In Trent Alexander-Arnold, they have one of the most dangerous crossers of this generation. Andrew Robertson on the other flank excels in this department as well.
And so, they cross and cross and cross. 896 times in all last season, up from 721 the season before.
Those deliveries resulted in 19 headed goals, comfortably a league-high.
In Salah and Mane, they have two of the most potent counter-attacking weapons they could wish for. And of course, they utilise that.
Last season, they scored 11 on the counter. Again, that was the most in the league, and it was nearly double what they managed the season before.
In Virgil van Dijk and Joe Gomez, Liverpool had two supremely quick centre-backs, and that enabled them to play a high-line to sustain their pressing game.
Both are now injured of course, but Liverpool will adapt and, having added another elite midfielder to their ranks, they will also intelligently evolve.
Generally speaking, there is a certain simplicity to Liverpool's gameplan. It is not all that difficult to understand.
So you could make the argument that the typical 'not at their best' label doesn't suffice. Instead, it's a more singularly-minded, results-obsessed Liverpool.
The initial concerns about sustainability have been emphatically put to bed.
Man and machine
The evolution in Liverpool's mindset has been just as significant as their tactical maturation.
They have taken the fear out of football.
That encompasses the players, who almost never waver in their belief that they will win the game and, as a result, it also encompasses supporters.
Almost every time, the eventual outcome shores up their convictions.
Even in that (in)famous drubbing at the hands of Aston Villa, most fans would have anticipated a customary turnaround until Ollie Watkins made it 4-1 on the stroke of half-time to put three points beyond feasible reach. At that point, some only lowered their expectations to a draw.
That is how they have been conditioned.
Liverpool's players would obviously like to put together an excellent performance and blow the opposition away.
But equally, they grew weary of being the division's dazzling entertainers.
Neutrals used to look to excitedly Liverpool's matches for a basketball-style frenzy.
Now, they frustratedly await a slip-up to invigorate the title race. They are presented with hope, and more often from not that hope is snatched away from them.
Liverpool's attitude is clearly observable. They do not succumb to frustration when they are struggling. They know that the result will banish the circumstances.
Their 18 goals in the final 15 minutes of matches last season - a sum only Leicester eclipsed - are testament to their relentlessness.
If you doubt that they are unique in this respect, refer back to the list of 'vintage Liverpool wins'. The level of self-assuredness is staggering.
Indeed, this is what made them champions - above all else. Yes, they recruited an abundance of world-class players to catapult them into contention.
But as Klopp himself acknowledges, "we are where we are because we win difficult games".
Even though the Reds had the title all-but wrapped-up in January last year, it was by no means an 'easy' path.
"It looked that way in some moments only because we were a results machine," the manager tellingly said, as quoted by The Guardian.
A results machine. That's exactly it. Liverpool, unmatched in their heart and passion, have simultaneously become a robotic juggernaut in the last 18 months.
Consider this: in the face of a scarcely believable succession of key injuries, it still feels foolish to bet against them rattling off the victories.