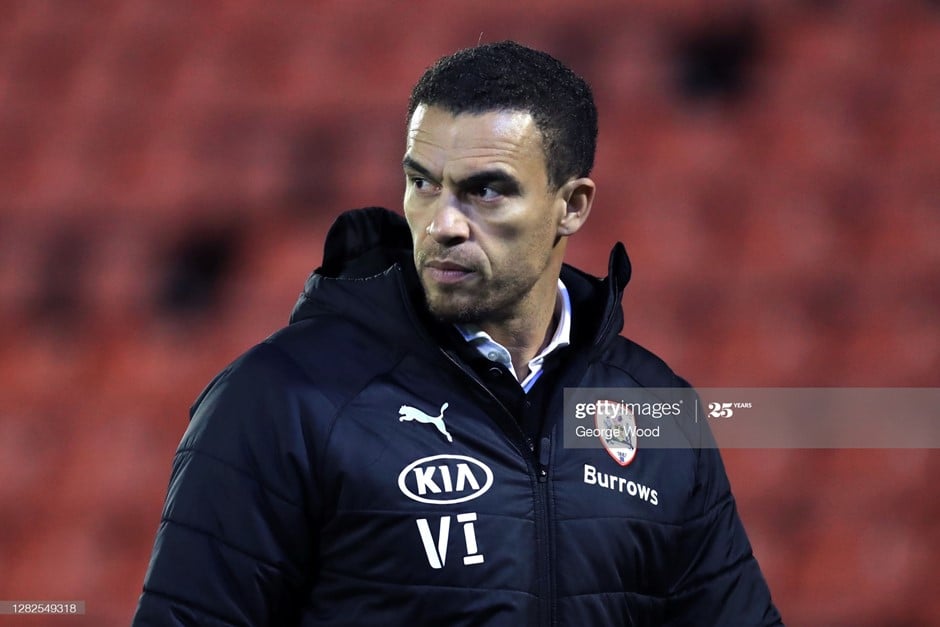 Valerien Ismael was thrown into the job of Barnsley head coach at the deep end, with four back-to-back games in his first fortnight in charge.
He and his team were able to swim though, and nine points represented a fine return to push the Reds up the Championship table.
After that crash course, Ismael has finally had two weeks to work with his players on the training ground over the international break.
He spoke with the press about what the team has been up to in that time ahead of Barnsley's return to action on Saturday, when they welcome Nottingham Forest to Oakwell.
On the international break
Ismael emphasised how valuable these past couple of weeks have been in giving him more time to work with his players.
"It was good to have the time to ask the guys if everything was clear, and to do it again and again and again," said the French boss. "That's what we needed and it was a very good week for us, a very good intensity for us. The weather was perfect for us to stay long on the pitch. The most important thing is that all the players now are able (to play our way) and have a good feeling.
"We've worked on all the principles that we have, in possession and out of possession. Each day we have a main focus and we work with the team. We show the guys some clips and say 'this is our moment, where we are, but we want to improve and be better'. We work every day with guys and it has been good.
"It was good to be quiet, to be calm, to have discussions with the guys one-on-one or to explain on the pitch, to take your time. Instead of one hour we can spend an hour and a half or two hours."
On his great start
On the successful start to his tenure that saw Barnsley claim three wins out of four, Ismael said: "I think it was a very good start for me, my staff and my team. When you win it is always a very good feeling, you get more confidence and the players believe quickly in the philosophy, the principles and the way to play.
"Everyone was open and ready to go this new way. They understood quickly what we wanted to see on the pitch and for sure the first game against QPR helped us with a win, to believe.
"The most important thing is I understood they need to invest a lot of energy to have a chance to win. In each game normally we are the underdog and we have to do more than the opponent, to run more and be more aggressive.
"It's important now to not think about what's happened. It was a good start, for the feeling and the momentum. But now we start from zero and it is another situation. I told the players last week it was a good feeling but we need more points to reach our goal."
On Nottingham Forest
Barnsley start their crowded winter schedule by welcoming a Forest side in a similar situation to their own, with Chris Hughton getting his first chance to put a real stamp on his new team over the international break as well.
Ismael said of his opposite number: "Chris Hughton is a very good manager with a lot of experience. He showed what he can do with Newcastle, with Brighton, it was a strong performance to establish both teams in the Premier League.
"It's another huge challenge for us and we are very concentrated on this challenge. We have a lot of respect but we are fearless. We know that we need another big performance. The challenge is to get the three points.
"(They have) very good organisation, a very good quality of player, discipline in all that they do. They are able to score a goal in any moment and that's why we have to concentrate in a lot of situations. Even when we get the ball their transition game is very good. From the first minute to the last minute and the final whistle, it will be an intense game."
On five substitutions
Starting from this weekend's set of fixtures, each Championship team will now be able to name nine substitutes and bring on five during a game. Ismael says that, even for the managers with smaller squads, it should be seen as a positive move.
"The first important thing is for us to keep the players healthy," he said. "With the new rules it will be good for us to have more possibilities to make changes, to help the recovery of players. I think now with the five substitutes it's a good feeling for every manager.
"You have two points of view. You can concentrate on the opponent, and say the opponent is better, the opponent has more money, a bigger squad, or you can focus on your own team. It's more possibilities for us to change because our football is high intensity.
"If we can choose the three players at the front after one hour it could be good for us, to stay in this level of intensity. Also you have more satisfaction in the team because players have more chance to play than last week."
Ismael also has more options available to him this weekend, with Jordan Williams and Romal Palmer back in training and available for the visit of Forest, while Aapo Halme and Patrick Schmidt returned from international duty unscathed.
On Mario Balotelli
The national media were excited to report on potential talks between Barnsley and former Manchester City and Liverpool striker Mario Balotelli, who is currently a free agent. He previously played for French side Nice, who were formerly owned by a consortium including current Reds co-owner Chien Lee.
Ismael confirmed that there had been discussions but that the move would definitely not be happening.
"It is no secret that we are looking for a striker," he said. "A lot of names are proposed to us and Mario Balotelli was among them, but the most important thing for us was that any player must come to us fit and able to contribute to us immediately. That's why it's a dangerous situation to go on the free agent market.
"The second thing is that with Cauley (Woodrow) and Victor (Adeboyejo) we have two strikers capable of playing our way of football and I think we need to wait now until January to make the right decisions. We have to do what is right for Barnsley."