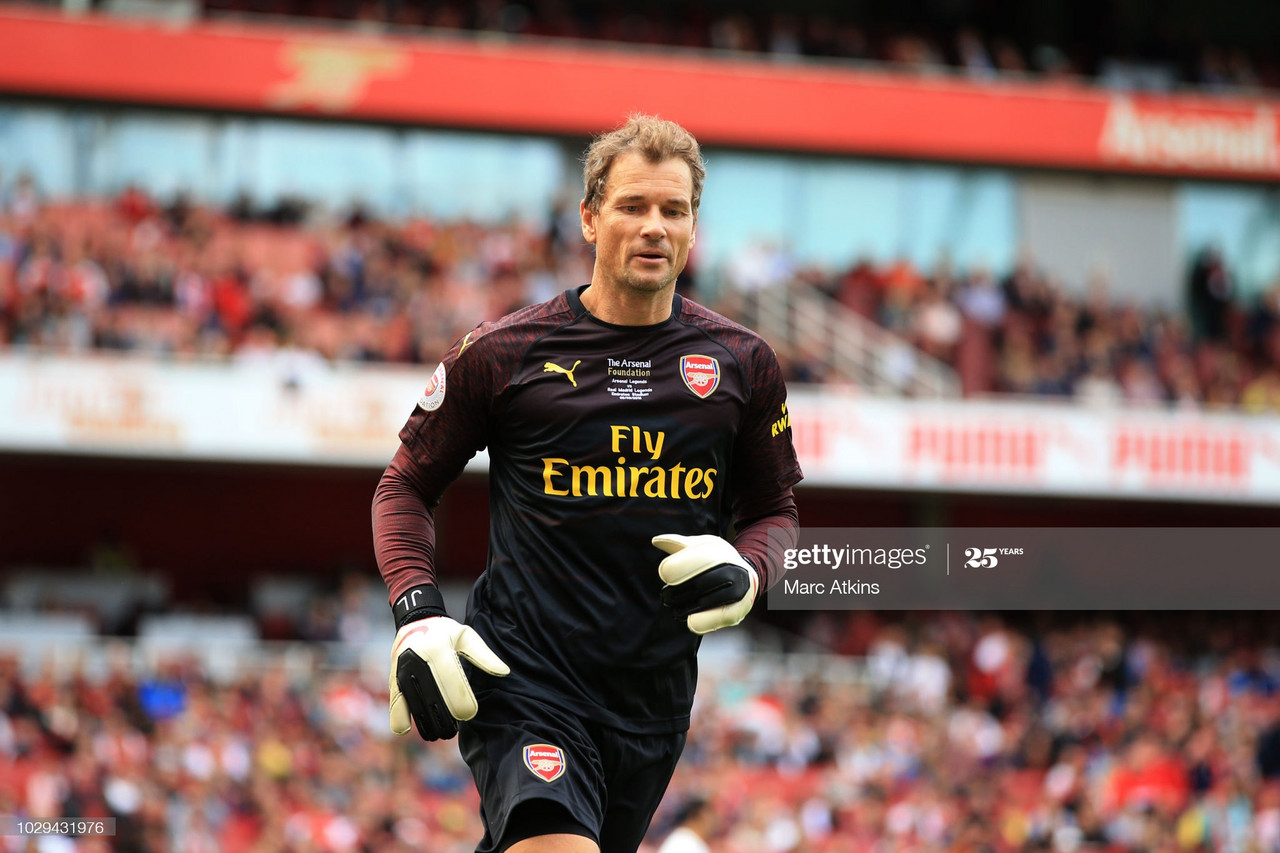 German goalkeeper Jens Lehmann joined The Gunners at the start of their famous 2003/04 season, making an immediate impact playing all 38 Premier League games and becoming an 'Invincible.'
Lehmann is much loved amongst Arsenal fans, retiring in 2011 after playing one game that season after two years on loan at Stuttgart.
"Winning the league at White Hart Lane was tainted"
"My personal memory is that we got the penalty against us..."It was a dive and Arsene was standing at the door of the dressing room and he was shouting at me.
""Normally, if you know Arsene, he only occasionally shouts, but this time he shouted at me saying, 'Jens I told you so many times, leave it! We've conceded a penalty because of you.' I was very angry and then Sol Campbell came in and he wasn't even looking at me, he was furious. He blamed me as well."
"Two hours later, after we knew we were champions, we arrived at Colney and the boss said to me, 'Jens, I looked it up again on TV and I have to apologise, it wasn't a penalty', but the joy of being champions at White Hart Lane wasn't that much for me in the hours after the game.

"I didn't know [we were champions]. I didn't even know when I came to the dressing room. I left the pitch immediately because I was angry. Then after five or 10 minutes, Johnno (Paul Johnson) came in and said, 'Guys what's up with you? We're champions!' I said, 'Oh are we? Okay, let's go out'. We weren't in the mood to celebrate [initially]."
Love for the English game
Lehmann realised he loved the English game after a game at Old Trafford, "There was a very tight moment at Manchester United," Lehmann said. "After the game I called home and said, 'I love English football. They push you, they punch you, you punch them, you push them and nobody gets sent off!' It was perfect."
"After four or five days I learnt that three United players and four or five of our players were suspended for a game. Sometimes it didn't happen on the pitch, the punishments came afterwards.

"I was actually quite proud that at Dortmund, I got sent off five times. I never got sent off at Schalke or Milan - I only got sent off at Dortmund. At Arsenal, I managed to stay on, unfortunately except for one occasion [in the 2006 Champions League final]."
The Battle of Old Trafford
An infamous game between Old Rivals saw matters reach boiling point in the tunnel at Old Trafford after the final whistle, and events led to United boss Sir Alex Ferguson was hit in the face by a slice of pizza, which ultimately Cesc Fabregas took credit for.
"It was so obvious that Wayne Rooney went for a dive..."It was a little bit disappointing for myself. I wanted to go to the corner where Ruud van Nistelrooy put the penalty, but Patrick [Vieira] came to me and said, 'You know where he's going.'
The year before, it was the same [controversy]. I thought, 'Oh, every time it's the same here. It belongs to the aftermath of the game that managers stand in front of each other and try to punch each other.' The year before they were already having a fight, this year was 'Pizzagate'.
I mean a young player came into our dressing room and was hungry. He'd probably taken too much pizza and instead of eating it, he had thrown it on to Alex Ferguson's... where was it? Chin? Forehead? I think it was half neck, half shoulder.

"I wasn't really involved. The only thing I did… I was quite late and I saw the bunch of players in front of me, the two managers standing, confronting each other. I was spilling water from behind on to the whole crowd. It was like petrol onto a fire.

"I inflamed the situation a little bit but without getting involved. I saw security guys there, our players, the managers, it was just an accusation of betrayal and whatever, because of the penalty. Again, a penalty."
Paris 2006
Heartbreak for Arsenal in the Champions League final, losing 2-1 to Barcelona, Lehmann became the first player to be sent off in a European Cup final.
"No, [it doesn't get easier with time]," Lehmann said. "You regret it more and more. It was in the spur of the moment and it just happened. It was probably down to the fact that we hadn't conceded any goals and I just wanted to get going. I should have dropped off a little bit more but I didn't know how fast [Samuel] Eto'o was. It was the first time I played against him.

"I was very sorry because Robert Pires was taken off. I went to sit in the stands and my sons came to me and we were very, very sad. We could have got a fantastic [result] at the end but Juliano Belletti scored. I met him a couple of years ago and he had good memories of me.

"It was very unfortunate circumstances but have you realised that after that red card, nobody else had been sent off in a final unless it was the 90th minute and the score was already clear and decided. During the major part of the game, nobody has been sent off."​​​​​​​
Credit: arsenal.com