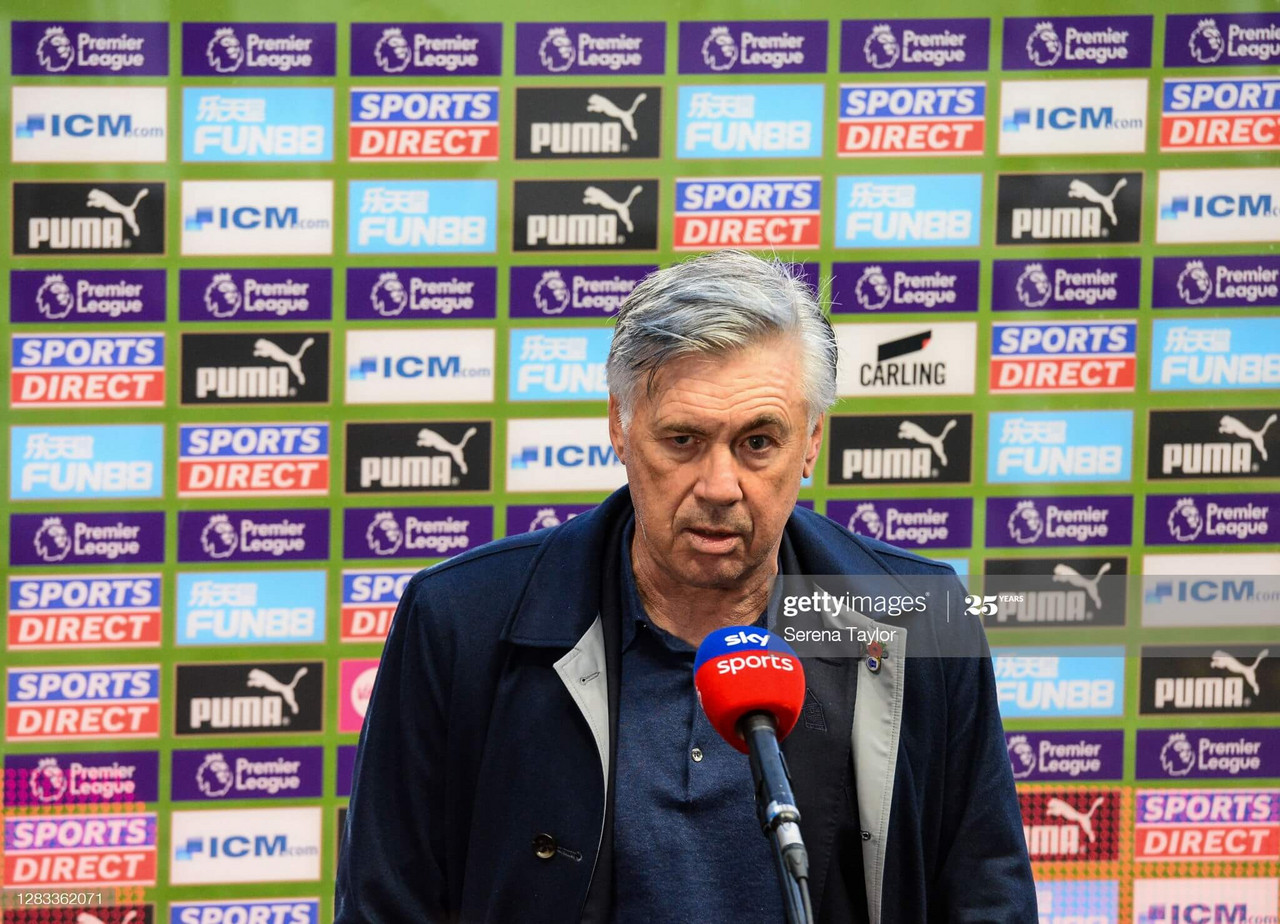 Everton hope to return from the international break in a similar manner to how they began the campaign as opposed to how they have played in the past month. Carlo Ancelotti's side were without defeat in the Premier League after four games and unbeaten after five but three successive defeats have halted the early momentum.
Ancelotti hopes that his defence steps up and eradicates the defensive errors that have cost his side their first win in over a month. The Everton manager spoke to the media ahead of his team's return to action.
On match against Fulham
Everton travel to west London on Sunday to face Fulham. Ancelotti's side are currently in seventh position, nine points and 10 places above Scott Parker's team, who have collected four points from their first eight games back in the division following promotion.
"Fulham didn't start the season well," Ancelotti acknowledged, but his own side are without a win in four games and have lost their last three. "We have lost three games, we want to have a reaction and to come back and play as well as we did at the start of the season. "It will be a difficult game because there will be pressure on us, and there has to be."
"Really important," Ancelotti replied when asked how important it is to have an extra day to prepare for the trip to Fulham following the international break. "We played against Liverpool on Saturday at midday and for the players it was not the best to prepare for this game. The extra day is really better."
On injury news
Ancelotti was able to confirm that Fabian Delph, Allan and Richarlison are all fit and available for the match with Fulham. However, Seamus Coleman is out having returned back from international duty with Ireland following an injury.
The return of Richarlison, who missed all of Everton's three defeats due to suspension, is important but the manager is not of the belief that his absence was the reason for the team's poor run of results.
"We didn't lose because Richarlison wasn't there," Ancelotti said. "He's a striker and the problem we had was that we didn't defend properly. He's really important for us, a top player and it's important to have him.
"He has everything, I think he can reach the top level in football. He's still young but a really humble guy. I think he can be at the top soon."
On defensive issues
Everton have conceded 14 goals so far this season, the joint second highest of the top 14 teams in the league, and Ancelotti has said previously that his side need to tighten up at the back. The main issue has been the destabilising impact of injuries to Mason Holgate, Coleman and Jarrad Branthwaite along with the one-match suspension of Lucas Digne, which has prevented Ancelotti from sticking with the same back four continuously.
Against Newcastle United Ancelotti benched goalkeeper Jordan Pickford and opted for Robin Olsen instead only for Pickford to return for the game against Manchester United before the international break.
"We have to try to work in these two days we have to prepare. We must explain to them their mistakes clearly with video sessions we will do tomorrow before the game. We have to defend differently, more aggressive and more compact. Of course we have to work on this on the pitch, but you can switch you mental aspect defensively by also talking about this."
On advice for Rooney at Derby
The Everton manager also offered a warm word to Wayne Rooney, who started his playing career at the club. Rooney has been an assistant coach at Derby County for almost a year but has become co-manager at least on an interim-basis following the departure of Phillip Cocu.
"Good luck," Ancelotti said. "All the best for Wayne Rooney. What a fantastic player; he can be a fantastic manager. It's true, maybe 50 or 60 problems a day," he said on management. "It's not a big problem for me, maybe I have more experience and with more experience I can tell him he will be better."