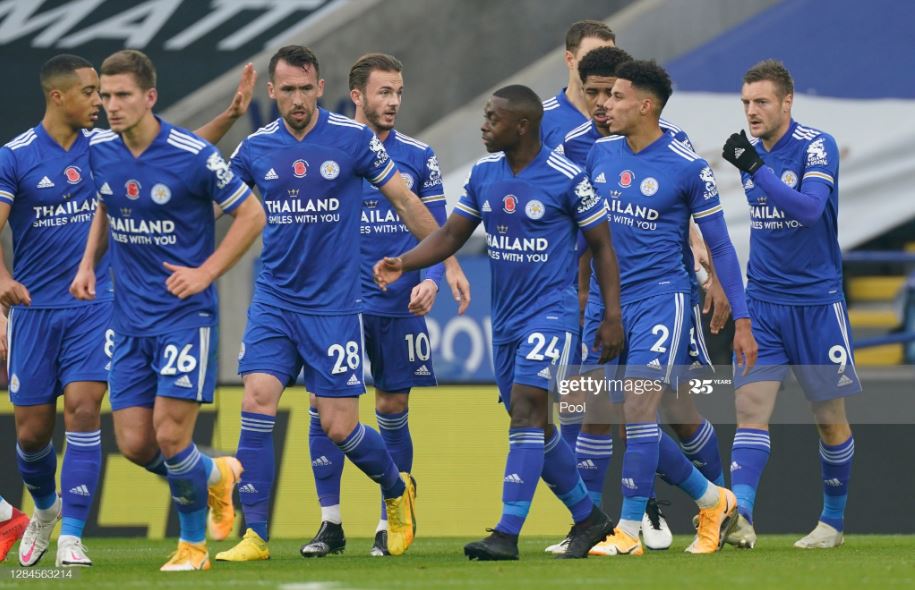 The champions and the league leaders face off in the form of Liverpool and Leicester City as the Premier League returns from the international break.
While the game will all ready be billed as a top of the table clash, there is more at stake for the Reds as they look to break their unbeaten record at Anfield.
Having beaten West Ham United in their last game at the famous stadium, Liverpool matched the unbeaten record at Anfield which was set by Bob Paisley's side in 1981 - standing at 63 games.
In order to surpass the record, Liverpool must overcome the high-flying Foxes, who themselves may fancy their chances due to the circumstances surrounding the fixture.
Here are some examples of why Leicester can pull off the big upset.
Leicester face an injury ridden Liverpool side
Before Liverpool's sudden injury concerns are explored, it is important to highlight that injuries have ravaged the Foxes side for the entire season.
Having lost Wilfred Ndidi, James Maddison and Ricardo Pereira last season, only Maddison has fully returned into the fold despite a fragmented season due to little niggles suffered. On top of that, Leicester have also been without Jamie Vardy, Timothy Castagne, Jonny Evans, Caglar Soyuncu and Daniel Amartey, while Kasper Schmeichel and Wesley Fofana both suffered knocks during the international break - both should be available for selection however.
Despite the challenges faced, Leicester have found themselves top of both the Premier League and their European group as their star men are starting to near their long-awaited returns.
While the worst of Leicester's injury woes looks to be behind them, Liverpool are in the midst of an injury crisis. They could be without their entire first choice back four as Trent Alexander-Arnold, Virgil van Dijk, Joe Gomez and Andrew Robertson all sustained respective injuries. Jordan Henderson, Thiago, Alex Oxlade-Chamberlain also suffered injuries while star man Mohamed Salah had tested positive for coronavirus.
It is likely that Liverpool's back four will be much changed, regardless of whether both fullbacks are available, meaning that a new centre back partnership will be up against an in-form Leicester attack - spearheaded by Vardy who has scored seven goals against the Reds.
It could be the first game that Liverpool have been without a number of key players, potentially resulting in teething problems as new personnel look to develop an understanding. Despite Leicester not being able to field a full strength team either, their deputies have had weeks of playing together, winning six games in a row in all competitions, meaning they could be feeling more comfortable about the test than their counterparts in red.
Leicester already boast two giant killings this season
So far this season, Leicester have a 100 per cent record against the 'big six' on their road to the top of the table, having beaten both Manchester City and Arsenal away from home.
In both matches, the game plan was to defend resolutely and utilise the pace upfront to do the damage on the counter attack. It became evident in both games that as the match went on, the Foxes grew in confidence and attacked more.
The game against Man City was a great example in the way that City took the lead early on and looked likely to run away with the game. As soon as Leicester began to break forward, they identified the cracks in the City defence and began to exploit them throughout the match, resulting in scoring five goals against one of the best teams in England.
While they did not score as many against Arsenal, they utilised the same tactics and bided their time until they could call on Vardy from the bench as he returned from injury. When their talisman came onto the pitch, the Foxes became more adventurous and coupled with the pace of Cengiz Under, broke through the Arsenal defence and scored the goal that secured their first win away to the Gunners for 47 years.
The East Midlands side have shown that they have the capabilities to cause upsets on more than one occasion, and if they were able to take all three points at Anfield, it would surely be the biggest one yet.
Looming record could affect Liverpool psychologically
While players and teams always look to break records, the milestones themselves have been known to act as a hindrance.
As Vardy came closer to his century of Premier League goals, his goal scoring exploits became fewer and far between, only scoring twice in 2020 before notching his 100th goal against Crystal Palace. To put that in perspective, as soon as he had breached the 100 mark, it only took him 17 minutes to notch his 101st goal.
The fact that, as mentioned before, it took Leicester 47 years to win once again away to Arsenal too, shows how the record itself also acts as an obstacle to face as they could not even achieve the feat during the 15/16 Premier League winning season after they surrendered their lead and lost 2-1. These are examples of how, while players and clubs would not admit it, milestones and records only add extra pressure on top of the game itself.
Bob Paisley resembles one of the great names of Liverpool Football Club, meaning that breaking his record would see Jurgen Klopp and his side immortalised within the history of the club. It would be a huge achievement to break such a feat, meaning that there is a greater importance on the game for Liverpool than there is for Leicester - something that the visitors can use to their advantage.