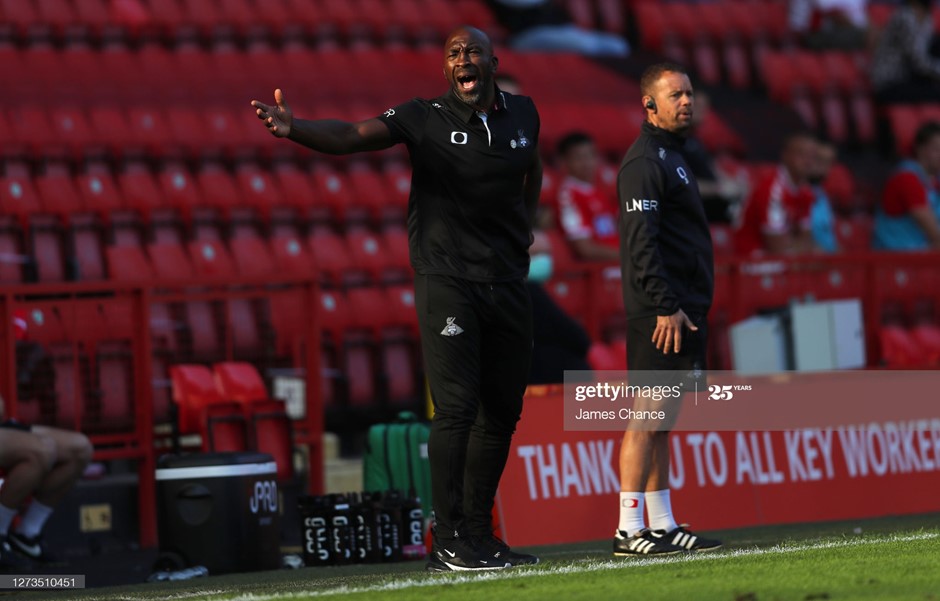 This season is a punishing one like no other. With a whole month sliced off the season by a delayed September start, the schedule has never been so rigorous across the EFL.
With most weeks seeing teams in action twice, there is rarely time for players to do anything more than catch their breath and rest their legs. Any time for real work on the training ground is gold dust.
It's easy to picture the exasperation on the face of Doncaster Rovers manager Darren Moore, then, when he found out he and two other members of his coaching staff would need to self-isolate for two weeks, just as his side were approaching the end of a gruelling run of eight matches in 15 days, and into an 11-day break.
Moore was absent for FA Cup and EFL Trophy matches, with centre-back and Doncaster Rovers Belles manager Andy Butler filling in for a victory over FC United of Manchester and a defeat to Wolverhampton Wanderers U21s. But most crucially, he missed out on more than a week of proper training, after international call-ups saw their League One game with Oxford United postponed last weekend.
In the classroom
Having gone through a month where, with matches every three or four days, time to work on the training pitch became severely limited, Moore and his team were left having to take charge of the best period of time they've had all season virtually from home.
To help bridge the physical gap, and maximise what coaching can be done with a group of players run into the ground by this most unforgiving of campaigns, Moore has been taking them back to class, with more ideas and instructions being delivered sat down rather than out on the training ground.
"Sometimes if you can't do work on the pitch, it might be classroom-based. That's another option to work at team dynamics," he said. "The good thing about the team is that they know how we work, how we detail things in possession and out of possession, so sometimes the classroom work can be just as effective.
"In the two weeks, I'm gutted I wasn't here to work on team principles and dynamics. When you have international breaks like that, the amount of work you can get through and the session plans you can get through is phenomenal. So I'm gutted I didn't have that because I feel like I've missed out on 10-12 days to work on team principles."
Resilience and culture
The need to make the most of that time is only heightened by the upcoming calendar, which has presented Doncaster with 11 matches in less than six weeks up to the end of 2020.
The disruption caused by Moore's absence may have contributed to a below-par performance in his first game back on the touchline on Saturday, when they were outplayed for long periods against Sunderland and trailed for much of the game at the Keepmoat Stadium before dramatically snatching a 1-1 draw at the death through Fejiri Okenabirhie.
Asked what that response showed about his squad considering all of the circumstances, Moore said: "Togetherness, resilience, culture, desire. They're a good group. They continue to work hard for one another and I felt that today, they kept together.
"When you look back at the week's training, we had a couple of days to prepare because of my circumstances. We've had to grab them Thursday and Friday, and some players were away because of the international break. We knew there were times in the game when we wouldn't be quite there."
There is no doubt that the hard-earned point against the Black Cats could be considered a good one for a Rovers team targeting a place in the play-offs. But it is only in the long run that it will become evident if this period off has been time lost, or time well spent.