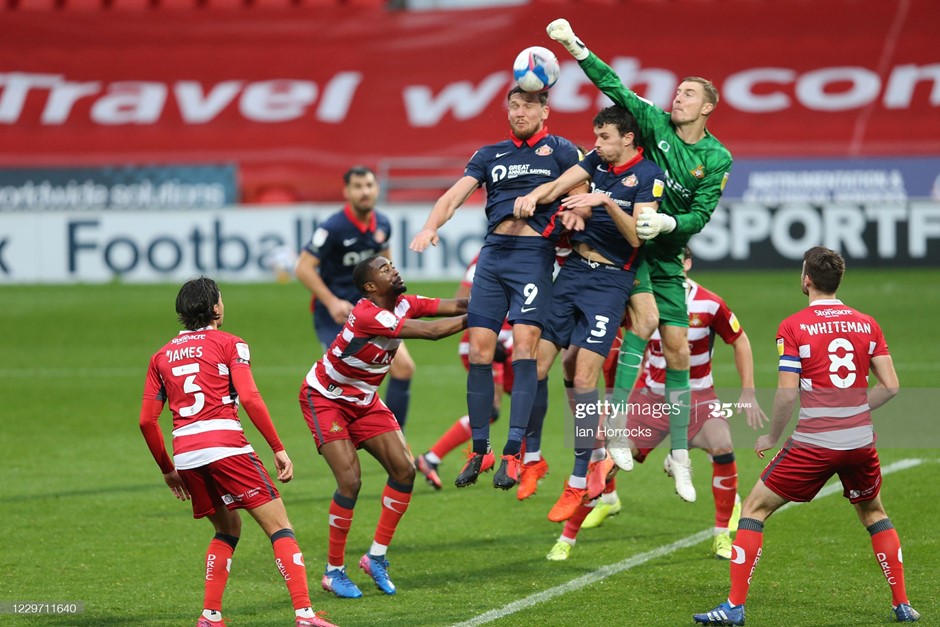 Joe Lumley could be forgiven for thinking it was Groundhog Day last Wednesday, as he got a call from his manager Mark Warburton.
Just three weeks earlier, the Queens Park Rangers goalkeeper had received the news that he would be on his way to Gillingham on an emergency loan, and he played twice in his week in Kent.
Yet almost no sooner than he had returned to West London, it happened all over again. This time the call of duty came from Doncaster Rovers, and within hours of the seven-day loan being agreed he was northbound for his latest club.
As if things weren't surreal enough, on both occasions he made his debut against the same opponents, Sunderland.
After two days' training, he made an assured first appearance for Doncaster on Saturday as they claimed a 1-1 draw, after which Lumley had time to catch his breath and reflect on another whirlwind week.
'Shooting up the M1'
Doncaster were put into panic-mode at the beginning of the week when injury to Angus Gunn saw Stoke City recall Josef Bursik, on a season-long loan at the Keepmoat Stadium. With youth goalkeeper Louis Jones the second-choice, manager Darren Moore chose to take advantage of the 'emergency loan' provisions to bring in a senior stopper.
The club looked to a familiar source in QPR, from where Seny Dieng came to have an outstanding season on loan at Rovers in 2019-20. Those performances helped establish him as number one early this season, at the expense of Lumley.
An ironic twist of fate has now brought the 25-year-old to the same destination, with an initial one-week loan secured after Doncaster made note of his short spell with the Gills in their hour of need.
Lumley said: "I sort of knew about (a possible move) earlier on in the week and then it was definite on Wednesday during the day, and I shot up Wednesday evening.
"I had similar about a month ago. I got a phone call from the QPR manager about Gillingham, and I was in Gillingham the next day and played a couple of games there. This was the same thing.
"It came about quickly but I knew what to do. I shot up the M1. The whole club has been great for me, I've settled in well and the lads have been really good."
Rival's helping hand
In that regard, his colleague and rival at QPR has been most useful. Lumley says that he received plenty of advice from Dieng on what to expect at Doncaster to prepare him for being thrown straight into action.
"Even before (joining), Seny was telling me things, helping me out with how the team play," he said. "He had Darren Moore last year and knows the way that they play. I was asking Seny questions.
"Starting in training, I sort of knew where the players would be and where to play the ball."
It is not an easy place for a goalkeeper to come and settle immediately, with Moore dedicated to seeing his side playing out from the back, starting with the man between the posts. Happily it was a role that Lumley was more than happy to fulfil.
"I've been brought up to play out from the back and be like a sweeper-keeper," he said. "The gaffer's philosophy is brilliant and he works on it a lot on the training pitch; in the past two days that I've been training we've done it loads.
"The boys know where to be and when to be there. It's great to play that type of football and I feel that's one of the strong parts of my game, playing with my feet."
Uncertain future
Moore was pleased with how Lumley settled into his Doncaster side, saying: "I thought he looked assured today, I thought he looked calm. He's come into the game like that and he's certainly helped get us the point today."
He confirmed that he would like to see Lumley's loan continue on a rolling basis through to January if possible, and the player said he would be equally happy to remain in South Yorkshire a little longer.
But Lumley knows a bigger reckoning in his career is coming very soon. This spell at Doncaster is the eighth time he has been out on loan, and the fourth time he has been sent to League One, in a rocky professional career.
Joining QPR at 16, he battled to become first-choice in 2018, but some high-profile mistakes saw him slip back down the order and he is now behind not only Dieng but Liam Kelly too. With his contract expiring at the end of this season, he is currently playing for his future.
"Last year was a big learning curve for me," he admitted. "I was in and out the team, I made a few mistakes in games. I try and take the positives out of that where you learn from those mistakes and mentally you become stronger.
"For a goalkeeper, you've got to be mentally strong. A coach once told me you have to have rhino skin, you've got to be so thick-skinned. Last year was a tough year but a massive learning curve, and I learned a lot.
"This year at QPR, whatever's happened with the contract is what it is." He added: "My aim is to get my place back at QPR. By using these games and helping out at Doncaster, hopefully that can push me on.
"January is a pivotal time in career to see where I am, but I'm not thinking about that at the moment."
While providing short-term fixes to save the day, Lumley will hope his emergency service can also help present a long-term solution to his own career.