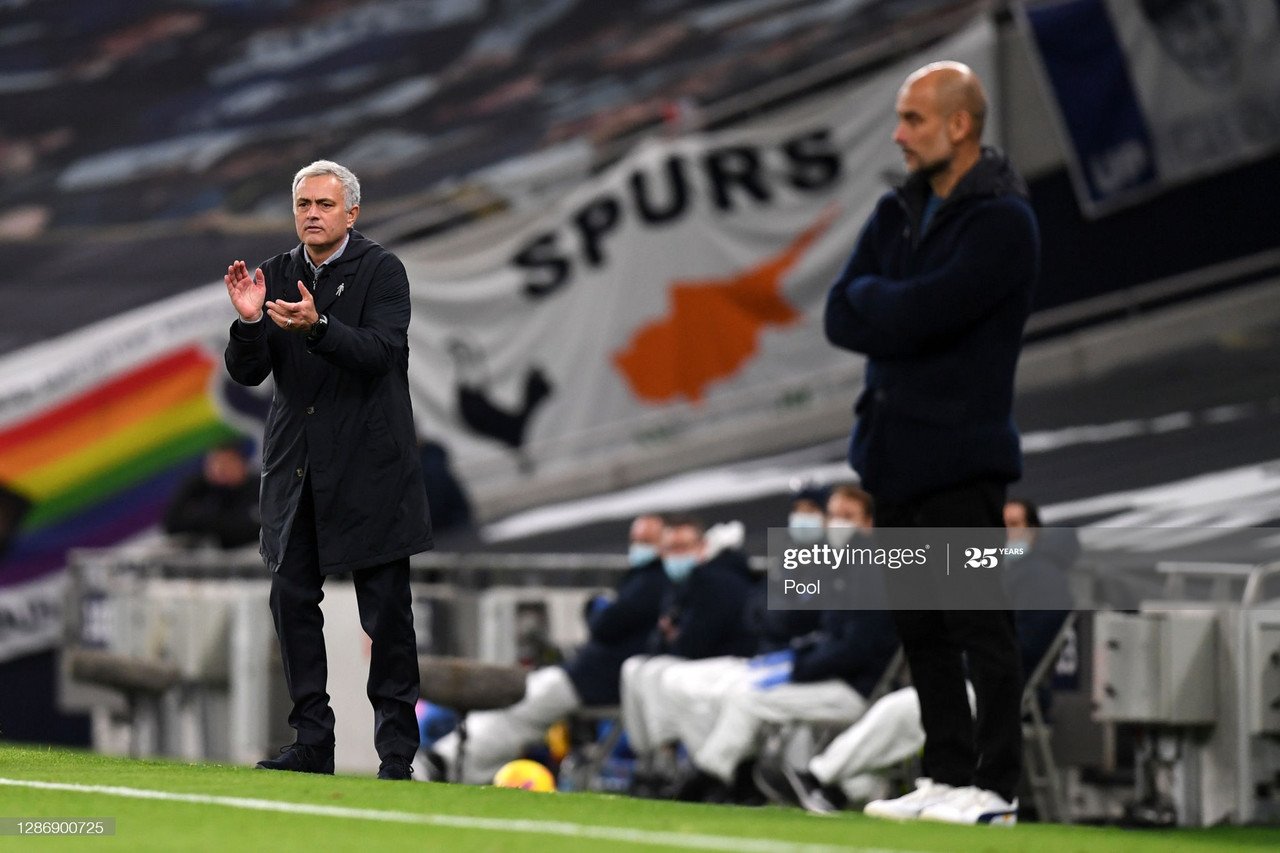 As the final whistle echoed around the empty Tottenham Hotspur Stadium, Jose Mourinho embodied a devil in his lair who just pulled the most deviant trick.
He went around to all of his players one by one, snarling in their faces with pure villainy – well aware of the evil masterclass he has just cooked up against one of his most famous counterparts.
Upon face value, Pep Guardiola and Mourinho's firm handshake at the end of the game was a nice moment but their eyes were showcasing a whole different story. One of sad depletion, and one of immense evil cackling.
The old foes generated another classic. This battle saw the Portuguese super-villain run away with all three points in a typical smash and grab fashion which launched Spurs to the top of the league.
Manchester City, as expected, were constantly throwing jabs at Spurs' rigid wall of defence. But, with grit and determination, Mourinho's side brushed them off with relative ease and landed two sucker punches that left Guardiola lying on the canvas questioning the state of his side.
This affair was a beautiful spectacle, as the two sides are met in completely different trajectories. Spurs are now finding their feet and identity with Mourinho, while City look lost, desperate, and void of ideas after years at the top.
Gary Neville, with all his infectious enthusiasm, summed it up perfectly on Sky Sports:
"This is a classic Jose Mourinho performance. Brilliant for Spurs, a nightmare for City."
This word is overused, but there feels no other adjective fit enough to describe it. It was the ultimate manager's performance, one that will be looked back at as a famous tactical victory.
Ever since Mourinho's appointment one year-ago, his attempts to make Spurs a more rigid and compact side have come with mixed success. Against the big sides, he openly allows the opposition complete control of the ball in an attempt to kill them on the counter-attack.
This system seems to be fully installed into his squad now. The game-plan was executed to near perfection. Scoring within the first five minutes was ideal, as it then gave the low block something to defend.
City had 66% possession, 300 more passes, 19 shots on goal, and 15 more chances created.
But this does not tell the story of the game. Spurs suffocated City and restricted them to no space within the lines. They forced Guardiola's team into meaningless, sideways, and lazy passing patterns with slow intensity.
The defensive low-block was fantastic. Despite allowing City the lion-share of possession, you always felt that Spurs had complete control over the contest. A VAR scare was the closest it came to being undone.
Now, let's move onto their brilliant counter-attacking performance. When the ball was one back, the transition was sharp and progressive. Curiously, 41.3% of Tottenham's first-half attacks came down the right through the marauding runs of the brilliant Serge Aurier.
But Mourinho flipped that in the second period with 40.6% coming down the left through the indefatigable Sergio Reguilon as Spurs looked to exploit the space behind Kyle Walker as he increasingly committed himself going forward with City seeking a route back into the game.
Tottenham have the capacity to switch up their attacking routines to punish sides, and this a result of the quality in abundance they now own throughout the pitch.
This is a further indication of Mourinho's return at the sharp end of the game. In overcoming his old nemesis, he was playing on City's weaknesses, striking his opponents on the counter-attack with clinical finishing.
Every time Spurs gained entry into the final third, it was a get off your seat moment. They looked like they were going to score most times they had the ball.
Mourinho's tactics were absolutely spot on, and his fantastic day got even better when Giovanni Lo Celso, his substitute, scored with his first touches of the game.
Guardiola has won the majority of these battles, winning 11 while only losing seven. But today will be a loss against the enemy which will be sore for some time - he played right into the hands of Mourinho.
In his quest to silence the doubters, the Portuguese boss took another massive step in the right direction with a tactical display of the highest quality.
MIDFIELD = BALANCE RESTORED
Let's start with Pierre-Emile Hojbjerg. He was, once again, outstanding for Tottenham today.
Funnily enough, Guardiola played a pivotal role in his development following their time together at Bayern Munich - where he became the youngest player to play for them in the Bundesliga at 17-year-old. It can't have been nice to see a player you crafted boss your own team like that.
The defensive midfielder is emerging as a vital cog in Spurs' rise under Mourinho, He protected the defensive brilliantly - always intercepting passes and breaking up City's rhythm.
He is the embodiment of this new-look Tottenham team. At full-time, he smacked every player's chest in pure passion and excitement. During the game, he is barking instructions to all of his team-mates.
Hojbjerg was born to play under Mourinho.
Moussa Sissoko, perhaps the most underrated player within the Tottenham squad, was brilliant again today. The French midfielder worked really hard out of possession, shutting down City's attacking players well.
But Tanguy Ndombele. How fun is this guy?
His assist to Son Heung-Min was magic. He manipulated his body, took one touch which took two City players out of the game. And then, when you think nothing is quite on, he played over an inch-perfect ball to Son who clinically put the ball into the back of the net.
We're finally seeing the £50 million price tag explain itself. He creates opportunities out of nothing with his dazzling skill and flair but has the sharp passing range to fork out opportunities.
He was good out of possession as well, which was a big fault of his average first season in North London.
This midfield three is sound. It's got the right balance, protection, creation, flair, and depth.
Lo Celso, as shown today with his goal, could easily slot in and you wouldn't notice the difference, which showcases Spurs' depth in midfield especially.
Breaking news. Harry Kane is quite good at football.
Again, why did you doubt him? Surely you have learned by now. Mourinho's appointment, which was a year ago now, was used as a target for Kane's head, suggesting the structured attacking approach will damage the 27-year-old scoring record.
And Kane once again had to prove people wrong. He has 45 goal involvements since Mourinho's appointment. But this season, it's hard to put into expressive words how good he has been.
Seven goals and nine assists now. The assist record (20) is getting more and more insight, and he nabbed a delightful one today – slipping in Lo Celso who made it 2-0.
It was one of the best centre-forward performances without scoring the goal. He won vital fouls, made blocks defensively, and toyed with City's defence.
Even for the first goal, he made a clever disguise run to distract City's centre-backs which allowed the equally brilliant Son to run in behind.
World-class. Yet again.
Tottenham are currently top of the league. Why not? In this new and fearful landscape, it may just be possible for a team to scrape together 80 points and scowl its way to the title.
And frankly, why shouldn't it be Tottenham? They have a deep squad, six high-class forwards, and relatively few injuries.
Spurs have a simple and unfussy game based on shape, percentages, and rapid counterattacks. Perhaps this is the best way to negotiate the Covid era: football chiselled and honed and sanded down to a fine point.
Liverpool have an injury crisis. Man City have lost their fear factor. An outsider has a chance at this title.
Spurs have a manager that has been there and done it. The squad looks like they would jump off Mount Everest if Mourinho ordered them to do it.
They still have a long way to go before these claims become feasible, but Liverpool fans will be for sure biting their nails wondering that they might have to beat an outsider like Spurs in order to win this title.
If Spurs are to make a title chase, Europa League will be a big task to try and juggle with. But they have got a big squad now.
We will see. How good does a Jurgen Klopp vs Mourinho title race sound?
Getting ahead of myself? Probably.
It would be too scripted not to have come out of the game with at least one negative.
First of all, Toby Alderweireld was fantastic today, as was his partner in defence Eric Dier.
But the Belgian fell injured in the 82nd minute and looked in a fair bit of pain. New signing Joe Rodon came on and didn't make a mistake which could've been a hit to his confidence.
Mourinho said after the game:
"It is bad. It is a muscular injury."
"We have three centre-backs in the Premier League but not in the Europa League where we do not have Joe Rodon. There's nobody to blame."
So, by the looks of its Tottenham will be without their best centre-half for a while. So, who will come in alongside Dier?
Davinson Sanchez, Japhet Tanganga or Rodon?
We will see, but they have a big task to live up to the excellent Alderweireld, especially with the rough run of fixtures.