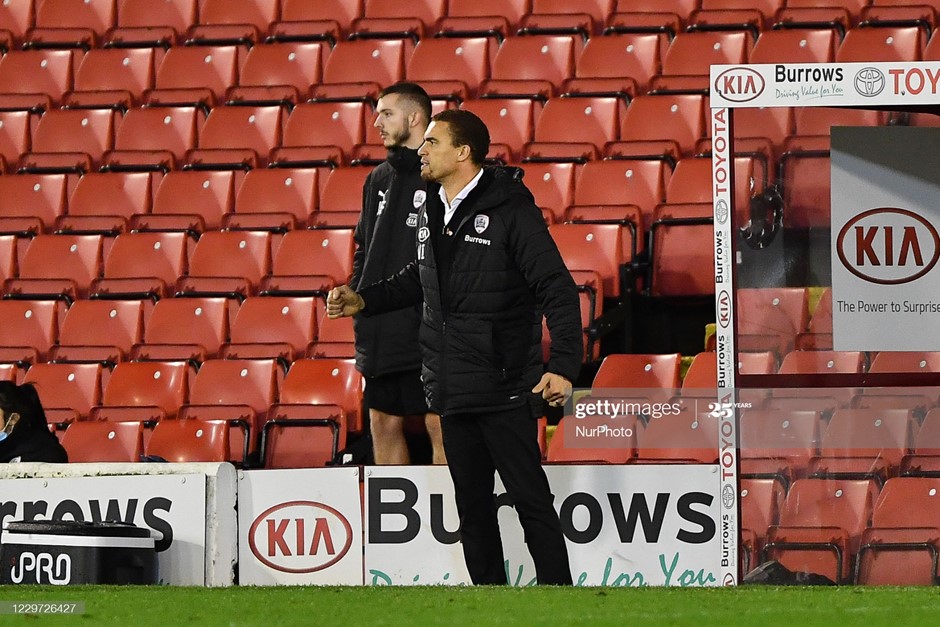 Valerien Ismael's great start as Barnsley head coach continued last weekend, as a late victory over Nottingham Forest made it four wins from five matches since taking charge in South Yorkshire.
However, they face one of their toughest challenges yet on Tuesday night, as last season's defeated play-off finalists Brentford travel to Oakwell.
On Brentford
Thomas Frank's Brentford have not made as strong a start to the new Championship season as might have been expected, and are only a point ahead of resurgent Barnsley heading into the game.
While the Reds are on the verge of climbing into the top half, Ismael insisted that the table is not relevant at this stage and expects a very strong challenge from a talented Bees team.
"We don't look at the table," said the Frenchman. "We are only focused on the opponent. It is another tough game. Brentford are a team playing every year for promotion.
"They have very good players, a good plan, a lot of principles in possession, and that's why I can't pre-empt my mind to the future and what we do if we win the game. We have to be focused from the first minute on what we do in and out of possession, what we have to do to sustain our effort, and after the game we will see what we get."
Barnsley's heroics to stay up in the final game of last season with a win at Brentford denied their opponents promotion to the Premier League, but Ismael says the history of their last clash is now irrelevant.
"It's a new season, new challenge," he said. "I don't think about what has happened last season. The game is tomorrow and we focus on this game."
On injuries
Ismael gave an injury update on his squad, with no new injuries reported following their victory over Forest. However, they will be without full-back Aapo Halme again after he came back from Finland Under-21 duty with a niggle.
"He has from the international duty a problem with his calf," confirmed Ismael. "That's why we didn't take a risk. He could come back at the end of this week or next week."
Otherwise the only expected absentees for the Brentford match are Ben Williams and Mike Bahre.
On keeping focus off the pitch
The results of Ismael's influence on the training ground have been present for all to see in his time in charge so far, both the head coach says that the attitude of the players to look after themselves away from the pitch has been crucial too.
"To play like this you have to be professional, you have to be focused, you have to show seriousness in everything that you do, on the pitch and outside the pitch, how you manage the time between the games" he said.
"We need to prepare 100 per cent. It's very important to sustain our performance. This is our way to be have success. It means a lot of focus and (being) professional.
"We trust the players. When you start to win the player wants more. They smell the blood now. They want to make the next step. It means more focus, more professionalism.
"All details count; what you do on the pitch, in training, before training, after training, what you want. The club has a good organisation, the players have all the facilities they need."
On helping the community
Ismael has also been keen to help out in the community since his arrival, donating to a Barnsley brass band struggling because of the pandemic.
"For me it's something very important, to donate," he said. "I think we are in a very difficult situation around the world for everybody. I had a friend lose his job and need help, so for me it's very important to help.
"Whenever I can do something, I will try to help. We want to stay connected with the people (of Barnsley) and have togetherness."