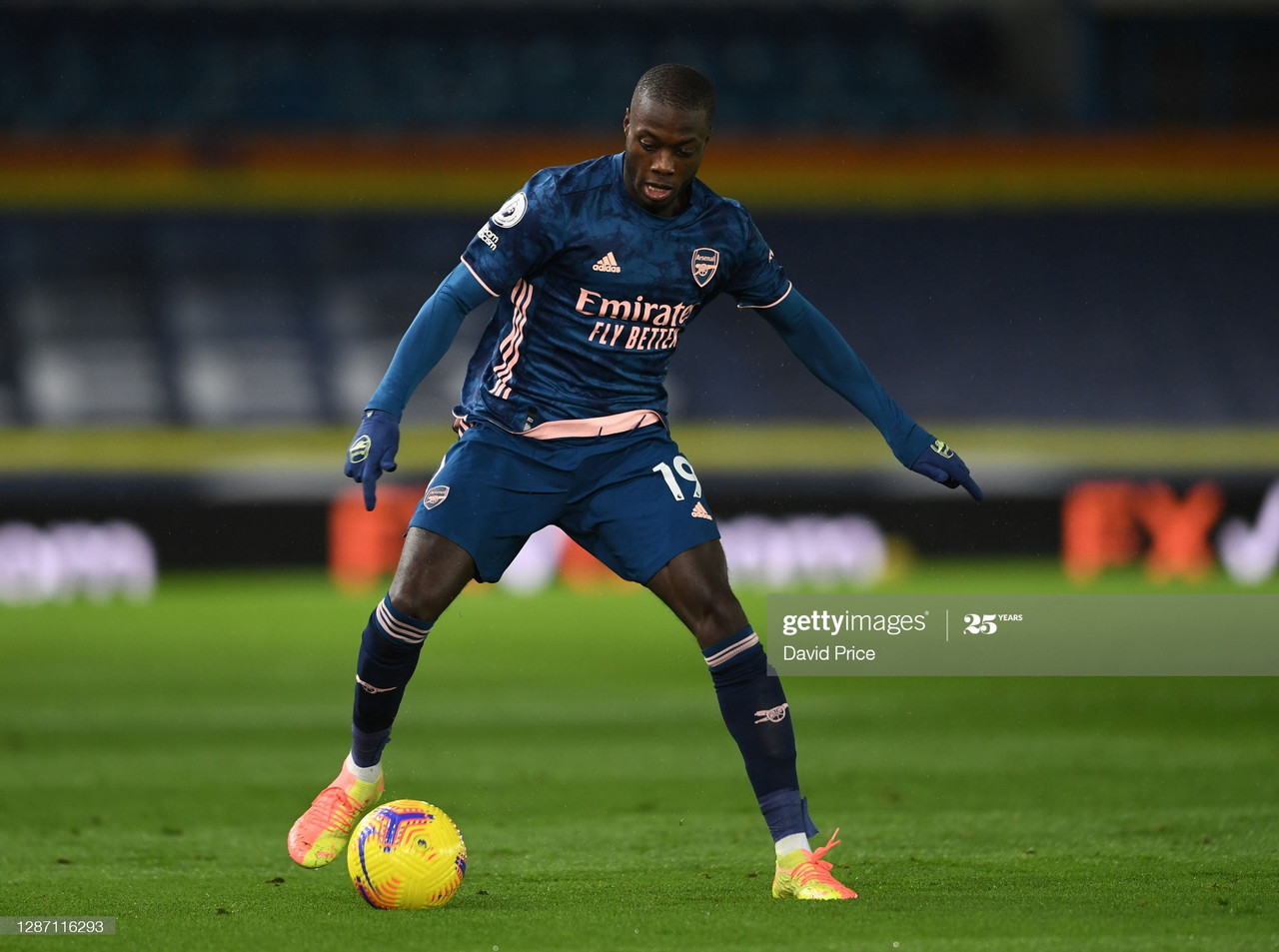 Nicolas Pepe has endured a mixed time during his spell with Arsenal, following a £72 million move from Lille in the summer of 2019.
The Ivorian international has played 55 times for the Gunners since his big money move, with 11 goals and 12 assists to his name.
He has divided opinion amongst the fan base, many of whom believe he hasn't justified his price tag.
Pepe's red card at Elland Road was completely unnecessary, a headbutt on Ezgjan Alioski early in the second half, left his team in a vulnerable position, but they managed to hold on to secure a 0-0 draw.
It leaves Mikel Arteta with a difficult decision to make regarding his winger. Pepe hasn't nit the hights we expected of him, and hasn't been in the greatest form this season, with three goals and two assists in 13 games this season.
Pepe will now miss games against Wolves, Tottenham and Burnley, but could be in line to feature in Europe, with the Europa League returning following a two-week hiatus during the international break.
A short period out of the team could be extremely beneficial for Pepe, a break from the pressure from the fans will give him time to reassess and find his form again.
The team and fans need to keep faith in their player, who has produced some great moments during his Arsenal career, most notably his two freekicks last season in the Europa League against Vitoria, his goal against Manchester United on New Year's Day, and his performance in this seasons' Europa League, scoring a world class goal against Dundalk.
It is these moments of magic which must convince The Gunners' faithful to keep the trust in Pepe, but he must produce these moments more often to keep his fans happy.
Arteta labelled the incident "unacceptable" a number of times in his post-match interview and later confirmed that he had spoken to Pepe in the Arsenal changing room immediately after the result, which left Arsenal 12thin the league, missing the chance to move into the top half of the Premier League
Following the red card, Pepe posted an apology on his social media sites for his fans, admitting he had no defence for his actions.
"I let my team down at a crucial time of the game and there are no excuses for my behaviour.
I am deeply sorry and would like to apologise to the fans, my teammates, my coach and everyone else at the club." Pepe said on his Instagram account.
Unfortunately the red card sparked racial abuse on social media, towards both Pepe and Alioski. Both Arsenal and Leeds issued strong statements regarding the incident to condemn the "vile" abuse of players and asserted their intentions to work with police to identify the culprits and take any appropriate action.
The Arsenal statement noted: "We utterly condemn the vile abuse directed at Nicolas Pepe and Ezgjan Alioski on social media following our match against Leeds United.
This is completely unacceptable and we will be working with the police and authorities to do everything we can to trace and prosecute the culprits."
Leeds United said in their statement: "The vile abuse directed at Ezgjan Alioski and Nicolas Pepe on social media after yesterday's Premier League game with Arsenal will not be tolerated by Leeds United.
"We will work closely with the police and the footballing authorities to ensure those responsible are identified and punished."