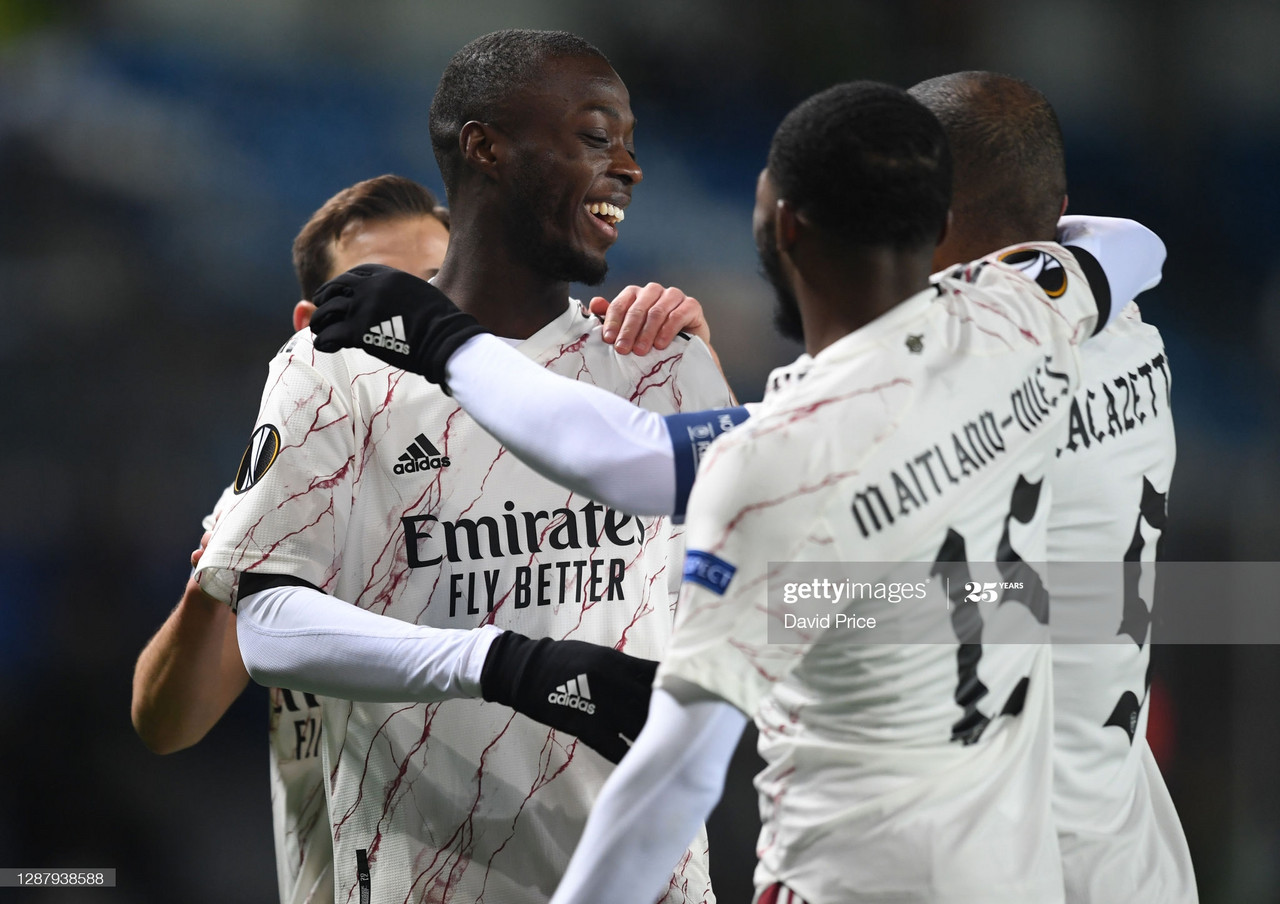 Arsenal sealed qualification for the knockout round of the UEFA Europa League on Thursday night with a 3-0 victory over Norwegian opponents Molde.
Nicolas Pepe opened the scoring following a week in the spotlight after his red card against Leeds United, before youngsters Reiss Nelson and Folarin Balogun netted to ensure Arsenal walked away with all three points.
Quotes from the boss
Pepe's performance in particular impressed boss Mikel Arteta, who said:
"I am really pleased. After the disappointment of something negative, you want to see a reaction and I could see from the first minute with his body language that he was ready to act.
"I think he had a great performance, he scored one goal and could have scored another one or two. He created some good moments in the game and worked really hard for the team, so I really like it, I am pleased with that."
Despite the high praise, the Spaniard hinted that there remained much room for improvement for Arsenal's £72 million man, following his glowing remarks with:
"Today is the example of the level he needs to hit, and he needs to keep doing it because he is capable of it and you can see that every time he gets in those positions win the final third, he is a real threat and a very difficult player to control because he can go with his feet, he can come inside, he can shoot, he can create crosses and he can go in behind you as well. That is what we can expect from him."
Arsenal's raft of youth of show also attracted attention from fans and journalists alike, with many pleased to see appearances for Reiss Nelson, Eddie Nketiah and Joe Willock from the beginning and the introductions of Emile Smith-Rowe and Folarin Balogun from the substitutes bench.
Balogun had been linked with a move away in the summer, but Arteta suggested that the youth prospect is here to stay, telling reporters that:
"He is working really hard, he had some difficult months with all the speculation around him but he has handled the situation in a really mature way. He wants to stay, we want him to stay, we give him the opportunity and he took it straight away."
Smith-Rowe made his first appearance of the season in the second half, and Arteta wasted no time in showering the creative midfielder with praise, saying that:
"He's the got ability and the quality. Mentally, it is always a challenge because the demands are so high, the pressure is high to play here and you need to hit those levels to become an Arsenal player.
"It's down to him as well. I really like him and he's a player that if we are a little bit patient [with], we have a great player there."
The Arsenal boss also clarified the situation of Reiss Nelson, who had been linked with a loan move away in the summer transfer window:
"He's made some big steps in the last month or so. He's shown what he can do. Again, he's another player that wants to take you on all the time, he's very vertical, he's a great player when he runs in behind and he's very unpredictable.
"I really like these types of players to play in the wide positions. Defensively, there are things that he needs to do better and he will improve in that but he's a much more mature player.
"We're doing a lot of work with him, obviously. He's so willing. He's asking for more all the time. He wants individual meetings. He wants to work on the pitch in certain aspects in which we think he can improve. He's training really really well, he's developing as well."