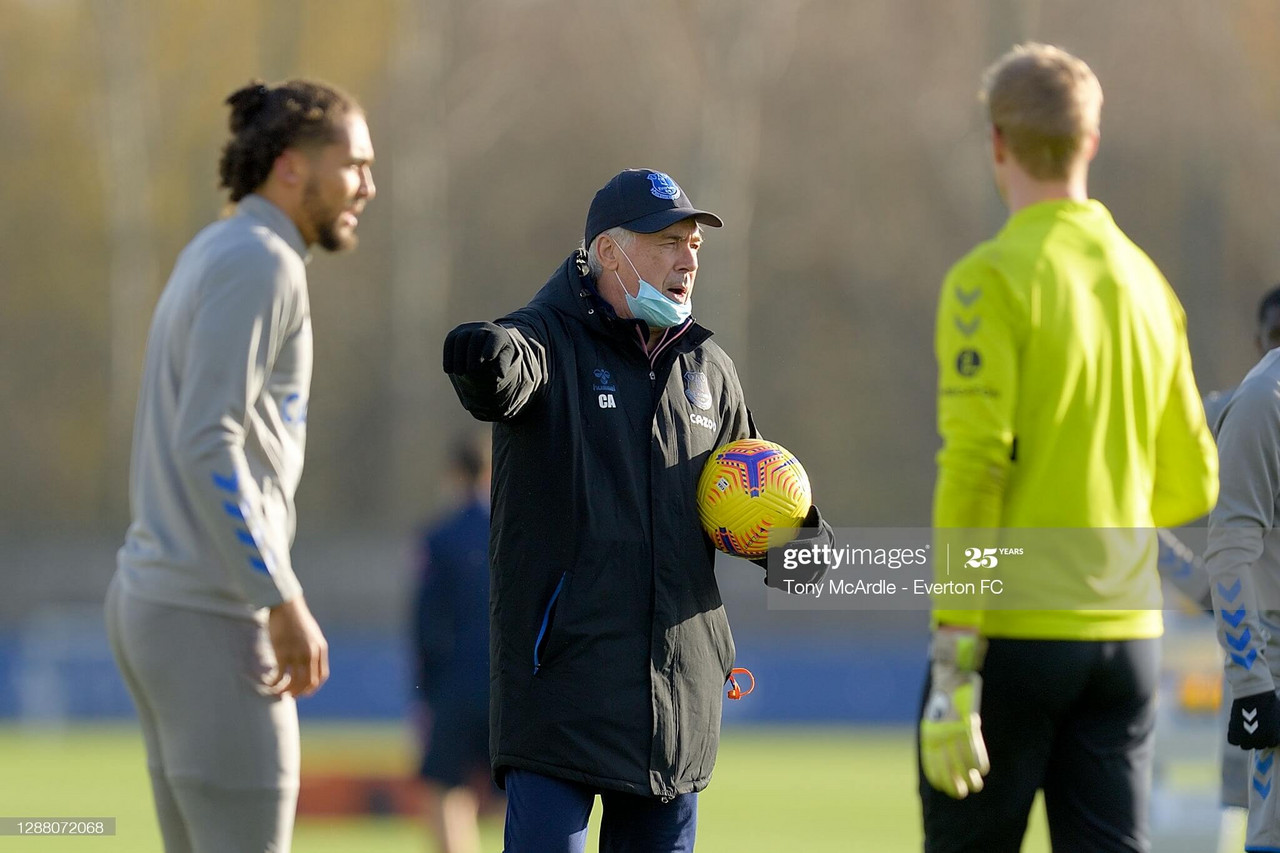 Everton host Leeds United on Saturday evening with hopes of getting the better of a newly promoted team for the second week in a row. Everton defeated Fulham last weekend to stop a run of four game winless sequence and a home triumph against Marcelo Bielsa's side could take the home team into the top four.
Both club's recent form is identical with three defeats, one draw and a victory making up their past five results in the Premier League. Carlo Ancelotti, the Everton manager, previewed the game, spoke of the latest injury news and paid respects to Diego Maradona in his pre-match press conference.
On Maradona
Ancelotti played against Maradona while the Argentine was at Napoli and Ancelotti played in midfield for Roma and AC Milan in the late 1980s. "I have good memories of him," Ancelotti said. "He was my opponent and became my friend after that and I had a good relationship with him.
"He was really humble, I liked him as a person. He is a big loss for football but the memories are still there: a fantastic player who helped football around the world with his quality, skills and ability. He was the best player I ever played against."
Ancelotti went on to manage Napoli, the club that Maradona made his own and won two Serie A titles. "Maradona is an idol for Napoli," Ancelotti continued. "For the city he was not only a footballer but a great example [of the city] to show everywhere. Maradona is the most important and most loved [footballer] of the city."
On Digne's injury
Full back Lucas Digne picked up an injury during training in the week and Ancelotti confirmed that the Frenchman could be out of action for up to three months.
"It was an unfortunate situation during training, this can happen," the Everton manager said. "He is a big loss because he is a fantastic left back, one of the best in Europe at the moment. We have to manage this. Unfortunately, during a season, it can happen that you lose some important players and we have to be able to manage the situation and I think we will be able to adapt to the loss of Digne for two or three months."
Everton, who used a five-man defence against Fulham, could switch to a wing-back formation more permanently going forward. The loss of Digne and the continued absence of Seamus Coleman, whose recovery from injury is being monitored "week by week" lends itself to a five-man defence as Everton do have good options for players who can take on the wing-back roles. Niels Nkounkou being one of them.
"We are thinking about this," Ancelotti replied when questioned whether this is a possibility. "Three centre backs could be an option. We will see."
On Leeds exploiting Everton's defence
Leeds have returned to the Premier League after a 16-year absence with a bang and have brought entertainment and the unique style of Bielsa. "Leeds are a dynamic team," Ancelotti said. "It is going to be an open match. Bielsa teams are just like Leeds, full of intensity with and without the ball and we are going to expect this type of game."
Only three teams have conceded more goals than Everton in the league (16) and Leeds are the highest scorers of the teams in the bottom half of the table (14) with Patrick Bamford having netted seven goals in nine games so far. What's more, Everton are without a clean sheet in eight league games and Leeds will look to exploit their opponent's weaknesses at the back.
"Of course we have to be concerned and worried because we concede too many goals," the Everton manager said. "It's too much from my point of view and we have to work on this. We scored a lot of goals in the early games, we were really efficient in front of goal, but we conceded too much and we have to avoid this. We have to have more balance."
On the return of supporters
Everton will be able to allow up to 2,000 supporters back to Goodison Park for their next league game against Chelsea on 12 December following the government's announcement. Asked about the long-awaited return of spectators Ancelotti admitted that it would be an advantage for clubs, like Everton, that are allowed a crowd but it was a step forward nevertheless.
"This is really good news for the Premier League. Not only for Everton because it is not a problem for only Everton or another club. It is true that Everton supporters are allowed but everyone hopes that all supporters will be allowed as soon as possible to go to the stadiums.
"For sure, I think it will be an advantage to have our supporters at Goodison Park and it will be a disadvantage when we play away - that is normal. But the fact that supporters are coming back is what we need, football in general needs supporters in the stadiums."
On coming up to one year anniversary
Next month sees the first anniversary of Ancelotti joining Everton. When asked whether he had experienced any surprises on his return to the Premier League, he said: "On the football aspect I'm not surprised. But what did surprise me is the beauty of this area. It's really nice." Ancelotti has settled very comfortably in the pleasant surroundings of Blundellsands near Crosby and is enjoying the walks along the beach.
On the improvements he has seen in his team, he added: "I think the team has improved, we are not showing all the qualities we have at the moment, this squad is competitive and we can reach more. We are not at the top. But compared to last season we have improved. We have more confidence and knowledge. The players know what I'm thinking about in terms of football and the signings have made the squad better."