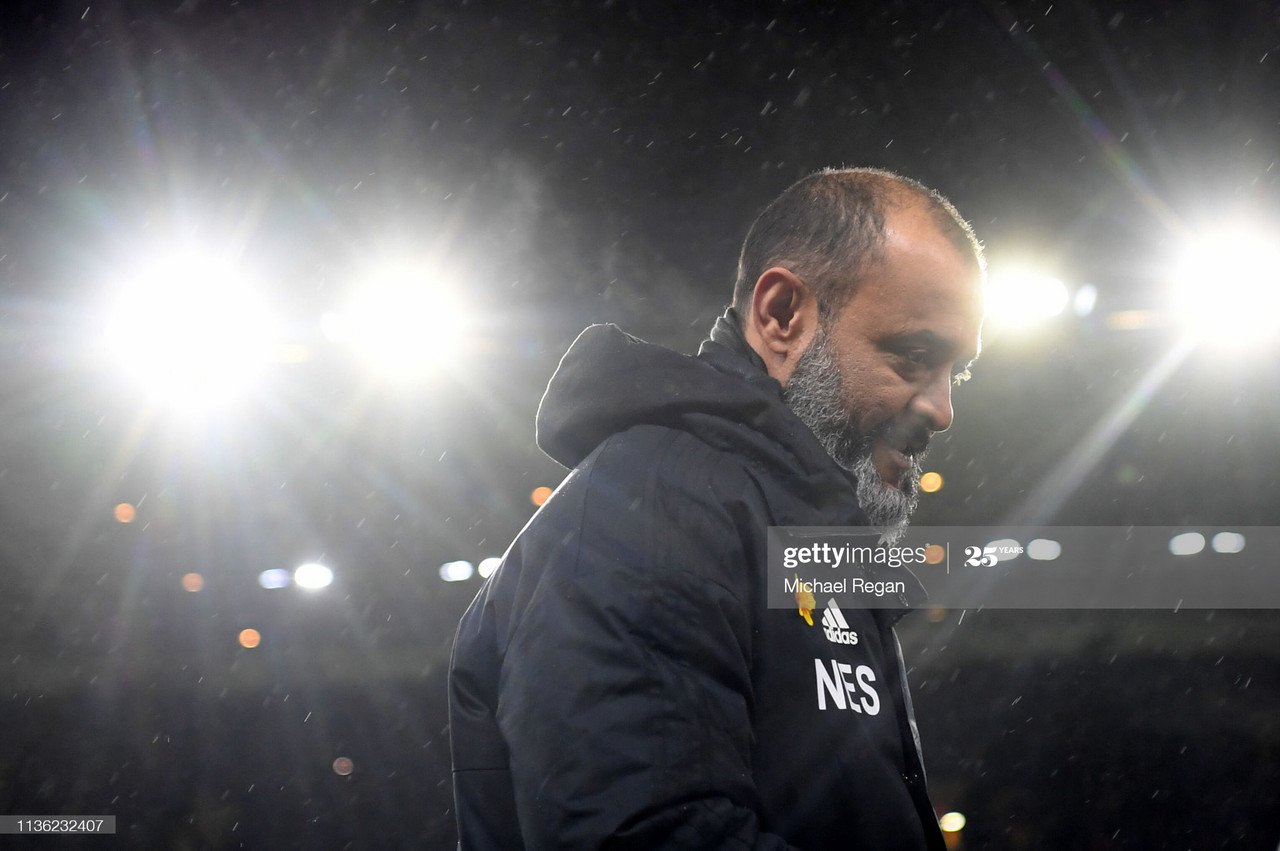 Wolverhampton Wanderers travel to Arsenal on Sunday in the Premier League as they look to win their first game in three.
Their last victory was the 2-0 win over Crystal Palace at the end of October and they have lost to Leicester City and been held to Southampton last week.
However, the Wanderers have drawn 1-1 at the Emirates in their previous three visits to North London.
After his pre-match press conference, here are the five key quotes from Nuno Espirito Santo.
On the return of supporters
With news that football supporters will see a small return to football grounds, Wolves will have to wait longer due to the majority of the West Midlands being placed in tier three.
However, Nuno remained upbeat about having supporters back in other stadiums: "It's good to have fans back. It's important for the game.
"Regarding the situation of ourselves, we are in tier three, so let's take care of each other so we can have our fans back in Molineux as soon as possible."
Wolves' first game in front of spectators will be the trip to Anfield on December 6.
On Arsenal
Last season, Mikel Arteta's side won 2-1 at Molineux after the restart in June, with the side's drawing 1-1 in London earlier in the season.
Discussing the challenge posed by the Gunners, Nuno said: "I'm expecting a very tough game, a very difficult game against a very good team, who have good players and a good manager, who play good football.
"We've been able to compete well against Arsenal, and now we have to do it again. We have to have a good performance against Arsenal."
On Conor Coady
The Wanderers skipped absence in Monday's draw with Southampton was the first time since Sp
Speaking about Conor Coady, Nuno said: "He was really upset. He felt the team played well and he was upset because he couldn't be out there and help the team.
"It was a tough moment for him, so he was away from his natural environment. He has another chance to break the record.
"It was tough news to have. The moment I was informed that he had to go away from the England squad, it was bad. But you have to find solutions. That's how I deal with problems, I don't stick with them, I find solutions."
On Mike Bailey's dementia diagnosis
Earlier in the day, it was announced that former club captain Mike Bailey had been diagnosed with dementia.
Bailey led the club to glory in the 1974 and captained the side to the Wanderers reaching the final of the first-ever UEFA Cup.
Nuno discussed the news in his press conference: "It's sad news. I've not had the pleasure of meeting Mike personally, but we are aware of what he means for the history of the club.
"A former captain, and so many appearances for the club- and know that at this moment he's suffering and his fight against dementia.
"All our thoughts to go his family and Mike knows that, for sure, he has the support of all the club."
On possible banning of heading
With the number of former footballers calling for heading to banned and the PFA calling for heading restrictions in training, questions of whether Nuno agrees were directed his way.
"It's a very difficult situation because the game requires heading the ball, and as long as the game requires that, we have to do it.
"Even in youth football, it's part of the game, so how can we take away a part of the game that can be so important?
"I think it's something that should have further studies so we can have a better opinion. Of course, I cannot ignore that if that's the case, then we have to do something, but I hope further studies can give us better opinions to give wiser decisions."