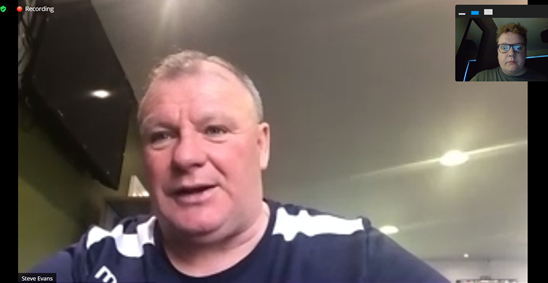 League One Gillingham will host League Two Exeter City in the second round of the FA Cup on Saturday, hoping to avoid a mini upset and progress to the third round.
Ahead of the game, Gills manager Steve Evans spoke to the press. Here are five of his key quotes.
On his team's progress
"We have learnt that we are getting much nearer to where we need to be. We have got individuals who were missing early part of the season getting a lot closer to the match fitness and sharpness we need them to be at, so we are getting there. It is a small group, but we are getting there very quickly – more and more the key players are becoming more influential."
Gillingham suffered a tough run of form not too long ago where they lost five games in a row without scoring, but they have taken seven points from their last three league games and are looking a much more confident outfit.
On Exeter
"There will be shocks all over, the same as the last round. We have done our homework on Exeter – I went up to Bradford and watched them in the 2-2 – Exeter should have scored five or six and were totally dominant. And anyone that can beat Colchester 6-1 has to be very good.
"They are a possession-based side with a young manager that will let the players play. I think they will be in League One next year and it is a game where we will have to be at our best to make progress. I really like this Exeter team. There are three or four players that I would sign tomorrow if funds were available."
Exeter are flying in League Two and, if anything, this game is even – there is no underdog.
Expect a tight one.
On his priorities
"It [the FA Cup] is number two to League One. League One is always the bread and butter. Cup runs can come and go but from our point of view we are very much involved in all three competitions that remain. It would be nice to be in the third round.
"The vaccine is coming, and we want to be there and draw a Premier League club and get fans in the stadium. Football fans are the ones we all desperately miss."
It is tough for managers to give 100% to all competitions but Evans evidently has a lot of respect for the FA Cup. It does play second fiddle to the league for him, but he certainly wants to win.
On the magic of the FA Cup
"I messaged the players last night about it being FA Cup weekend. I said it last time – I woke up in the morning thinking it is FA Cup day. The minute you do not get that as a manager you should start to reconsider what your profession is.
"Me and my staff walked in today and we were talking about FA Cup weekend and the magical times people remember. As a management team we have been very fortunate – Fergie was very lucky when he beat us at Old Trafford – and when you have a good time you want to repeat that good time. You do not get those big days without dealing with days like this. Exeter will have their own dreams and we have to make sure our dreams become a reality come five o'clock."
Evans took Crawley Town to Old Trafford in the fifth round of the competition in 2011 and has had some decent cup runs outside of that too.
The FA Cup really us magical. Evans will be hoping to make more memories tis year.
On Kent being Tier Three
"It makes it more difficult and it takes away a level playing field. It is not a level playing field. We understand fans are all the same – they want to see their team – they will quite rightfully get behind their teams but there is an advantage there.
"I did think the EFL would say it is all or nothing but once against we are at a lost end with them. Where is the funding package? I think he [Rick Parry, EFL chairman] has gone on holiday. Fans are great, it should have been all or nothing, but it is what it is.
"It is sad for our fans – they play a massive part. We would love nothing more than every Gillingham supporter bouncing about next week in these difficult times thinking the Gills have drawn whoever in the Premier League, and then looking forward to it and looking forward to the vaccine to see if they will be at the game. We really miss the fans more than they know and more than they could imagine. We cannot wait to see them back. They are the football club."
Unfortunately for Evans and Gillingham, the Gills have been placed in tier three of the government's post-lockdown tier system, meaning Priestfield Stadium will remain empty for the foreseeable future.
44 of the 92 league clubs in England will be allowed fans of sorts in their grounds – is this unfair? Evans certainly thinks so.