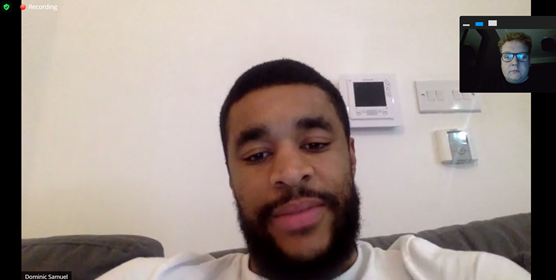 Gillingham will host Exeter City on Saturday in the second round of the FA Cup, with both sides aiming to progress and face one of the 'big boys' that enter the competition in round three.
Ahead of the game, Gills forward Dominic Samuel tackled the press via Zoom. Here are five of his key quotes.
On his progress
"I have settled in pretty quickly. The boys have welcomed me and so have the coaching staff and manager. It is one big family, and it is starting to show on the pitch as well.
"I know the club's history from when I was here a few years ago so it was a no-brainer coming here in the first place. On a personal note, if I am looking at it overall in my career I feel like my performances are more consistent, but I feel like, if I am to be harsh on myself, I should be getting a few more goals than I have done. Sometimes in games it wont always fall for you and you have to put the work rate first.
"The league is getting harder every year and I think the work rate comes first and the goals second but when the hard work pays off the goals will start to come in and they are starting to do that now."
Samuel has five goals to his name so far this season and is slowly proving to be Gillingham's talisman.
It hasn't all gone his way since his return to Priestfield, but he is clearly starting to find his feet.
On squad versatility and depth
"I have always said that in football you have to learn to play more than one role. I know how to play on the wide position as well and you have to be prepared to give 100% wherever you play. The gaffer likes to change it up sometimes and as a player you have to always give 100%.
"It is good to have competition because you will be looking over your shoulder. If you are not doing your job, then someone else can come in. Sometimes when you have competition it makes you perform better because you want to play week in, week out. It is good so you do not get too comfortable and with the squad and players we have got it is only going to improve us as a team."
Samuel has played out wide and through the middle this season, both more than adequately, and he clearly feels it's important to know how to do that.
The squad depth at Gillingham is strong – that can only be a plus.
On his FA Cup story
"I have always watched the FA Cup. There is magic stuff that happens and there is never an easy game. We would like to go far and that is something to look forward to.
"I still am a Chelsea supporter, and it would be on my wish list to go to Stamford Bridge and win. The furthest I have ever gone is the fourth round. Hopefully, this time round with the performances we have been putting in we can get to the fourth round and further. I would love to go as far as I can in this competition. Some other players might think it is just another added fixture to the season but with me I have always wanted to go far, so no matter what team we play I will always take it seriously."
The magic of the FA Cup has always been there for all to see, and Samuel has his own ambition.
Hopefully for him, this year he can fulfil them.
On Exeter
"I have no doubts it will not be an easy game. It is going to be a hard game – any team in this competition will not make it easy and going into this game we will not be taking it lightly just because they are in the league below – we have got to take it like a proper league game and if we go with that mindset we should get into the next round.
"I do not really like to look at other teams because if you were to go through our squad some people would be looking in and thinking this team can go all the way. They might have produced a lot of players but with our squad we can hurt teams, no matter what team it is."
Samuel isn't taking Saturday's opponents lightly, but he has confidence in himself and his teammates to get the job done.
It will be a good test for the Gills.
On having no fans at home games
"We have spoken about it. It is a shame we are in tier three, but it is safety first. If that is what it takes then it has to be done. Hopefully, things can change soon, and the fans can start coming in. Fans make a massive difference. When things aren't going your way in a game they are still there supporting you so for fans not to be able to watch us is a downer but as the season comes on hopefully they can let fans in and we can push on and see where it takes us.
"We are missing the support. Hopefully it is not too long now until they can come back and support us but if it is better to stay safe at home then they should do that and look after themselves and by the time they are back hopefully we are into the play-off positions."
Kent has been placed in tier three of the government's post-lockdown tier system, meaning there will still be no fans at Priestfield Stadium for the foreseeable future.
It's not ideal for the Gills, but, hopefully, a vaccine, and fans, aren't too far away.