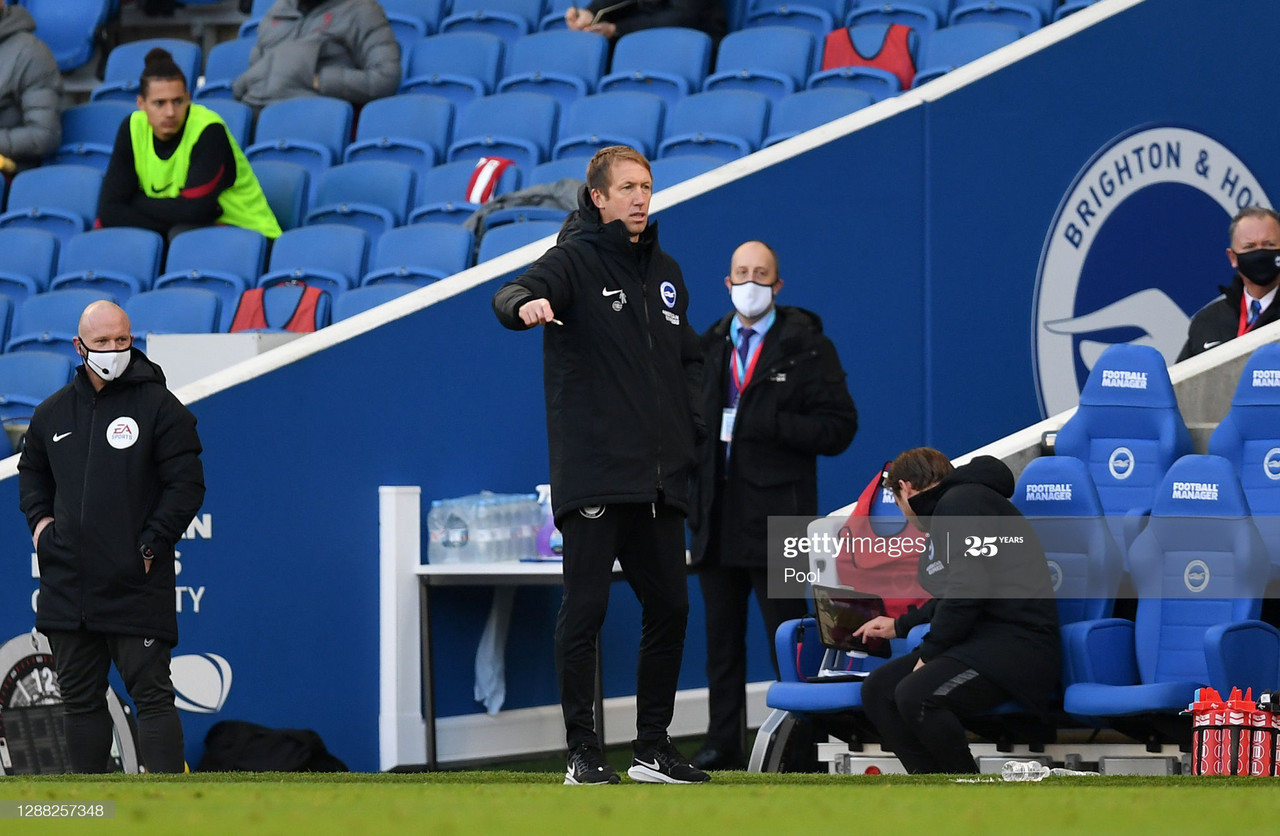 Brighton & Hove Albion manager Graham Potter met with the press after the Seagulls drew 1-1 at home to Liverpool. The defending Premier League champions took a 60th-minute lead through Diego Jota before Pascal Gross equalized from the penalty spot in the third minute of stoppage time.
Potter spoke about his side's performance, the pride he felt in the effort put in by the players and the impact of VAR, which was used multiple times in the game at the AMEX Stadium.
"We put a lot into the game"
According to Potter, Gross' 93rd minute equalizer that handed the Seagulls a point was no less than they deserved.
"Performance wise, we were really, really good. We put a lot into the game, you're playing against a top opponent and you have to play with courage, intensity and personality.
"We created some opportunities, the margins were in our favor but we deserved that because of our level of performance. We've had a lot of drama in the 90-plus minutes this season. Credit to Pascal, he is that type of character - reliable and a team player. I am pleased for him."
"I am really proud of the players"
Brighton may feel they should have gotten more out of a first half that saw Neal Maupay miss a penalty, but Potter took it in stride and instead was full of praise for his team's effort.
"That's football", he said. "We had a penalty you want to score, but that happens sometimes. Apart from the opening ten minutes we asked a real question of Liverpool. With a bit of luck we could have taken the lead, but that's life.
"The thought then is how long you can sustain that for? I thought we sustained it quite well, but gradually Liverpool came back into it. But we put so much effort in and I am really proud of the players."
"We've got to accept that VAR is here"
VAR was once again in the spotlight as it denied the Reds two goals for being offsides and after referee Stuart Atwell consulted the technology, he awarded Albion their penalty, but the Brighton boss is accepting of it.
"We will always look at VAR because before we were looking at referee's and linesman's decisions. It's part of football that we question every decision, we want to try and get the right decision.
"Football is played by human beings, there's going to be some mistakes and errors, including from the officials. We will be on the wrong end of them sometimes, but we will also be on the right end of them.
"We've got to accept that VAR is here and try to support it as best we can and not get too carried away with decisions because they're nothing we can control."