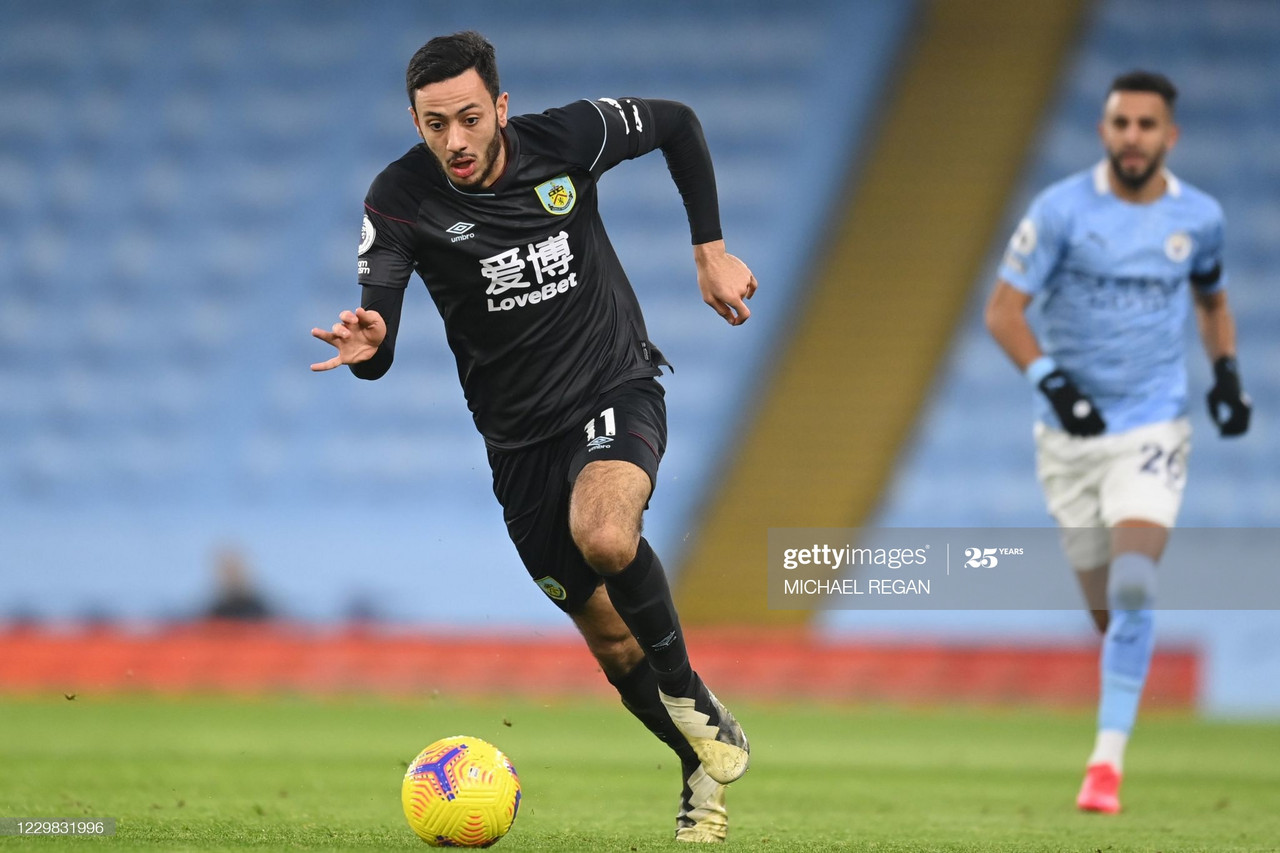 There were not many positives to take from Saturday's demolition, if there were any.
Riyad Mahrez hit a hat-trick with Benjamin Mendy and Ferran Torres adding to the misery for The Clarets, who left the Eithad Stadium on the back of a 5-0 defeat for the fourth time in as many seasons.
Injury to Josh Brownhill meant that Sean Dyche had to bring in youngster Josh Benson into a holding midfield role while Dwight McNeil played behind the striker.
It was England Under 21 international McNeil's performance that received the most praise from Burnley fans.
McNeil comfortable in possession
Although starved of possession for large parts of the game as City's trademark ball retention took shape, McNeil did look sharp when he was on the ball.
Getting into space between the lines of the hosts' defence and midfield, he was able to try and play some forward balls looking for the usually isolated Chris Wood.
There is the criticism that he is prone to taking too many touches and being forced back to his keeper, but he was able to hold onto the ball with relative ease despite being hounded constantly.
Many Burnley fans online claimed this to be his best game in a long time.
Although there wasn't much defending going on from a Burnley point of view at the back, McNeil was one of a few did apply pressure to stop the home side from breaking out.
Rodri in the first half and Fernandinho in the second were dispossessed by the midfielder which, on another day against a not so well organised team, could eventually lead to goalscoring opportunities.
We have seen on a number of different occasions when operating on the wing that he has had to play a covering role.
As Burnley have been on the backfoot for the majority of the season, McNeil has shown his willingness to do his defensive duties.
In this new system, if it continues to be used, he has to continue the pressing but also has to keep dropping back as well, especially in a Burnley side who are looking unusually shaky in defence.
Dyche moved from his typical 4-4-2 formation to something with a bit more attacking force but also keeping a strong defensive core.
It is simple, Burnley need to score more goals.
But it's not just that.
They need to be better on the ball to create more chances, to calm things down when the opposition is coming on strong.
McNeil will be vital to achieving any of this.
Playing behind the striker and just ahead of the holding midfield two, McNeil will be key to linking the play between the lines.
Sitting in a more central position, his delivery will need to be more refined, finding the striker's feet or finding space in behind for them to run into rather than just crossing the ball and hoping for the best.
He can also start to get more shots on goal, as he will begin to find himself in a position with a bit of space in front of goal.
Getting into the box to attack crosses might not be his strongest asset but the extra numbers in the box can create some confusion.
And it should also be said that, even if he took up more of a central role at the Etihad, he has the ability to rotate out to the wings and put some crosses into the box to change things up a bit.
This then allows Ashley Barnes and Jay Rodriguez to get into the box to get on the end of the deliveries and create more chances.
Dwight McNeil has to embrace this new role, it could be the catalyst for his side's upturn in form.
Dyche should definitely stick with the new formation, it will help transform his team's fortunes and potentially, McNeil's young career.