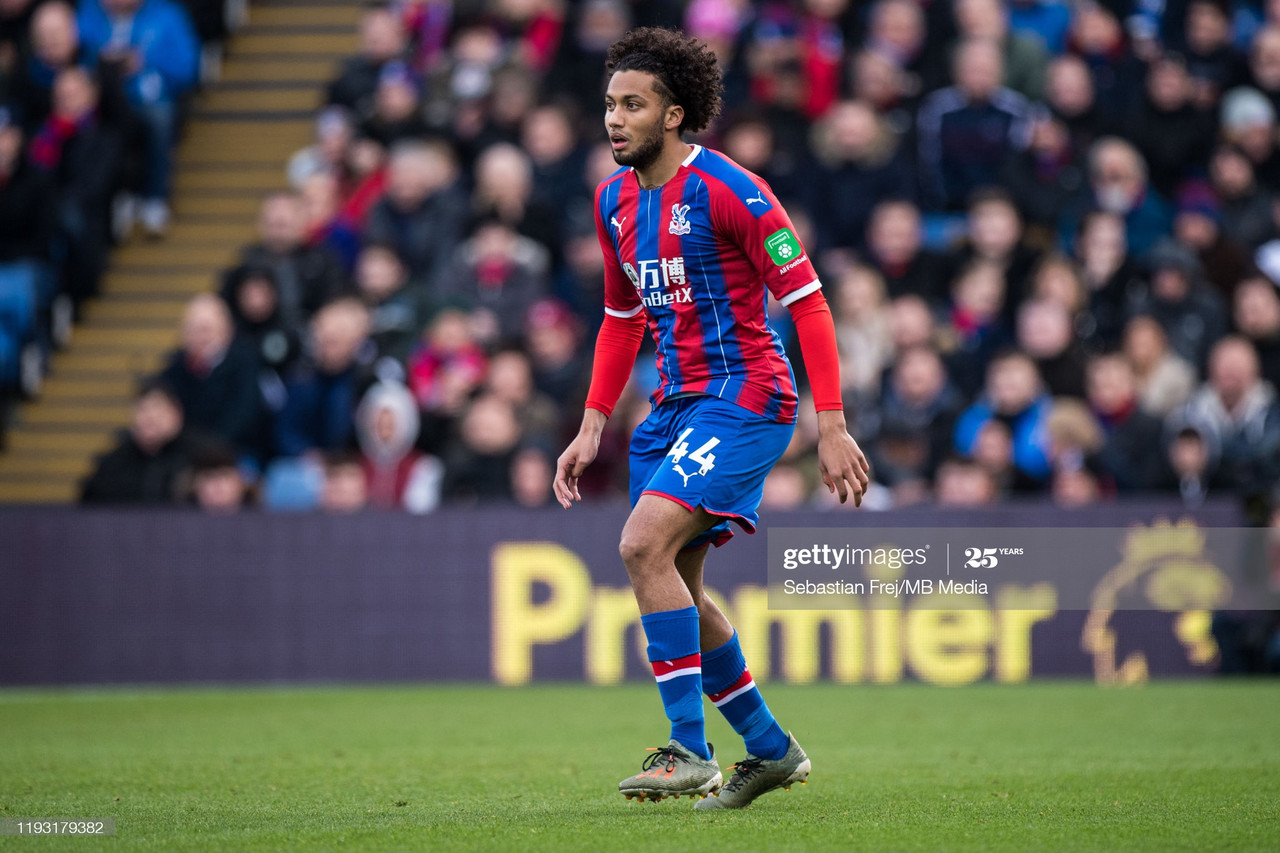 A star performer in the early stages of the 2020/21 season, Jairo Riedewald has found his feet in midfield, a position he is unfamiliar with.
His early career path saw him in the heart of defence, and despite his adept ball playing capabilities, his rise to midfield still surprised many.
Having filled the position of left-back for a lot of the 19/20 campaign in the absence of his Dutch countryman Patrick Van Aanholt, the 24-year-old was able to expedite his way into the starting lineup, and he has since become a prominent component of Roy Hodgson's plans going forward as a result.
The Crystal Palace man has been no stranger to praise from the fans in red and blue, and his rise to success is one to be proud of.
From Ajax to Crystal Palace, defence to midfield, Jairo Riedewald has the potential to become a mainstay in the Eagles line-up.
An Ajax youth academy graduate
Synonymous with success, Ajax's academy is famous for producing some of world football's greatest superstars.
To name just a few, Ajax have carved careers for the likes of Johan Cruyff, Dennis Bergkamp, Clarence Seedorf, and Edgar Davids.
It is fair to say Riedewald, an Ajax product himself, is in good company.
Having joined the Dutch giant from SV Overbos at the age of just 11, his dream came true six years later when he earned himself a professional contract, binding him to the club until 2016.
The central defender, having impressed early on, soon saw his hard work pay dividends. On 14th December 2013, his impactful relationship with head coach Frank De Boer was at its genesis.
Riedewald, though not making an appearance in the fixture, saw his first call-up to the senior squad for the away match against SC Cambuur.
His fast start to life in the senior ranks carried on gathering pace, as just a week later he made his debut when Ajax won 3-0 in the KNVB Cup. Riedewald replaced Daley Blind in the 73rd minute.
It was his relationship with De Boer that proved to be instrumental in the rise in success of the Dutch dynamo, as the former Ajax boss was the one who brought the player to Selhurst Park later in his career.
Operating at the heart of the defence and sometimes on the left, his main role was to win the ball back and keep it away from goal. His can-do attitude alongside his work ethic suited De Boer's recklessly idealistic and stubborn style of play.
The youngster played a bit part role in Ajax's 13/14 Eredivisie title winning season, but later established himself as a real prospect in Amsterdam.
In May of 2017, an Ajax outfit containing a galaxy of young talent headed by Dutch legend Frank De Boer lost to Manchester United in the Europa League final.
Seven of those young talents now showcase their craft in the Premier League. Whilst Hakim Ziyech and Donny Van De Beek are the most notable, Riedewald is the forgotten man among the Ajax squad on that night.
Proving to be his last competitive appearance for the Dutch giants, Riedewald kept Juan Mata at bay and cultivated a performance worthy of a switch to England in the following transfer window.
Under the radar on a pitch that was bathed in glory, the left-back played 81 tireless minutes, sustaining a 100% dribble success, winning eight ground duels, and obtaining a pass success rate of 92%.
Thwarting the attacking efforts of the right side of United on countless occasions, it was a shame that Ajax lost 2-1.
It was this cultured performance from the 20-year-old that catalysed his further successes, and proved that his days in Ajax's red and white replicated many of the successors in the world renowned youth system.
From the very start Riedewald was loved by Frank De Boer, who guided the youngster to the player he is today.
After Ajax lost out on Europa League silverware, the manager made the decision to depart the Netherlands and try his luck in the UK.
In July 2017, the newly appointed Crystal Palace head coach De Boer completed the deal to bring Riedewald with him. The Dutch youth international signed a five-year contract with the Premier League side for an undisclosed fee.
It was unsurprising when he voiced his confidence that Riedewald would play a big role for Palace for years to come.
The Palace boss told The Evening Standard: "Jairo Riedewald is a player I know well through my time at Ajax and I'm glad that he's now coming to join us at Palace.
"He will be an excellent addition to our squad, Jairo is a young player but already has a lot of experience. I know he is looking forward to playing in the Premier League."
Coming in from such a strong crop of youth talent, it was always going to be tough to meet expectations early on. Their life in London started with a baptism of fire for both player and manager, who saw their three-man defence torn apart by newly promoted Huddersfield 3-0.
Unfortunately, for the now Dutch international head coach, his time in South London was short lived as he was sacked early into his error strewn tenure. For Riedewald, though, it was only the beginning.
In more recent times, the two have linked back up for the third time to mount more success on the international stage.
Enjoying life under Hodgson
As mentioned earlier it was a tough start to life in England for the Dutchman, and his lack of playtime frustrated him. Unlike many young and hungry footballers, the centre back by trade kept his head down and worked hard to prove himself.
It wasn't until 2019 when Riedewald was a regular in the starting lineup that fans of Palace realised his potential.
Filling in for the injured Patrick Van Aanholt and Jeffrey Schlupp at left-back, Riedewald showed his ability of being a calm and composed ball player.
Before his arrival into the fold at Vicarage Road, replacing the aforementioned Schlupp, the forgotten man had not played a top-flight game since a derby win over Brighton & Hove Albion in April 2018.
His first few appearances in the red and blue under Hodgson ratified his undoubtable potential and elevated him to a successful start to the current 20/21 season.
Riedewald has become somewhat of a cult hero in the Palace shirt so far this season and he has seen his position evolve from defence to midfield, a switch that has highlighted his playmaking capacity.
Ever since Hodgson implemented more midfield bodies in his system, Riedewald has played a big part in his plans.
A stalwart mainstay in the Eagles midfield, Riedewald is disciplined in his work and has failed to accumulate a single booking in his eight appearances so far.
Having successfully made 171 passes so far in the Premier League this season under a ruthlessly stubborn and defensively adept Hodgson , the Dutch maestro will seek to continue building on his strong foundations.
So used to defensive roles, it was a pleasant surprise for Hodgson and his team when Riedewald got himself on the scoresheet for the first time against relegation candidates Fulham.
It was this performance that emphasised the Dutch dynamo has a lot to offer in this Palace side going forward.
The midfielder looks set to continue his streak of appearing in the starting lineup, but he still has a long way to go before he reaches his full potential.
Hodgson breaks down his best role
It may have been his previous managers belief in him that led him to Palace in the first place, but like any great manager, it was Hodgson's tactical vision that aided Riedewald's evolution from defence to midfield and from forgotten to unmissable.
Talking to Londonnewsonline, Hodgson spelled out exactly why he now sees the Dutchman as only a midfield option despite his arrival to the capital as a competent central defender.
"He came from Ajax where he was a very promising U21 player. He was brought in more as a centre-back in the Dutch mould, which I would claim is more of a libero than an out-and-out centre-back," said the former England head coach.
"We've always been impressed with Jairo's ability on the ball – we've never lost faith in him, in that respect. He's a very good character and he's been a joy to work with these last three years.
"We're just delighted we've managed to introduce some other elements into his game which means we can really take advantage of the quality he has on the ball. We're reaping the benefit from it now.
"We've not really seen him as a goalscorer but his run today [Saturday] – and the way he finished it – means even that is something he has in his locker.
"Most importantly it's his ability to get around the midfield and take up the right positions, make good decisions and really use his technical ability.
"From the outset he has always worked as a midfielder for us. We never considered him as a centre-back, because we didn't think his qualities really suited that position.
"We always thought he'd be a good central midfield player. But to do that he also needs the other qualities that Luka [Luka Milivojevic] and Macca [James McArthur] have given us. It's what he's been doing for a period of time now.
"He's started the season so well, he did well in pre-season. Then, blow me down, just before the first game he got injured. It was unfortunate. He recovered from that, now he's in the team and he must be delighted in the way he's performed the last two or three."
Going forward, Riedewald has the potential to become a household name in South London if he continues his fine form.
A system player with hunger and desire, the Dutch international can prove to be a key game changer for Roy Hodgson and his composure to make the right decision nine times out of ten will reap its rewards eventually.
At only 24 years old, his career for both club and country will be given a boost under his current playing time and ability.
The question is not whether he can become a mainstay in the Palace midfield, but a question of when.