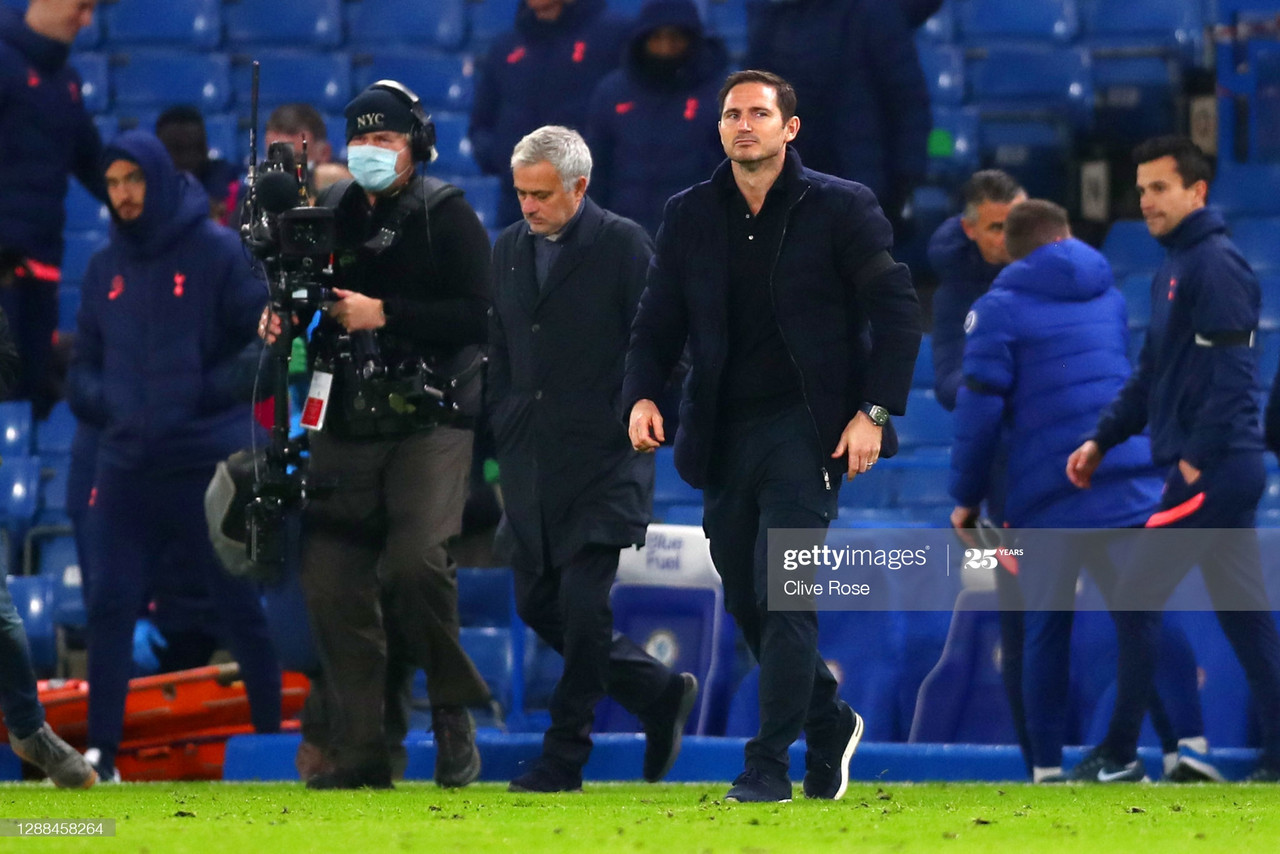 Stalemate: a situation in which further action or progress by opposing or competing parties seems impossible.
There were a few moments that almost threatened to break this intense standstill.
For Tottenham Hotspur, Steven Bergwijn's scooped a good chance over the bar and Edouard Mendy kept out Serge Aurier's ferocious strike.
In the 93rd minute, Giovanni Lo Celso also found a great bit of half-space on the edge of the box but wasted the opportunity. That's as far as it went for Jose Mourinho.
For Chelsea, who had 60% possession, Olivier Giroud got in after an error by Joe Rodon only to fluff his attempted lob over Hugo Lloris. Mason Mount also saw a good low strike well saved.
Apart from these flickers of imagination, the game was locked in a state of nothing. Chelsea sniffed out Tottenham's threat on the counter attack well. Spurs defended effectively in the low-block and restricted Frank Lampard's side to barely any chances.
The affair had a nervous aurora lingering around it from minute one, both teams seemingly not willing to take the initiative and overcommit with the prospect of losing all three points too deadly.
It wasn't an exciting, thrilling, end-to-end spectacle that the casual fan would indulge in on a Super Sunday, but it was a fascinating tactical battle between opposing styles.
As the full-time whistle echoed around the empty Stamford Bridge, you got the sense that while it didn't go exactly to plan for either team, Lampard and Mourinho were both fairly content at the outcome of this game.
That is especially true for Spurs, given they now return to the top of the Premier League table.
As expected, Spurs' game plan was almost the exact same as the 2-0 win against Manchester City in their last outing.
Sit deep in a low block, restrict space within the lines and hurt teams in the transitions.
It wasn't executed quite as well, but one part of it was pretty much near perfection.
Spurs' defence unit, yet again, was fantastic. They statistically have the best defence in the league, having only conceded nine goals and picking up four clean sheets on the way.
For a team that less than five months ago were ravaged with defensive issues, they look like a completely different side in that department now.
The midfield has helped in that massively, especially Pierre Emile-Hojbjerg and Moussa Sissoko roles in covering the full-backs while also sniffing out any developing movement down the centre of the pitch.
This defensive set-up meant that Chelsea's passing was largely accurate, but they were so wary of losing the ball that they invariably always took the safe option.
Lampard's side had a dominant spelt of possession that lasted at least five minutes but went nowhere as they opted against trying to play in behind the Tottenham defence.
Many feared if Spurs would have the capabilities to shut out Chelsea in the same way as Man City without their best centre-back in Toby Alderweireld, especially given Rodon was making his full Premier League debut.
But the 23-year-old centre back was impressive despite two nervous incidents.
The Welsh defender looked composed on the ball and won plenty of aerial duels against Tammy Abraham when Reece James whipped in some dangerous crosses.
However, it could've been a different story for the debutant.
In the 91st minute, an awkward bounce looped on top of him, and he attempted to nod it back to Lloris.
The Welshman didn't get enough weight on it, and it instead fell right into the path of substitute Giroud. It was a heart in mouth moment, but the striker fluffed his lines.
Also, in the first half, he gave away the ball which kick-started a rare Chelsea counter-attack. Timo Werner eventually scored, but he was offside.
Yes, he was on the lucky side of things, but for his Premier League debut to be at Stamford Bridge – the 23-year-old impressed.
Going further back in time, a look at the scoreline and Tottenham's generally defensive approach makes it tempting to return to one of Mourinho's favourite phrases: "parking the bus".
This, though, was very different — this was a side digging deep to secure a valuable point away from home against a direct rival.
A fourth clean sheet in five Premier League matches should not be scoffed at for a team that started the season without a shut-out in their first nine games, culminating in the 3-3 collapse against West Ham.
Spurs were largely unambitious, but the onus was surely on Chelsea, as the home side and with a richly assembled squad, to try and take the initiative.
The fact they didn't speaks volumes about how far Spurs have come this season.
Put simply, Chelsea were afraid of the threat of the likes of Son Heung-min and Harry Kane on the counter.
It meant they opted against taking the kind of risks required to upset Mourinho's low block that had no desire to move out of their defensive shape.
"I think they also respected us," Mourinho said afterwards. "They respected us and I believe there was… I don't like the word fear because I don't think there is fear at this level. I think the word is responsibility."
Results like last week's 2-0 win over Man City, as well as beating Manchester United 6-1, have earned Tottenham this level of respect. And it's a kind of respect that has to be earned — cautious performances like Chelsea's don't happen in isolation.
In theory, with Rodon deputising for Alderweireld and against a team they have routinely swatted aside at home, this was a game there for the taking for Chelsea.
Instead, they largely backed off, and Lloris only had three saves to make, two of which came in the closing 10 minutes.
Spurs could even have nicked it at the end had Lo Celso shown a touch more composure on the edge of the box.
The top teams, unlike previous years, respect this new-look Tottenham side.
The great defensive shape Tottenham employed provided a great template for the counter-attack to cause havoc. However, things did not go as smoothly as they did versus Man City.
In the first-half there were a few moments where Spurs did look dangerous moving up the pitch.
Tanguy Ndomeble, who started his fourth match in his row, was excellent in his press resistant dribbling.
On occasion, he glided past Chelsea midfielders up the pitch and got the ball into dangerous areas.
There was an excellent counter-attack in the first-half that probably should've ended up as a goal.
Serge Aurier, who was fantastic all day, won the ball of Werner. This is where Spurs hunt teams down and look to shift the ball as quickly as possible.
The ball progressed to Ndomeble, who quickly passed it onto Bergwijn on the half-way line. He ate up some yards before shifting it to the flying Sergio Reguilon on the left-hand side.
He then found Kane within the lines, who with his first touch played in Bergwijn in the box. The 23-year-old took a great first touch but blasted the shot over.
Within Aurier winning the ball and Bergwijn blasting over, it took about 15 seconds. These are the sort of quick transitions that have been accustomed to Spurs' new counter-attacking style.
Unfortunately, there weren't many more occasions like this.
N'Golo Kante and Mateo Kovacic were very effective as a double pivot in sniffing out the threat Spurs possess. Thiago Silva was also a calming presence at the back.
It wasn't the usual brilliant Kane and Son performance, but on the odd occasion they aren't their usual selves – it's handy to then have a defence that can keep a clean sheet.