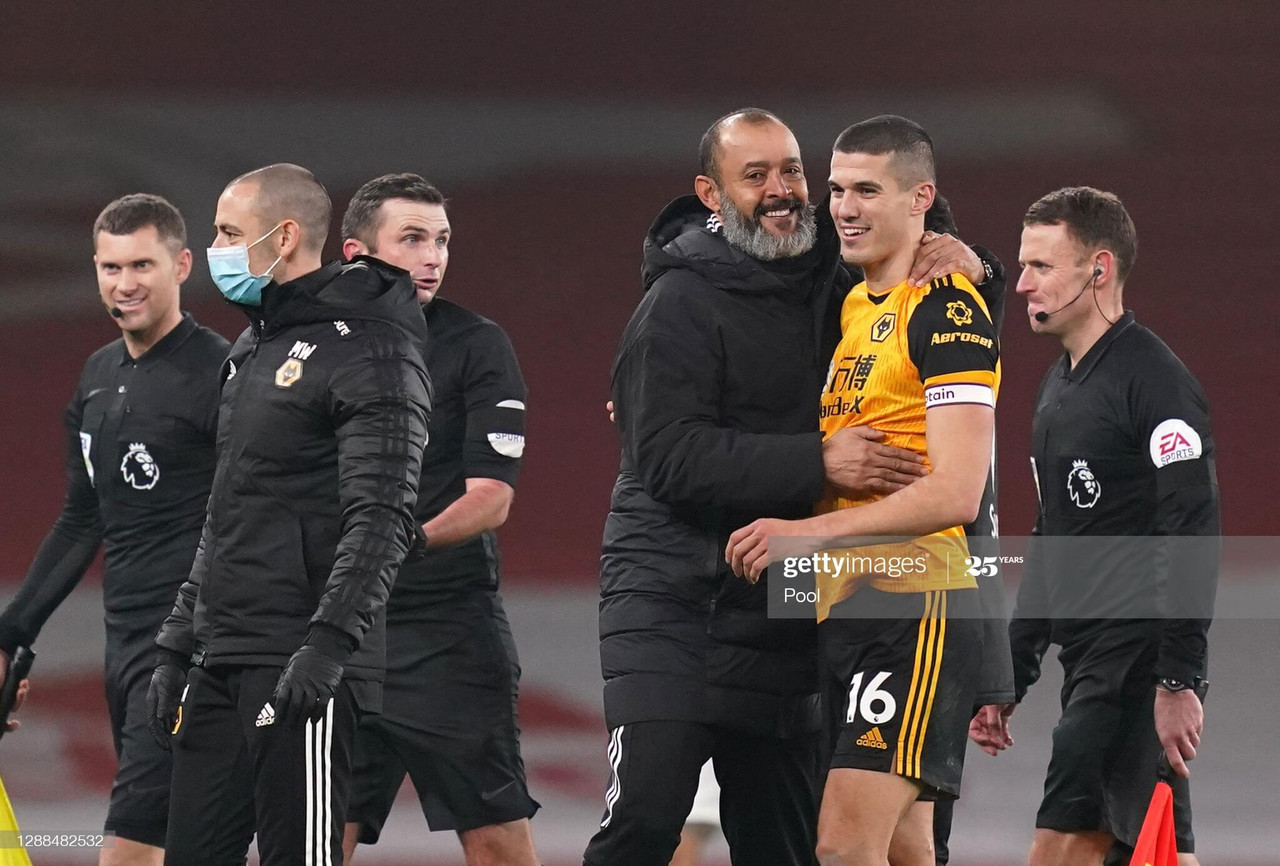 Nuno Espirito Santo was extremely proud of his team's performance at the Emirates yesterday as Wolverhampton Wanderers recorded their first victory at Arsenal in 41 years.
Despite Raul Jimenez being forced to go off injured after five minutes, first-half strikes by Pedro Neto and Daniel Podence proved to be enough to see Wolves move up to sixth after ten games.
On Wolves performance
After the game, it was clear that Santo was delighted with his side's performance as he said: "Amazing. I am very proud today, very proud.
"I always am, but especially today because this team showed heart today, a will, a belief, the way they run, they work and it was really good to see."
He continued on to say that they reacted and recovered well from the loss of Jimenez when he mentioned: "It affected the players, but they were able to overcome that moment and we played good.
"When things are not going ok, the best way to focus is to forget about what happened, and today the team performed very well.
"Arsenal is a massive club with such a talented squad, so it is huge for us, but momentum is not about this, we have to search for this.
"Football is a game of ups and downs and we cannot always trust that things will happen, we have to make them happen ourselves".
On Jimenez's recovery
When providing an update on Jimenez who had to be stretchered off and taken to hospital after a clash of heads with David Luiz, Nuno revealed that the forward is speaking.
"He is doing a scan now, but he is conscious. He is ok inside the gravity of the problem. By the reaction of his teammates, by everybody, you start hearing code red and when it is code red it is serious.
"It was a bad moment for everybody and the game was badly affected; both teams, players of Arsenal worrying about him, and we wish everything to be ok."
The Portuguese boss continued: "It had a big impact and saw how serious it is by the reaction of the doctors of both teams who immediately ran to help. You see the panic in their eyes and you start thinking about how he is.
"But he speaks, he is aware, but he is doing a scan and now we have to have a proper assessment, but he is in good hands."
On still improving
Despite the positive result and performance, Santo acknowledged that there are still areas for his side to work and develop on.
"There were many things that were not ok, but that is what we are going to work on now. We are going to analyse the game, we are going to see things that we have to improve.
"There are so many things that we still have to improve for this team, but in the first half we did a lot of things good, but in the second half we were not able to sustain the ball as well.
"Even though we had chances to break on the counter-attack, but we defended the box well. We did not allow too many chances, but there was always the sense of danger because Arsenal had the ball."
Santo continued: "But I think we were filling all the pockets of spaces because the players worked so hard. There were moments where we were balanced, but we were too much low on the pitch.
"So it requires adjustments for the players, but this week, we are going to work on that- that is our job."
On four at the back
For the second consecutive game Wolves played a four at the back and speaking on the decision to do this, Santo admitted that he wants his side to become less predictable.
"We have to improve, we want to become not so predictable, but we are never going to let go of what we have. That is so good; our foundation, our shape, our identity- that will never go away from us.
"But we can grow inside of the game, improving our game, having more players involved, and that requires other aspects of the game and we have to react better to the loss of the ball.
"At the end of the game, we were not able to sustain the ball and control the match. There are so many things that we have to work on and improve.
On Wolves evolution
Finally, when speaking on the evolution of the club Santo said that after this positive result and performance from his team now they just have to keep going and improving.
"We want to grow, we want to improve, we want to have solutions. We did very well during a lot of times, many, many times, and we can do it really well in another way, as long as we keep the same foundation.
"Our foundation today was reflective of how the players work, how they believe in themselves, how they respect each other, how they work as a unit, but we have to keep on going.
"Today was just another game- a special one because of what happened, and it means a lot to us, and we have to keep on going because I have a very tough challenge in the next one."