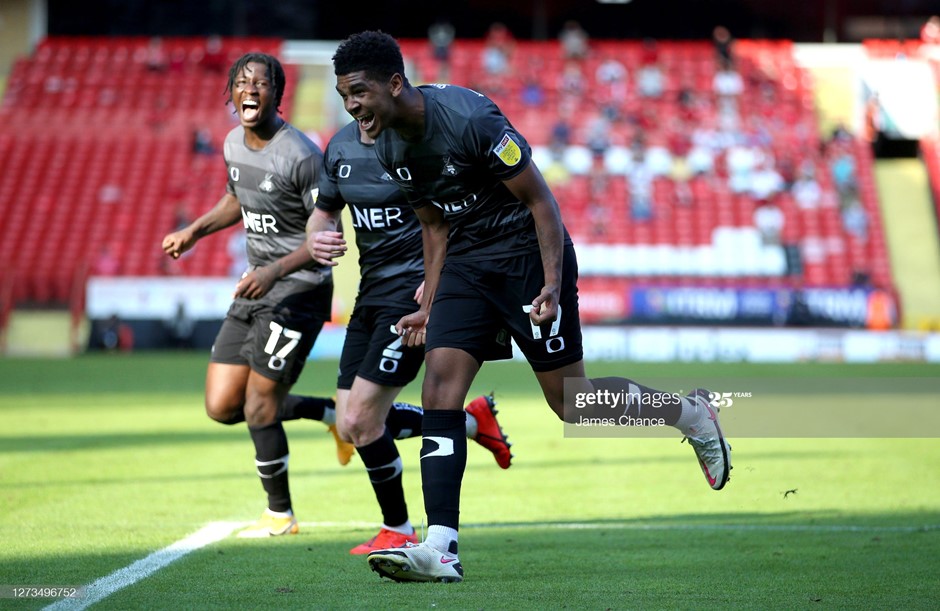 Fortune has not been on the side of Tyreece John-Jules too often in 2020.
In January, the Arsenal youngster was sent on his first loan spell to League One's Lincoln City. He made seven appearances and scored a first professional goal in the second of those, against Blackpool, but a fracture to a bone in his foot during a friendly match quickly put a halt to his run of games.
The Covid-19 lockdown ensured he would have no chance of returning by the end of the campaign and instead he was back at Arsenal for a full pre-season, even making the bench for the Community Shield curtain-raiser.
Another loan was always on the cards for the 19-year-old and he returned to the third tier with Doncaster Rovers, but this time he only managed to play five games before being struck down again. A thigh injury, suffered while on international duty with England Under-20s, put John-Jules out of action for another month and a half and he was back with the Gunners for his recovery.
A year that promised a lot for the centre-forward has brought just 13 appearances so far – bad luck indeed.
Learning from the best
While time in rehab and lockdown has somewhat stymied the progress of a player who has been at Arsenal since the age of eight, John-Jules still had time to continue taking in lessons from the wealth of knowledge and experience in the Premier League giants' coaching staff.
He has had plenty of people to learn valuable lessons from, and he highlighted two former Arsenal heroes who have been influential in the most recent years of his development.
"I've been at Arsenal for a long time so I've had a lot of coaches," he said. "The ones that stand out for me, recently, are Freddie Ljungberg, who's obviously a club legend. I had him for a year and a bit and learnt a lot off him. Then Steve Bould was my under-23 manager for a long time. There's a lot of ex-pros that manage that help us in that education."
Since progressing into the first team John-Jules, who has the security of a long-term contract signed last summer, has also been able to witness some of the world's finest forwards first-hand, taking plenty of lessons from the likes of Pierre-Emerick Aubameyang and Alexandre Lacazette.
"In training, with anything they do you can learn by watching them," he said. "If you come and talk to them they'll talk to you, they're nice guys. I try and ask as many questions and get as much out of them as possible.
"I can see what they're doing and how I can try and add it to my game. They're at the top and that's where I want to get to."
That path to being a part of Mikel Arteta's team has already been illuminated by Eddie Nketiah, who has enjoyed a breakthrough 2020 and made over 30 first-team appearances. John-Jules is close friends with the older Nketiah and is not surprised to have seen him achieve the success he is now aiming for as well.
He said: "Eddie always scores goals; he did in every group. I'm pretty close to him as well so we always talk, we can talk about football. I'm happy for him, he's in the team and scoring goals for Arsenal, and that's where I want to be. We always talk, he lets me know how he's doing and how I can be better."
Body blows
This season, John-Jules' journey is taking in another loan spell in League One, this time with Darren Moore's Doncaster.
He started five consecutive matches in his preferred role as a number nine after securing the loan move in September, scoring a very impressive goal in a victory at Charlton Athletic, and the style of play which has helped Rovers attract a host of talent fresh out of Premier League academies in the past couple of years quickly appealed to him too.
"It didn't take long (to settle in) because here they play how I love to play, with the ball on the floor," he said. "I'm playing with a lot of technical players so I enjoy it."
But just as he was getting into the flow of things, injury struck again and saw him miss out on six weeks of action. He made his return last weekend, coming off the bench as Doncaster booked their place in the FA Cup third round with a win at Carlisle United, and is thankfully feeling in good shape ahead of the EFL's latest gruelling stretch of fixtures.
"I'm feeling good, I'm feeling strong," John-Jules confirmed. "I can't play 90 minutes just yet because that's putting my quad in danger. I've just got ease back into it step-by-step, and eventually build up so I can play 90 minutes. Playing Saturday, Tuesday, Saturday, Tuesday, you've got to manage your body.
"As you get older and as you play games, you learn how your body reacts to training and a lot of games. Personally with that injury I think it was just unfortunate that it happened. I was feeling strong and I was feeling good and it was just a bit of bad luck. I just have to build up again, stay strong and make sure it doesn't happen again."
Having seen his progress stall more than he would have liked this year, John-Jules will be one of the last people to complain about the hectic run of games coming up. If he can stay fully fit and finally get that experience under his belt, he can return to Arsenal a much-improved player.