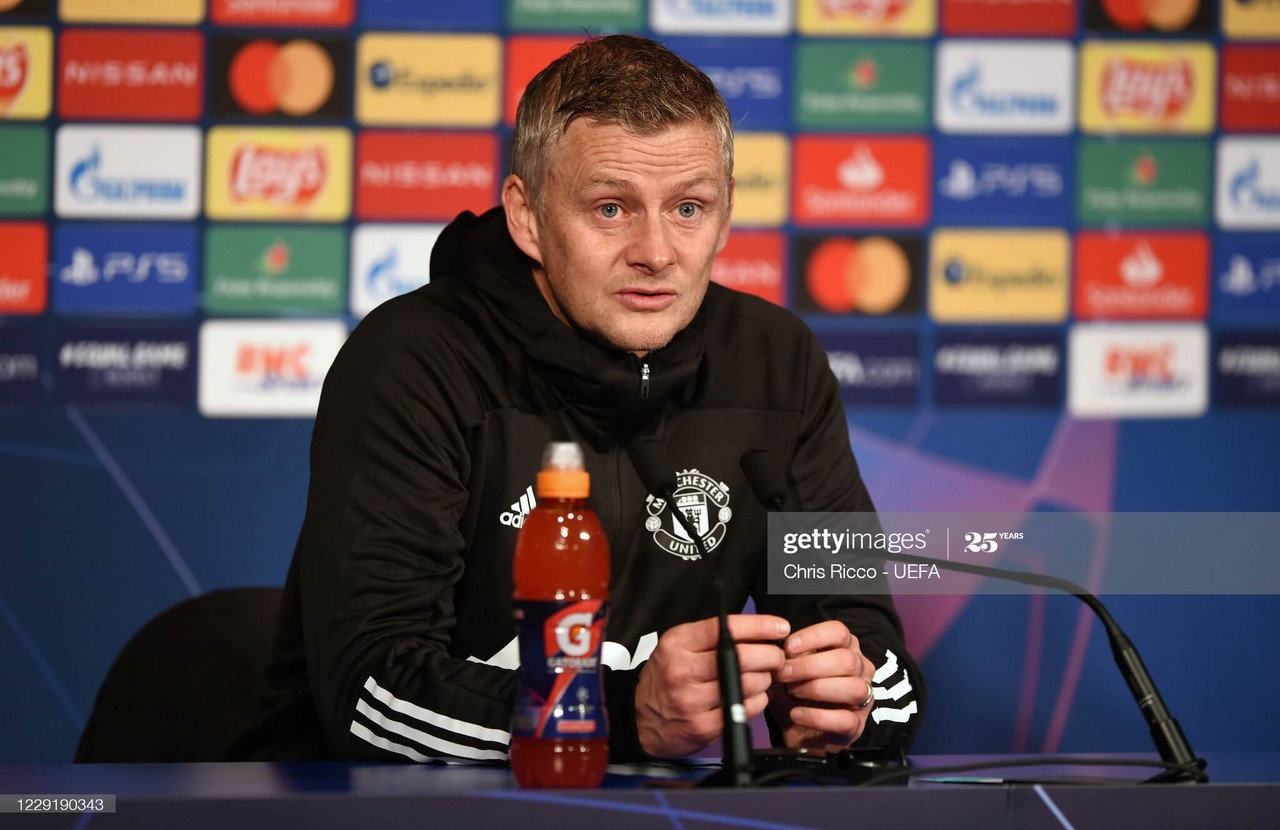 Manchester United meet Paris Saint-Germain on Wednesday in the penultimate round of group-stage fixtures in the Champions League. United, who have won three of their four games in the competition thus far including away to PSG on match-day one, require a point to progress to the knockout stages.
Ole Gunnar Solskjaer, the United manager, addressed the media ahead of tomorrow evening's encounter and spoke, alongside midfielder Donny van de Beek, on topics including Edinson Cavani's rescue mission against Southampton, the subsequent fall-out and United's current form.
Cavani's misstep
Cavani's double off the bench helped United overturn Southampton's lead in the Premier League on Sunday and was a real statement of arrival by the Uruguayan. Having joined the club on a free transfer in the summer and missed the opening weeks of the season due to lack of match fitness, Cavani is now becoming a striker with a difference for United and is ready to play his part against PSG according to his manager.
"He's ready to play and, of course, it's special for him to play against PSG, his old club where he is the top scorer," Solskjaer said. "That will affect him mentally. But from knowing him, that will give him energy. He is so professional and he will work on his mindset today to get ready for the game.
"He has already learned two English words: 'tomorrow, off'. He wants a day off after a win. When we win a game he already knows that one!"
"I think it's really important [to have him], especially for me," midfielder Van de Beek said. "It gives you extra space in the box as defenders look more for these strikers. It gives extra space for our midfielders."
However, it has not been all jokes for Cavani recently. The FA launched an investigation on Sunday evening following a social media post by the striker which contained possible discriminatory language.
"We have communicated with Edinson and he is really sorry for the mistake he's made," the United manager explained. "No malicious intent at all, just an affectionate greeting for a friend. He's been asked by the FA to explain and we will support him. It's one of those unfortunate situations where he's just come into the country and in Uruguay, it's been used in a different way.
"We support him, but we also support the FA. We want to be in the fight against discrimination. I'm sure Edinson has learned the hard way."
Champions League group
United defeated their French opponents 2-1 in Paris in October which set-up a positive group campaign, except the defeat to Istanbul Basaksehir - they can finish the job and qualify with a draw tomorrow. But Solskjaer has demanded his side to go out to win the group, which would, in theory, present them with an easier knockout fixture in the new year.
"The quicker you qualify, the better," Solskjaer continued. "We want to win the group, we go out there in our style with attacking intent and defending well against a top team, of course. Our mindset is to win the game and win the group."
Solskjaer confirmed that David de Gea "has trained and will be available for selection" after going off at half-time at St Mary's with a knock to his knee following a collision with the goalpost. Alex Telles has also recovered from a minor injury he sustained in the same game while Paul Pogba, Scott McTominay and Anthony Martial have all returned to training having not featured at the weekend.
"The training group today was a big one, everyone wants to be involved and everyone held their hands up for selection."
Van de Beek's run of games
Van de Beek got his first start in the league on Sunday and played well as United rescued victory from defeat. The Dutchman, who arrived from Ajax in the summer, has started three of United's four games in Europe so far but has had to bide his time for a consistent role in Solskjaer's domestic starting lineup.
"I just work hard every day and I know I can give the team something extra, so I just remained patient," the 23-year-old said. "It's fine [playing with Bruno Fernandes, who plays a similar role] - I played in a lot of positions for Ajax: No 8, No 10, even No 6, so I'm used to it. I play in a lot of different positions."
Solskjaer also spoke of the versatility in his squad as a whole: "I think there's only one position here that we can only say is between Dean [Henderson] and David [De Gea], the rest have go the ability to play in different positions.
"Anthony [Martial], Marcus [Rashford], Mason [Greenwood], Edinson [Cavani] - they can play in any positions in the front four. There are tactical reasons whether it's Anthony, Marcus Mason or Edinson down the middle. Sometimes it's two of them."
Assessment after 10 games
United have played nine league games thus far this season, earning 16 points and positioning them in ninth place, and the manager was asked for his assessment of how his side have started the campaign.
"You lose the chance to win or lose the title in the first eight to 10 games if you don't keep up with the pack," he said. "But we don't win it in those games. We've recuperated and we're just behind the top teams at the moment, but we want to be there in April or May.
"Now is the time to improve and develop and if we can get there, then great. Now our focus is on the Champions League and we want to win our group. I feel my squad is ready to do better than last season. Last season we were the best of the rest so let's see if we can move up the table."