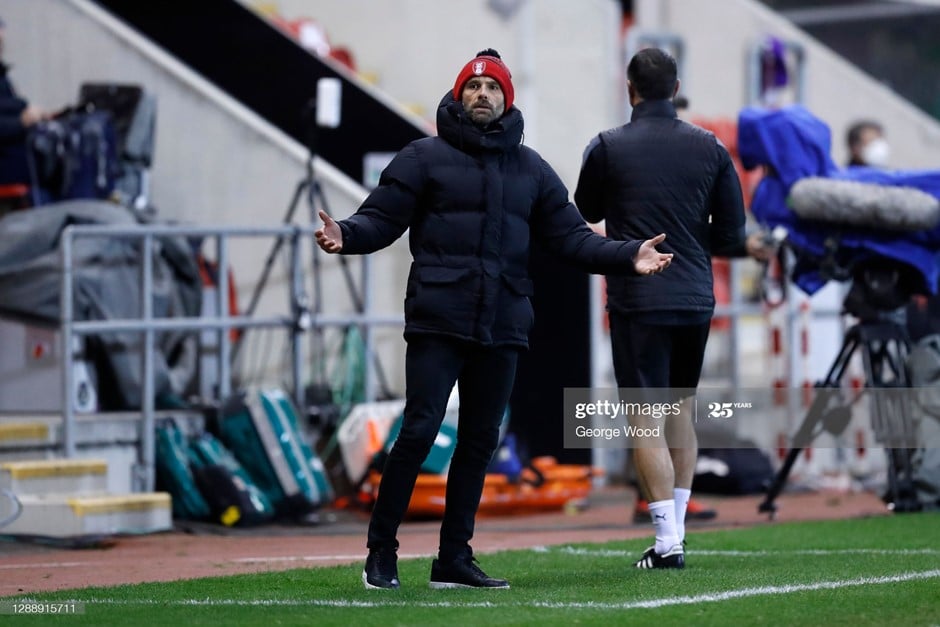 Rotherham United's difficult run of form continued with a fifth defeat in seven games at the hands of high-flying Brentford on Tuesday night.
After seeing his side lose 2-0 to a couple of second-half goals, manager Paul Warne rued not making the breakthrough in an even first half before their opponents turned the screw.
On the game
Warne had no complaints with the performance of his team and was particularly pleased with their first-half efforts, but said they just needed to hit the net as they had done twice against Bournemouth three days earlier.
"We were really good first half, as good as we could be really," he said. "I think we limited them to very few chances, we worked really hard out of possession, probably were a bit rash on it at times. We created a couple of chances that, if you're playing a top team, you have to take really.
"Then second half obviously they scored a goal, but it wasn't like they'd cut us open with 15 passes. It was a ball down the line, they kept it alive, put it in the box - not dissimilar to how we play - good pull-back and good finish. In fairness, (it was) that little bit of class that we didn't have really.
"I thought they controlled the second half better than we did, and I thought we edged it first half. The first goal was always going to be crucial and unfortunately it didn't come for us."
On Miller's dismissal
The second goal was scored from the spot by Ivan Toney after Mickel Miller's foul, which earned him dismissed with a second yellow card just 11 minutes after taking to the field.
Warne had no qualms with that decision, but felt Rotherham might have had a penalty themselves in the first half when Matt Olosunde was touched from behind by Rico Henry.
"I can't honestly remover the first one (Miller booking), but I can't remember moaning about it so I presume it was a yellow," he said. "The second one is definitely a yellow, if not a red, because if it's a goalscoring opportunity he's lucky he's been given a second yellow. There was enough contact for a penalty.
"We're talking about the smallest of margins but Matt Olosunde had a little weave through the penalty box first half and I honestly think – and I don't encourage my players to do so – if he'd gone to ground it probably would have been a penalty. If you stay on your feet, you don't get rewarded."
On fitness
Rotherham's small squad is being tested severely by the Championship's gruelling run of fixtures. Shaun MacDonald, Chiedozie Ogbene, Clark Robertson and Kieran Sadlier are all out with long-term injuries while, like many sides, they are being plagued with muscle injuries, with the hamstrings of Joe Mattock and Olosunde under threat ahead of this game and Richard Wood only narrowly making a return.
"They've all come through okay," an undoubtedly relieved Warne reported afterwards, "Matt Olosunde was a serious doubt, he had a scan yesterday afternoon that said he had a bit of fluid in his hamstring. He didn't feel comfortable but he was happy to play which was fair play to him, and I thought he was very good.
"Joe Mattock we didn't think would be able to play but he said he was fine. In the end I knew he was going to be a risk, he's just come back from a hamstring injury and played three games in a week.
"Woody had an epidural on Friday so he's probably only felt his feet for the first time today."