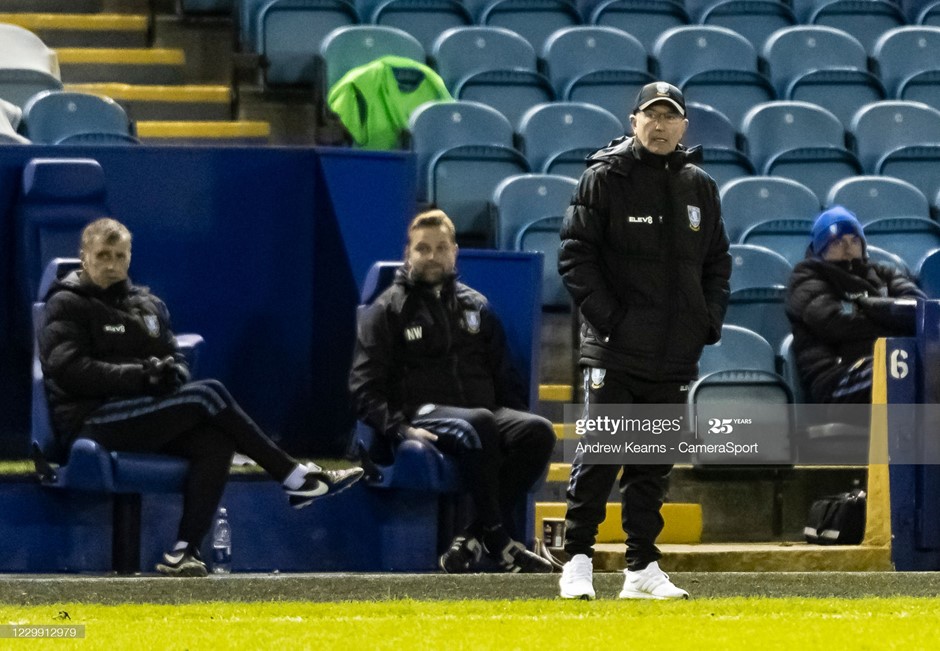 Tony Pulis is still waiting for his first win as Sheffield Wednesday manager, after a third draw on the bounce at home to Reading on Wednesday night.
His side opened the scoring through Callum Paterson but Liam Shaw's red card saw them play the final hour with 10 men, and they defended superbly to at least take a highly creditable point away from the match.
On the game
Pulis took plenty of positives out of the game, both from the opening period when they took the lead, and the later stages to close out the draw.
"Up to that point (the red card) I thought we'd coped very well and looked to break out; not as well as I'd have liked, but there were times where we did," he said. "The goal was a very well-worked goal, a great header from Patto, a great ball from Reachy (Adam Reach) and a great pass from Kadeem (Harris). It's a real first-class goal.
"Then we get the player sent off, we get the goal (by Reading's Lucas Joao), which was poor, poor marking from our point of view. I got time at half-time to change things around and put certain things in place, as I have throughout my career when I've gone up against 11 men when you've only got 10 yourself.
"We were a bit fortunate, they could have had two penalties, and you need a little bit of good fortune. But overall, because of the effort, I think the lads deserved it tonight. And I think everybody who's a Sheffield Wednesday supporter should be really proud of the effort they've put in."
On Shaw's dismissal
The manager had no complaints with the decision to dismiss Shaw for a fierce scissor challenge on Omar Richards, saying: "I'm disappointed with the challenge, I think it's a reckless challenge.
"Whether he's played the ball or not, I think in the modern game today you can't go in that strongly. It just puts the referee under enormous pressure to make decisions."
Pulis had already been well aware of the 19-year-old's eagerness to get stuck into challenges in midfield, and wants to help him use that in a positive manner.
"I think he's a very, very promising young player," he said of Shaw. "I took him off (at half-time) on Saturday because he'd been booked, I was a bit worried he might get booked (again).
"He's a little bit reckless at times with his challenges but that's youthful enthusiasm. We don't want to stop that, what we want to do is generate that enthusiasm in the right manner, and that wasn't."
On seeing red too often
It was not a one-off case of a young, inexperienced player making a mistake, however. The red card was the fifth that Sheffield Wednesday have received in the past nine matches, a trait noticeable in Garry Monk's reign that has continued under the new boss.
Josh Windass was sent off in Pulis's first game as manager at Preston North End for a high, studs-up challenge, and the manager acknowledged the similarities between that and Shaw's.
"Josh was stupid really, and Shawy's been stupid today," Pulis said frankly. "It's two stupid challenges which should never happen.
"I'll give Shawy some grace as he's a young lad, but Josh I can't give any grace. It's got to stop. We can't keep doing it.
"We go to Norwich on Saturday, Massimo (Luongo) has five bookings and isn't going to play, Shawy can't play. Were down to 'if you've got your boots, you've a chance of playing."
On injuries
That's because injuries are piling up as well as suspensions. While Windass can make a return in Norfolk, they remain without a number of players, with Pulis confirming goalkeeper Keiren Westwood would be out for another couple of weeks with a groin injury and that defender Chey Dunkley may have to wait for the new year before being ready for a debut.
"We're desperate to get Chey fit and that will give us more options," said Pulis. "It's going to be another two or three weeks (before he can play). The turn of the year hopefully, fingers crossed, he's ready."
Wednesday was at least boosted by the return of Dominic Iorfa following a muscle problem, making his first appearance for Pulis off the bench for the second half.
"It's lovely to have him back, he's a smashing lad," said the manager. "I haven't seen much of him but just to get him out there today was nice. I'm pleased he got through the second half and helped us get a nice clean sheet in the second half."
However, there could be one more problem around the corner as Pulis confirmed Barry Bannan's half-time substitution was due to a niggle. He said:
"Bannan's got a right knock on his ankle so we'll have to see what he's like with the games coming so quick."