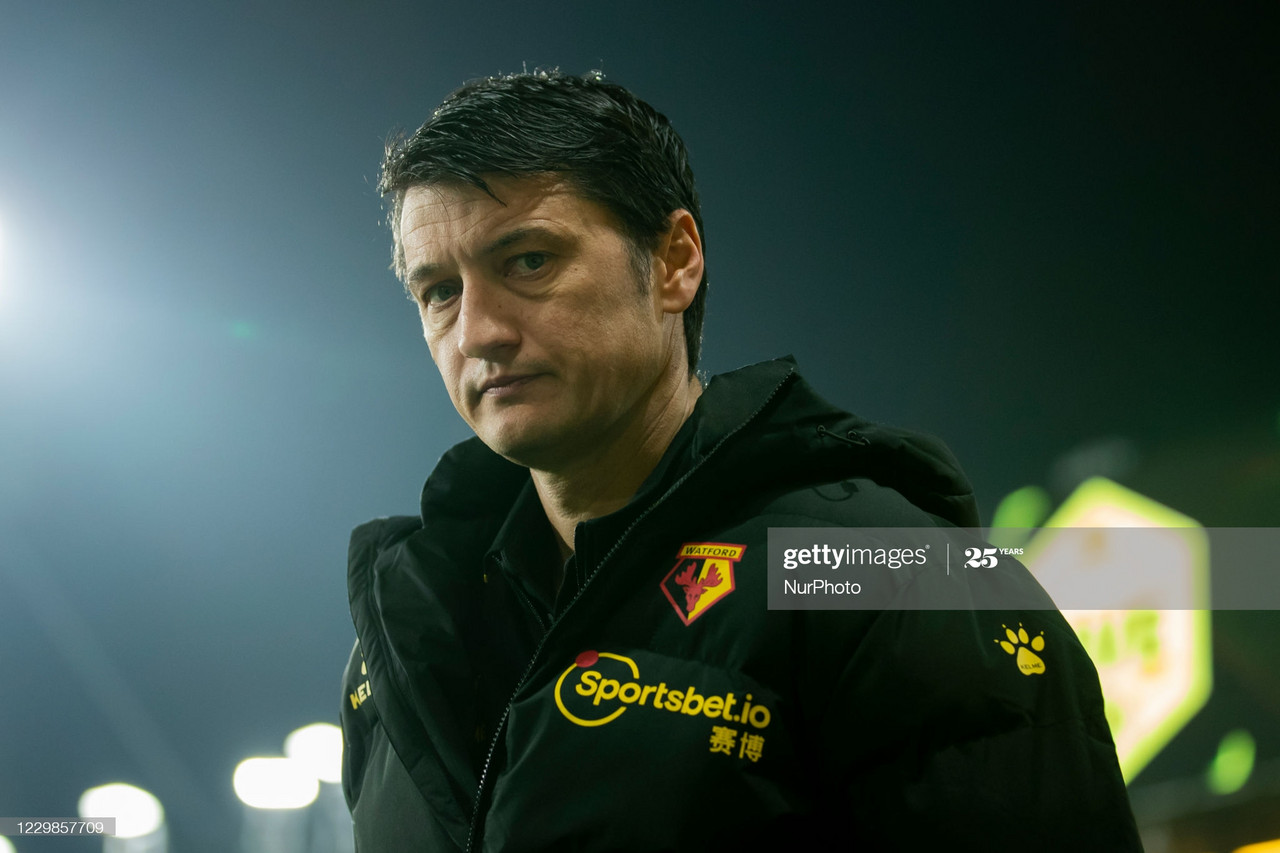 Watford's away day struggles continued as they were held to a goalless draw at the City Ground by Nottingham Forest.
Throughout the entirety of the match, despite goalkeeper Ben Foster not having to make a single save, they themselves were only able to register one shot on target which came through top goalscorer Joao Pedro in the first period.
Despite the result not being the one that the Hornets would have liked, it did move them up to third in the league after having played 15 games.
On the result
After the game head coach Vladimir Ivic admitted that on the balance of play the result was about right.
"I believe yes it was a fair result. I believe in the first 45 minutes we did not create something. A lot of starting positions in the front had no momentum.
"We had a lot of decisions to play between the lines when it was not the moment to play for this pass.
"Second half I believe that we were better. We started to create something, to press up and it was better than the first 45.
"Like I said it was a fair result and we know that in this moment there are a lot of games and we need to rest some of the players. I believe that in the next days some of the players will come to help us."
On only having one shot on target
The Hornets only managed to test Forest goalkeeper Brice Samba on one occasion throughout the ninety minutes and Ivic revealed that this was not enough for them to steal all three points.
"Sure it is not enough. In the previous game as an example, we had a lot of shots.
Today our opponents Nottingham play good in defence. They had eight or nine players behind the ball and it was not easy to create a lot but we take one point."
On Watford's away form
The result at the City Ground means that Watford so far this season have only managed to win one out of eight league games on the road and when commenting on this, Ivic said all of the players know that the results away from home are not good enough.
"I believe that with the players that we have, all of them understand that we cannot be satisfied with away games, and we are looking to find the solution.
"It does not matter if you play home or away because we know what is our goal and we do not see the game as home or away, where you win at home and to maybe draw or lose away. No, the goal is the same.
"We prepare ourselves every game before for three points. Sometimes we know that in away games, in the last maybe 11 months we won just one game.
"It is something that is not good for the team who want to be promoted. We need to work. We need to believe in ourselves."
On Cathcart injury
Centre back Craig Cathcart had to be substituted late on due to a hamstring problem and when speaking on the injury Ivic said: "It is not good news. I believe that it is some hamstring issue.
"We will see tomorrow after he will do the MRI, but he is a very important player for us guys."
Following the injury, the head coach admitted that it was his mistake to not rest some of his players ahead of the clash as he only decided to make one change following Saturday's victory over Preston North End.
"Maybe sometimes where you have the ability to share and to change, you should do it.
"In this position we have players. Maybe it was my mistake because I did not rest him because it is his third game.
"Sometimes when the player wants to play this is good that you have a player that wants to fight and who wants to play, but you know sometimes when you ask them if they are tired, they say no I am not, maybe they are.
"I believe he (Cathcart) will soon be with us and this injury what he got today, is not something difficult."
On the return of players
Finally, with Cardiff City next up on the agenda for Watford at Vicarage Road on Saturday, Ivic revealed that some of his squad's players who have been available may be in contention to be again involved against the Bluebirds.
"Both of them (Cathcart and Christian Kabasele) did a good job until now. We know in this position we also have William Troost-Ekong, Ben Wilmot and Francisco Sierralta.
"In this position we are complete. I have other positions that are problems for me. We need to complete our roster.
"We believe that in the next days some of the players will come to help us who have stayed out for different reasons.
"Some of them being injured and some having COVID. So we will see what's going to happen in the next days."