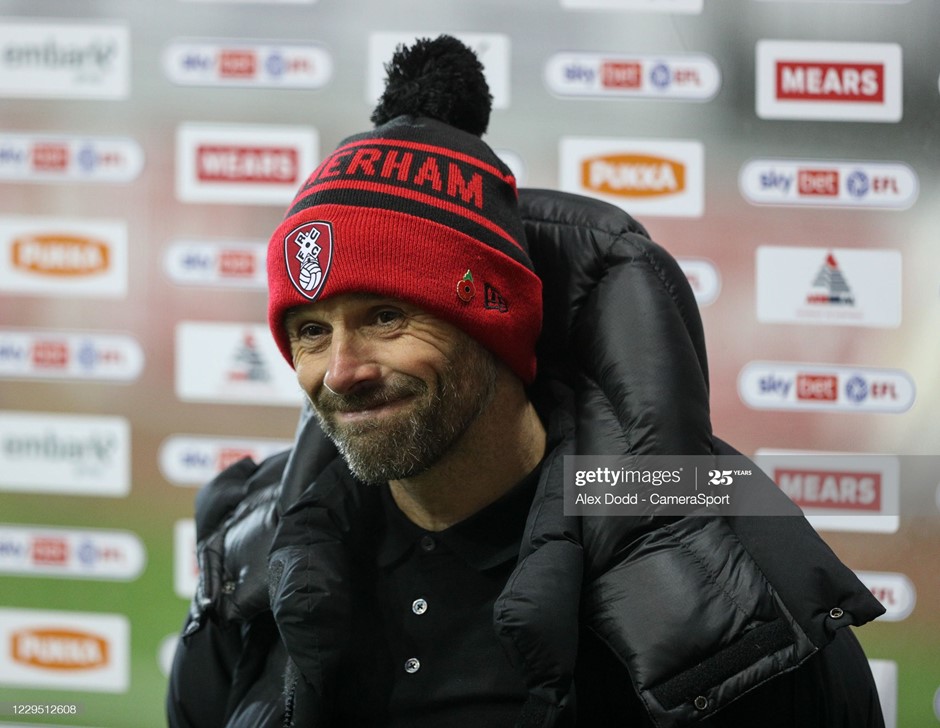 Rotherham United face an important match in the scrap at the bottom of the Championship this weekend when they travel to Coventry City.
Both sides have made respectable starts since securing promotion from League One last season, but with three wins apiece, they sit in 19th and 20th place in the table with Coventry having one extra point.
Having taken only four points from the last eight matches, this is a big opportunity for Rotherham to get more points on the board, and manager Paul Warne said his team will be set up positively in search of the win at St Andrew's.
On Coventry City
Warne will come up against familiar opposition in the technical area on Saturday, having been teammates with Coventry boss Mark Robins at Rotherham in the early 2000s.
"It'll be a tough game and we obviously know each other really well," said Warne. "Robbo knows me really well and I presume he'll know what to expect from our team, as we do with theirs.
"They have plenty of strengths and are a real possession-based team who can change their shape in a heartbeat.
"They have loads of midfield rotations and we have to be aware of that, but they have weaknesses like every other team in this league, so we need to go there really positive and try and get a win."
On importance of game
On paper, this showdown could be seen as a crunch match between two relegation rivals, but Warne is avoiding using any labels such as 'six-pointer'.
"Obviously it is an important game but there are so many games so quickly, if you don't win you just have to let it go and get to the next one," he reasoned.
"We big up all the games and I won't big this one up any greater because the whole over-arousal thing can turn it into a game that it isn't, and one of our lads leathers someone after three minutes and gets sent off because they're wired to the hilt.
"That is of no benefit. We have complete trust in what our players do. They have to make decisions themselves, but the way that they have been playing is good and if they play to the standards they've been playing at, then we should have a good game on Saturday where hopefully we can come away with something."
On injuries
Rotherham welcome Michael Ihiekwe back from a one-match suspension, although it's a case of one in and one out in that regard with Mickel Miller now set to serve a ban for his red card in the defeat to Brentford in midweek.
Full-backs Joe Mattock and Matt Olosunde were withdrawn as a precautionary measure in that game and Warne expects them to be able to play this weekend, but they remain without the injured Shaun MacDonald, Chiedozie Ogbene, Clark Robertson and Kieran Sadlier.
"I don't think we have anyone else back, but we do have Icky back from suspension," Warne said.
"Most of our injuries are long-term until around February which is a massive blow. It is just about trying to keep the lads out on the pitch for as long as we can."
On coming close
Despite their underwhelming run of recent form, which has delivered just one win in the past eight matches, Warne has taken solace from how close they have been in many games, not least the past two in which they battled exceptionally to take a point against Bournemouth, before matching Brentford for long spells.
"I was pleased with the performance in both games and I think we may have edged it against Bournemouth in fairness," Warne reflected. "I thought we were really good first half against Brentford, who are definitely my nemesis.
"We're not far off. We're pleased with the performances and normally points come off the back of that."