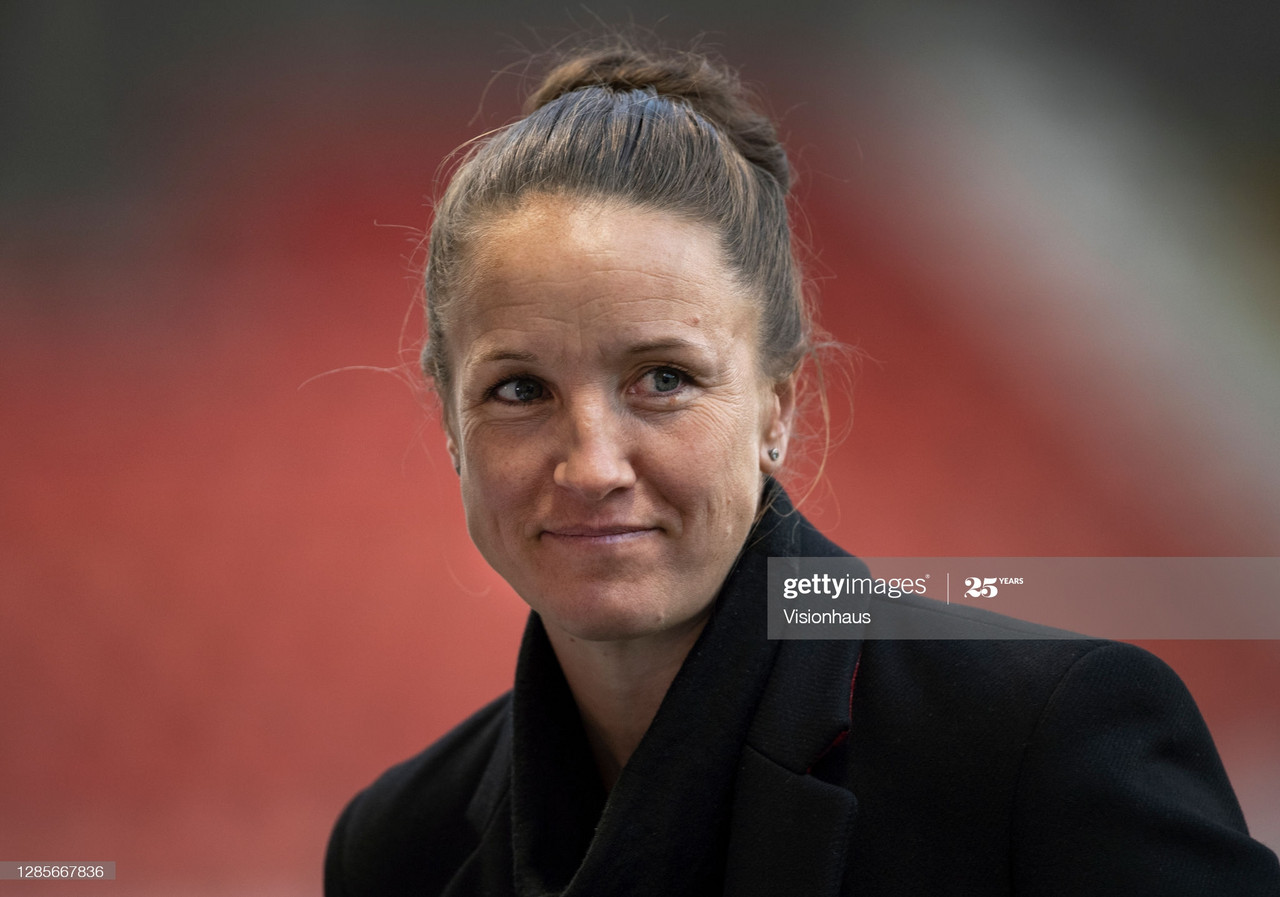 With the international break now over and players back at their clubs, Manchester United return to WSL action on Saturday when they face Aston Villa at the Bescot stadium.
International break
After a two-week international break, the players and staff at the club have been able to get some much-needed rest after a congested fixture list, with Stoney appreciating the ability to spend time with her family:
"We get a little bit more time than we would normally get if we were normally playing games." she said "My staff managed up and forced me to have Saturday off and I thought 'actually if I'm going to lead by example, I'm going to respect their decision' because I don't get much time with my kids so I took Saturday off and I had Sunday.
"So I had a couple of days consecutively which is rare - especially with children and obviously, the players have had a couple of days off together as well because those that are here, we were left with nine players, the intensity of the training is very high.
"We get loads of detail and intense work into them so it's very hard for them so they get a bit of additional time off as well and those that have gone away have come back really sharp and I also think going away on international duty in these times is harder than anyone anticipated.
"They don't share rooms, they're on their own on all of the time, they are isolated, it is very, very difficult for them to go away in these circumstances but listen, they adapt brilliantly."
The importance of fans
Under the new COVID-19 guidelines, grounds in Tier 2 are allowed up to 50% of their capacity, or 2000 fans - whichever is lower, with that number rising to 50% or 4000 in Tier 1. United will first play in front of a crowd when they travel to Reading, but Stoney echoed her disappointment at the inability to have supporters at Leigh Sports Village:
"I can't wait." the United boss said "That's who we play for isn't it - our fans and supporters and having them in the ground. We've really missed them, I'm disappointed, I can't state how disappointed I am that we can't obviously open up our home venue and get fans in here because we've got a fantastic home venue and a great fanbase.
"To be able to get them back in the ground and back watching the game I think is so important for the fans and for the women's game."
Rainbow laces
Manchester United's next two matches fall inside of Stonewall's 'rainbow laces' campaign, with the Charity expecting to hand out their millionth pair of rainbow laces. Stoney, who is openly lesbian, spoke about the importance of campaigns to increase visibility of LGBTQ+ people in sport:
"It's about visibility and awareness, isn't it. I don't hide away from the fact that it massively impacts on my life and has done for many years. So campaigns like this, and I hate the word acceptance - it shouldn't be about acceptance, it should be about normalising 'love is love' and it shouldn't be anything other than that and viewed in this way - campaigns like this raise visibility, they raise awareness and it's important."
In terms of her own life, the Manchester United manager said that sport has been 'massive' in allowing her to be herself:
"[It has been] massive. I'm not going to hide away from the fact, I think there are times in my life where it's actually saved my life, to be honest in terms of sport. You can struggle with your sexuality and actually living online now is probably even more difficult as a gay person because of the amount people say to you and the things you can read.
"So actually, being able to come away from technology and play sport and just be yourself in a changing room and be valued for what you do, for your job, and not have a concern about what you do away from the pitch and just be valued for how good you are at your job I think is key."
Ivana Fuso
Brazil-born German international Ivana Fuso has not yet played for United this season after joining the club in the summer, although she was in the squad for the club's last game. Stoney said that it has been a 'really difficult' start to life in Manchester for the 19-year-old:
"It's been a really difficult start for her and it's not a start that any new player would want you know, picking up the injuries she had, back to back injuries unfortunately that kept her out for a long time." she said "She didn't have a good pre-season then. For us, it's about building up that base of fitness now, making sure that she's more physically robust and that she can cope with our training and also the league but you know, we've seen over the last week or so that she's really turned a corner in that area and at some point, she will feature."
Although she has not yet played and is not fluent in English, the United manager also said that she is a great character to have in the squad:
"She's a great character. She's bubbly, you know, despite not speaking [English as her first language], this isn't her language, she really tries and she brings out her personality every day and I think she's a really positive person in the environment and it's not been easy for her so I think to get her back on the grass and hopefully get her back playing again, will just bring out that smile that she's got and she can really start to feel integrated within the club and the team."