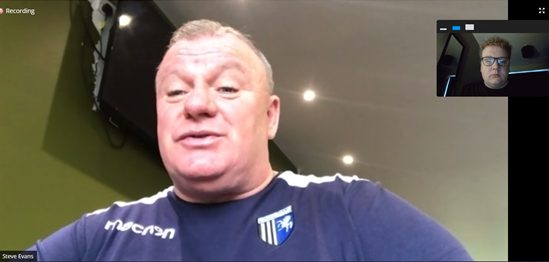 Gillingham will host Swindon Town in League One action on Saturday, hoping to make it five unbeaten in the league.
Ahead of the game, Gills manager Steve Evans spoke to the press. Here are five of his key quotes.
On Wednesday's win
"I was very much pleased with the performance, but it is a results business. What we have always believed if you get your performances right, results will follow. When we play as well as we did in Bristol, we would have been good enough to beat most of this division. There were smaller spells where they gave us a few issues, but it was a really good, solid away performance and it pleased us."
Gillingham defeated Bristol Rovers 2-0 in the week and were well worth their positive result.
Evans was more than pleased with the performance and rightly so.
On working without Jordan Graham
"Jordan Graham has been an outstanding player for us. He is an outstanding talent and more importantly he is a brilliant lad. We worked hard to get him in. When we knew he was going to have a little issue we had to work on little things on the training ground and credit must go to my coaching staff.
"We have missed key players since the start of the season and have had to continually find a way, but we have a terrific group who work hard and believe in each other. He has got a mild hamstring strain and we need to make sure he does not damage it again and that when he comes back in, he is 100%. He is such a big player for us."
Jordan Graham has been a vital player for Gillingham this season, and is not only their top scorer but also their top creator, with six goals and five assists to his name so far. News of his injury ahead of Wednesday's game worried many Gillingham fans, but they coped fine without him and will do again whilst he's missing. Still, all involved will want him back fit sooner rather than later.
On ambitions
"The top six is possible. We have played teams in it and been very unfortunate not to take points. The bigger problems are if you are not playing well and not creating chances. We have had to change strategy a bit, but mid-table is no man's land. We said to the players before Bristol that if we take six points from our next two we will be on the cusp of the play-offs and crowds are going to be coming back in soon and what a wonderful thing to happen would be to be near the play-offs and Priestfield is opened up to spectators. Fans are my biggest motivation to win football matches. They are the life of the club."
Gillingham are 12th in League One and have picked up 10 points from their last four games. They are on a positive run, and will hope to continue that.
On the care package
"It is one for the chairman, but it is relief. Nothing we do in January will increase the budget from what it is now, the chairman has made it clear he pays what this football club can afford to pay. We will not be a Bury or a Bolton – he has served 25 years and he viciously protects the club. The football club is in the hearts of thousands of people and we cannot tear that away. We have to spend the resources the best we can and get great value for money."
With news of a financial care package coming from the Premier League to help out the EFL, several clubs can breathe a sigh of relief.
Gills chairman Paul Scally will be happier than Evans, sure, but it is still brilliant news for all at the club.
On Swindon
"They are a terrific side. They could have been three or four up at Crewe. They play some wonderful football and a number of players contribute to that type of performance. They have an attack-minded great football brain of a coach in John Sheridan and an owner who played for me. They will come to Priestfield, try and secure lots of the ball and they are a really dangerous opponent for us, but we know what the rewards are. They have beaten the top teams and we will see which type of Swindon turns up on Saturday.
"John is a real football man. It is a really tough game for us. They will be organised, disciplined and we will have to produce a really good performance to get any thoughts of taking the points."
Swindon have recently had a managerial change and have been pretty inconsistent of late. They have two wins and three losses from their last five league games, and sit 19th in the table. Time will only tell what sort of test they provide to Gillingham on Saturday.