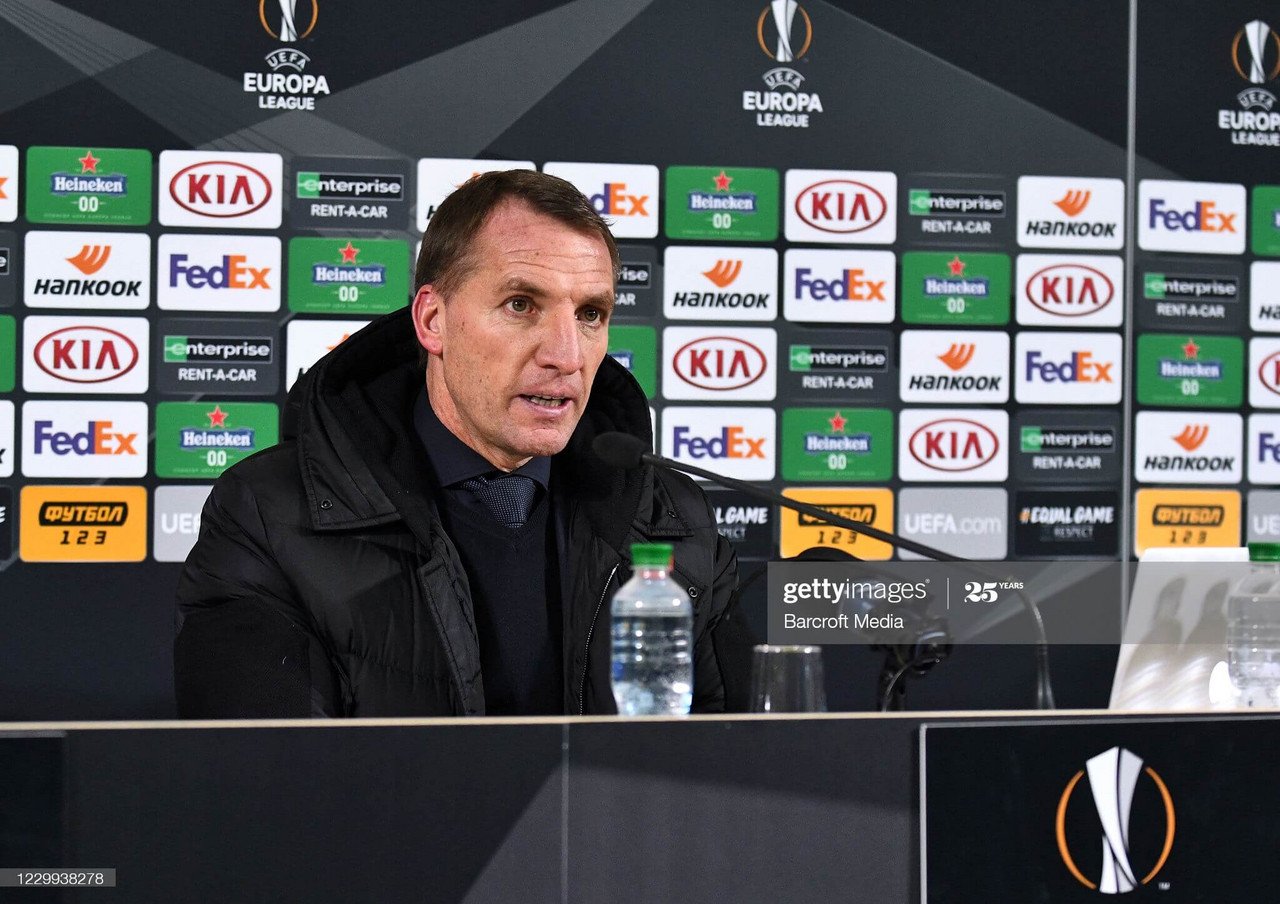 Leicester City suffered this third defeat in four games in Ukraine on Thursday as Zorya Luhansk defeated the English side 1-0.
Allahyar Sayyadmanesh scored the only goal in the 84th minute to earn Zorya their third straight victory in all competitions.
The defeat for Leicester means topping the group will have to wait till next week when they host AEK Athens.
Here are Brendan Rodgers' five key quotes:
On the defeat
Sayyadmanesh's goal means Rodgers' side have not won since their 1-0 victory over Wolves before the international break.
However, the Foxes' boss thought his team were unlucky. Speaking to LCFC TV, he said: "I thought the players were really unfortunate.
"I thought we put so much into the game. We showed a lot of moments of quality and we had good chances in the game."
On his side's opportunities
The Foxes enjoyed 51% possession in Ukraine, created 12 chances, but with eight of them being off-target.
Cengiz Under and James Maddison were both brilliantly denied by Nikola Vasilj in the second-half.
Discussing his team's missed chances, Rodgers said: "Their 'keeper made a few good saves and then we, obviously, missed one or two opportunities and, especially as the game went on, we looked like the team who could really go on and score.
"It was just unfortunate, I feel, for the players because they put so much into the game. They showed a great desire to want to win the game, even though we had a couple of injuries to deal with."
On the Foxes' European campaign so far
Despite the defeat, Rodgers remained optimistic about topping the group, with them holding the advantage after defeating and drawing with SC Braga in the previous two European games.
"Listen, we're five games in, three wins, one draw, and we're disappointed to lose this evening, but there were mitigating circumstances.
"We were playing players and getting some game time into players, so there's always going to be that possibility."
On the recent poor form
The disappointing result now means Leicester have lost three in four going into a hectic Christmas schedule, hoping to remain within the UEFA Champions League places.
Speaking about his side's recent form, Rodgers said: "It's part of the season. Liverpool and Fulham, we didn't play so well.
"The second half against Fulham was okay, but it wasn't good enough to get a result. Braga we drew, tonight's a loss.
"We're disappointed not to get the result, but we never get too low when we lose, and never get too high when we're winning games and playing well."
On upcoming fixtures
This weekend, Leicester will travel to Sheffield United hoping to pile more misery onto Chris Wilder's team who sit bottom of the Premier League with only one point.
However, Rodgers remained consistent with his expectations ahead four games in 10 days.
"We know what the expectations are of this season. My feeling always was if we could be around that top six or seven into the new year, with everything we've had to cope with so far, that would be really, really good for us.
"Hopefully then with players coming back and the squad becomes even more competitive, then we can push on in the second part of the season.