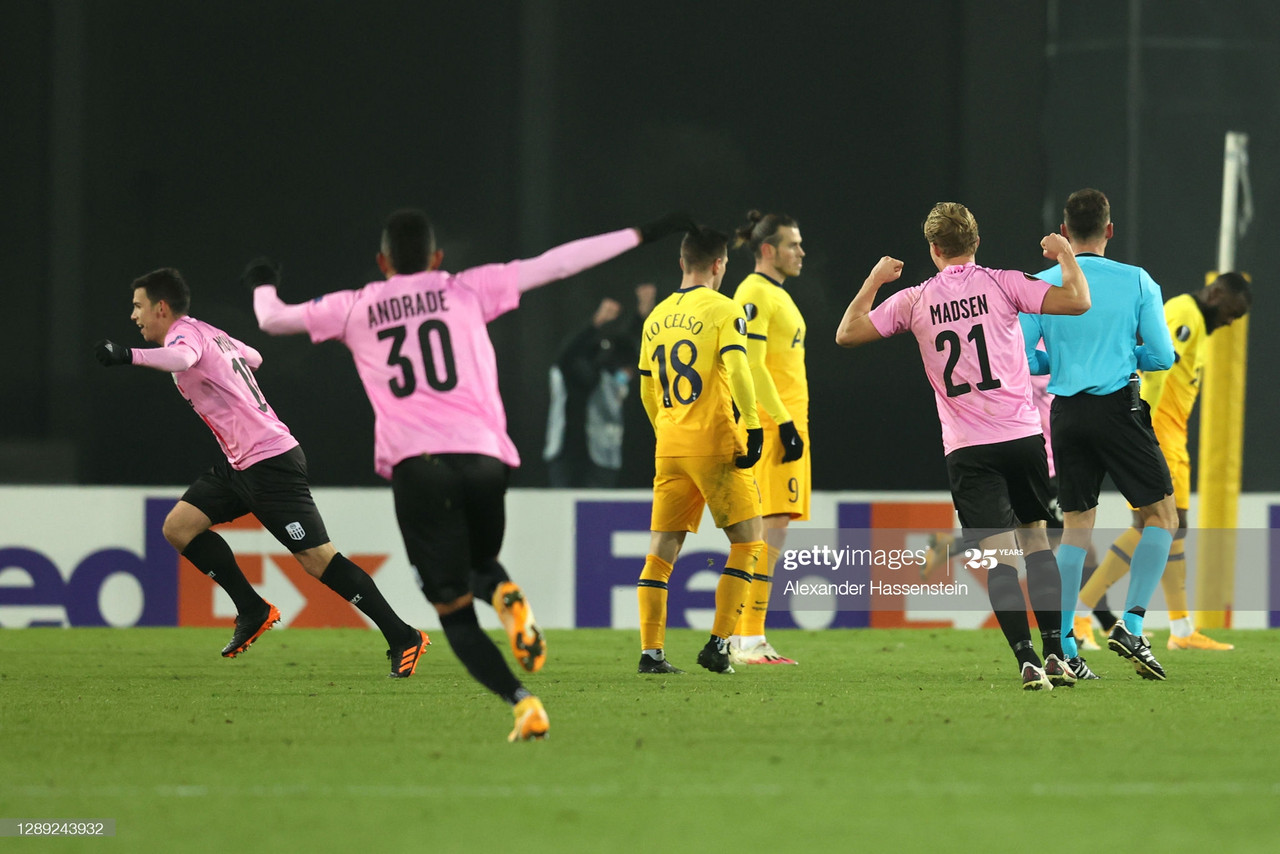 In what was a disappointing display from Jose Mourinho's side, a 3-3 draw against LASK saw Spurs qualify for the next stage of the Europa League.
Two goals from the spot - either side of Heung-Min Son's cooly slotted finish - gave Tottenham Hotspur the three goals that should have been enough for three points.
Having been ahead going into stoppage time, Spurs will have been frustrated not to take all three points away in Austria.
Jose Mourinho attributed the poor performance to a lack of motivation, claiming it was something he also experienced at Manchester United.
The Portuguese coach said "The fact that the Europa League group phase doesn't motivate some of the players, I knew it."
This suggests while Jose understands the standard on show was poor, he expects the quality on the pitch to improve as the competition continues.
Tottenham's first shot on target came from Gareth Bale's penalty, the last kick of the first-half.
This said everything about the pattern of play and how dominant LASK had been in the first half, although they had little to show for it.
The Austrian side were thoroughly impressive over 90 minutes and should count themselves unlucky not to have walked away from the game with more.
They kept hold of the ball well, recording more possession than Spurs as they dominated midfield.
The intent and desire was clear to see in the game as LASK played on the front foot and looked by far the more threatening side, hitting the woodwork and carving out good opportunities.
In a competition Mourinho has openly admitted he is looking to win, he must be able to motivate his players in these away fixtures as the lack of desire may cause him problems in the knock-outs.
Doubts over Joe Hart's performance
Although Joe Hart made two good saves in the opening half-hour to keep the scoreline goalless, there were questions asked of his performance last night.
All three goals scored by LASK were long-range efforts from outside the 18 yard-box and the feeling was that they could have been kept out.
The first effort scored by Peter Michorl swerved and dipped, bouncing just in front of Hart, if he had judged the flight of the ball better he may have been able to keep it out.
A keeper of his ability will have been disappointed not to make the save and it invites the questions over the role of Paulo Gazzaniga who has been a safe pair of hands in the past.
The second goal came late in the second half through Johannes Eggestein, he fired it towards goal and it went through Joe Hart.
The ball struck his wrist and it had too much power for Hart to keep out, if he used his palms or had a stronger wrist, he should have been able to deny the German.
There wasn't much the former England number one could do about the third goal, Mamoudou Karamoko curled a beautiful effort into the top keeper away from Hart's reach.
While Hart will no doubt point to his defenders for not closing down attackers, gifting both time and space to take on shots, it was far from his best performance.
A confidently dispatched penalty from Gareth Bale meant he reached a landmark 200 goals for club and country in his career.
The penalty came following a goal bound shot from Tanguay Ndombele that was blocked using a hand in the box.
Bale will be pleased to have score again in the Tottenham strip - only his second following his high-profile return.
He will be hoping the goal helps him to kick-start his move back to England as he continues to build up his fitness and sharpness.
Bale unaware he was closing in on the achievement was pleased, however, he had his sights firmly fixed on the upcoming North London Derby this Sunday.
Had he been a bit more selfish on Thursday night he could have made it 201 career goals in the second-half.
He raced through on goal after LASK stepped up, he attempted to square it to Son but the pass was agonisingly just behind the Korean and perhaps going for goal would have been the better choice.
There is no doubt over the talent the Welshman brings to the Spurs frontline, when he is fit, ready and raring to go he'll be a frightening sight for defenders.
After back to back defensive displays against both Manchester City and Chelsea, the Tottenham attack looked out of ideas against the LASK defence.
Missing an out and out striker, with both Harry Kane and Carlos Vinicius ruled out injured, responsibility fell on Son who put his name on the scoresheet.
It was largely an uncharacteristic display from the forwards, who have been relatively free-scoring this campaign, especially in the Europa League.
The attacking intent that we associated with the Spurs side this season was nowhere to be seen.
Although they recorded three goals, two were penalties and Tottenham offered very little in terms of chances created during the game.
Dele Alli's cool penalty will give him some confidence as he looks to fall back into favour with Mourinho and force his way into the team-sheet.
With a big clash coming up against North London rivals Arsenal, Jose will need his big guns firing against a defence that are most likely going to be set up to defend.
The proposed return of Kane will look to be a bonus and Jose will hope this poor all-round display will only be a one off and his players can shrug it off.