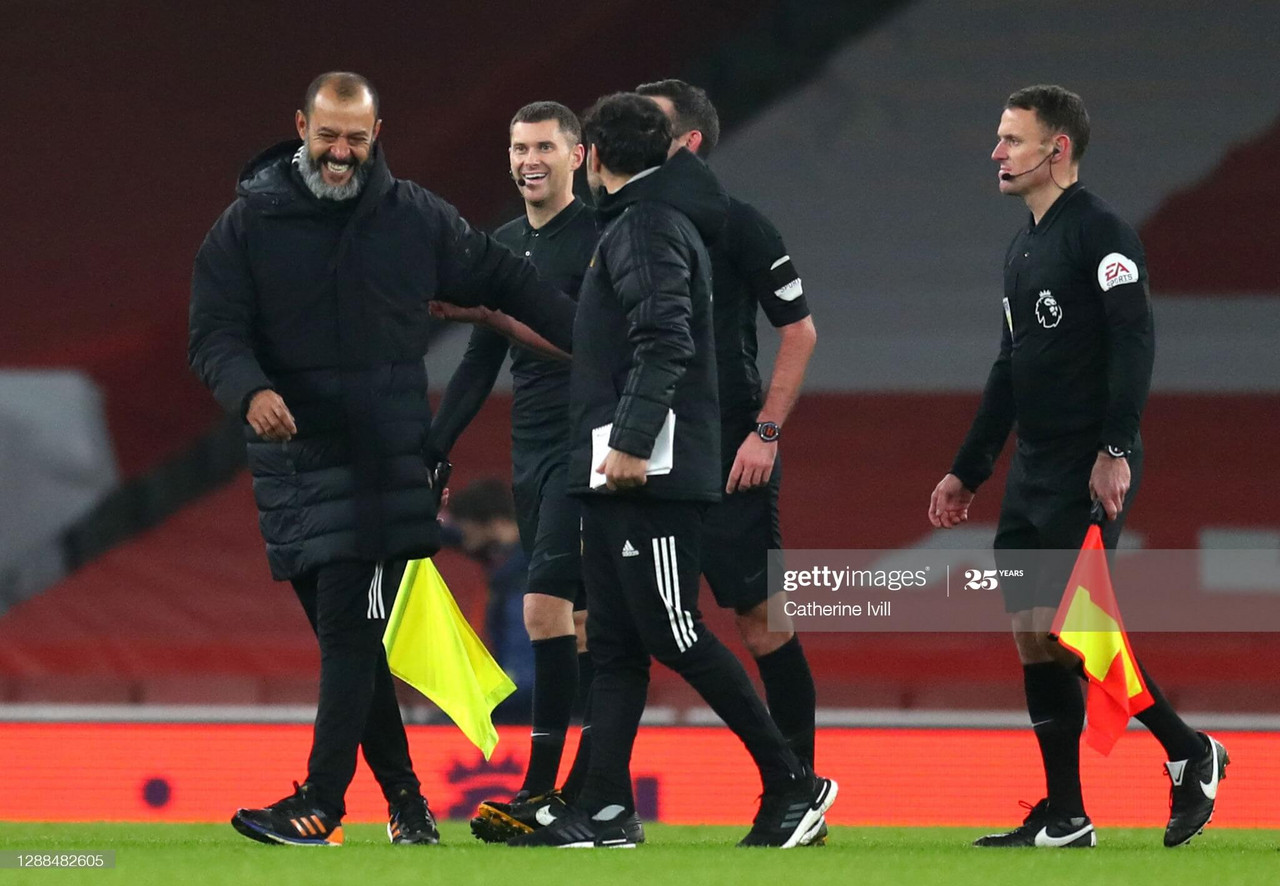 Wolverhampton Wanderers travel to Anfield in search of their first Premier League victory at Liverpool since 2010.
The Wanderers make the trip to Merseyside on the back of an impressive 2-1 win at Arsenal and will be hoping to end Liverpool's brilliant form at their home ground.
Ahead of the game, Nuno Espirito Santo addressed the media to discuss Raul Jimenez, his team's form and the current Premier League champions.
On Raul Jimenez
Last week, Jimenez fractured his skull after a horrid head collision with David Luiz in the first half at the Emirates.
The club have released a number of statements to update supporters' on his road to recovery, but the time limit of how long he remains out remains unknown.
Speaking about the Wanderers forward, Nuno said: "He's recovering well with his family, but we know that it's a serious situation.
"He had surgery, now he's recovering well and he's still in observation, then soon he will be back home.
"We are not allowed to visit him, but in this moment, what Raul needs is the comfort and the love of his family."
On Jimenez's recovery
Despite the positive news regarding the Mexican striker, the cause for concern amongst the Wolves fans will continue to grow until the length of absence is confirmed.
Nuno refused to comment on when he thinks his striker will be back.
"It's too early and not even the moment to think about [him returning]. Now is the moment to leave the situations to the doctors and for him to be relaxed, follow the directions of the doctors and deal with the situation in the comfort of his loved ones.
"We need to let him be and recover well, back to his normal life, and then we will have time to spend together and speak.
"But we really miss him. We were worried about the situation, but now we are positive."
On the reaction from his players
Despite losing their striker early in the game against Mikel Arteta's side, Nuno's team remained resilient and scored two first-half goals to win for the first time at Arsenal in 41 years.
Speaking about the aftermath, Nuno said: "Everything goes through your mind because you see someone who you really love and appreciate in a tough situation.
"What you feel is that you are sad, you are worried, first of all, because we love Raul. We all love Raul, he means so much to us, and it's like when a member of the family gets ill.
"It was very serious and everybody was afraid of the situation, everybody was worried, but as the days go by, hearing the positive news, knowing that he is really being taken care of, we've been able to return to a normal situation and dealing with it how we should do.
"Now we have to stick together, prepare well and compete, knowing that he's going to be there for us. But our thoughts and prayers go out to Raul and we will keep giving him time to return safely to the group again."
On his team moving on
Having their star striker out means Wolves go into Sunday's game with only one striker in Fabio Silva.
The 19-year-old is yet to score for the Wolves first-team this season, despite costing the club £35m in the summer from FC Porto.
But Nuno is convinced his side will return to normal soon.
"Everybody saw [what happened]. Everybody on the pitch was affected by the situation, but after that, what we normally do is deal with the situation.
"We have people here in the club, ourselves as a group, we support each other and realise that can happen.
On filling the void left by Raul
If Wolves are to defeat Liverpool, they will require goals from either Pedro Neto or Daniel Podence.
Nuno spoke about the opportunity provided for the rest of the players: "It's a chance for all the squad, knowing that we don't have someone who is really important for us, someone who has been within the starting 11 so many times.
"I don't recall a game that Raul was not in the team, so it's a chance for all of us to raise our standards and create solutions for the team."