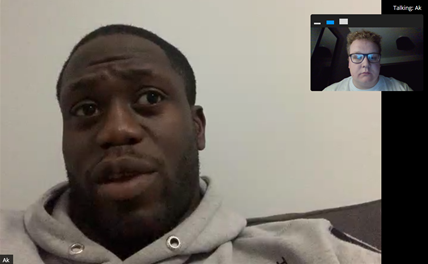 Gillingham will host Swindon Town on Saturday in EFL League One action with the aim of making it five league games unbeaten.
Ahead of the game, Gills forward John Akinde tackled the press via Zoom. Here are five of his key quotes.
Reflecting on Wednesday
"It was good to get the result. I thought all the boys played well and it was a good performance. We just want to keep this run of form going. After any loss, everyone is itching to play the next game and wants to put it right. We were disappointed getting knocked out the cup and wanted to make amends for it.
"I know the manager likes the formation and he has played it before. I was not surprised when it came around. I am glad it worked, we all enjoyed ourselves, us boys like playing with each other so it was good. It takes the burden off one striker, especially when you are playing with three. When there is two or three of us, we can share the workload, make runs. It worked and we created a lot of chances which is key in scoring goals. I probably should have had one, but it was good we created and long may it continue."
Gillingham secured a comfortable 2-0 win over Bristol Rovers on Tuesday and a change of formation, potentially due to a Jordan Graham injury, was key to the win.
Akinde and Vadaine Oliver started up top together with Dominic Samuel in behind, and the forwards excelled in the system. Expect to see more of the same on Saturday.
On the strikers' union
"In training there is a lot of banter flowing. It is a great squad and there is a great spirit and atmosphere. On Twitter it showed with Jordan praising us and cheering us on. We all just want to help the club kick on.
"Injuries never help a squad so to have everyone fit and competition for places is always a good thing. We know we have a very strong squad that works really hard. We back ourselves. I have enjoyed it. We have a good relationship off the football pitch and on it too. I think that shows – talking to each other, helping each other out, filling in when we need to. It has been really enjoyable. On a personal note I would like to play more but I am not going to sit and sulk on it, I will just keep trying to do my best when I do play and in training.
"We said the other night, one of us they can sort of handle and deal with but two of us, what do you do? We enjoyed that, we saw a different side of V's game and me as well. It is not always battling – sometimes you want to be that other forward and we had Dom in the hole doing his bit for the team as well. I think it is the first time we have all started together, and we enjoyed it."
Akinde is the only striker remaining from last year but it seems he and the other forwards are all getting on and gelling. It shows both on the pitch and off it.
On a busy Christmas period
"Everyone knows Christmas is a busy period, so we want to get into it really confident and beat the unbeaten run from last year. We expected it. When we came back to pre-season it was spoke about and if we do well in the cups, we will play every midweek, for example in the game coming up against Cambridge. It is going to be tough, but it is about training right, preparing right managing the training load. It is tough but everyone is in the same boat."
Several clubs are playing twice a week now, and it is a dangerous time for players. Like Akinde says, though, pretty much everyone is in the same boat and it must be dealt with. Squad rotation will be vital.
On his frustrations so far
"I have been frustrated I have not as played as much as I wanted to, but it is what it is. I need to keep my head down and keep getting in the areas to score goals. The way we play is different to what I have been used to, so it is about adjusting how I play. Of course, I want to score goals. I want to help the team win. If I play a part in that I am happy, but ideally, I would have liked to have scored more goals but all I can do is try my best.
"I felt like I played well against Ipswich, the last time I played the full 90, and I am enjoying it. I have been around long enough to know football can change like that, so I have just kept my head down and kept working hard."
Akinde hasn't had a proper run of games or scored many goals since he joined the Gills in January, but he is starting to enjoy a good run of form and minutes. He will be hoping it continues.
On Swindon
"They try to plan expansive football. Every game in this league is a challenge, I cannot really say there are any easy games. We will go into it well aware of what they are capable of but also taking what we can do to them and try and perform well and get the result.
"You cannot underestimate any team. I know a couple of their players and they are really good. For example, if Jack Payne is on the top of his game, he will cause problems. But we have to show the respect but not too much respect, and if we go out there and play to the standard we have been recently then we will cause anyone a problem. We always create chances, and it is about taking them, being a solid team, keeping the spirit, clean sheets, and playing for each other, playing as one. We do not want to take them for granted but we are confident that if we focus on what we do we are confident will be a match for anyone."
Swindon are 19th in League One but are still a threatening team and new manager John Sheridan will want to improve on his inconsistent start to life as Town manager. Saturday will reveal all.