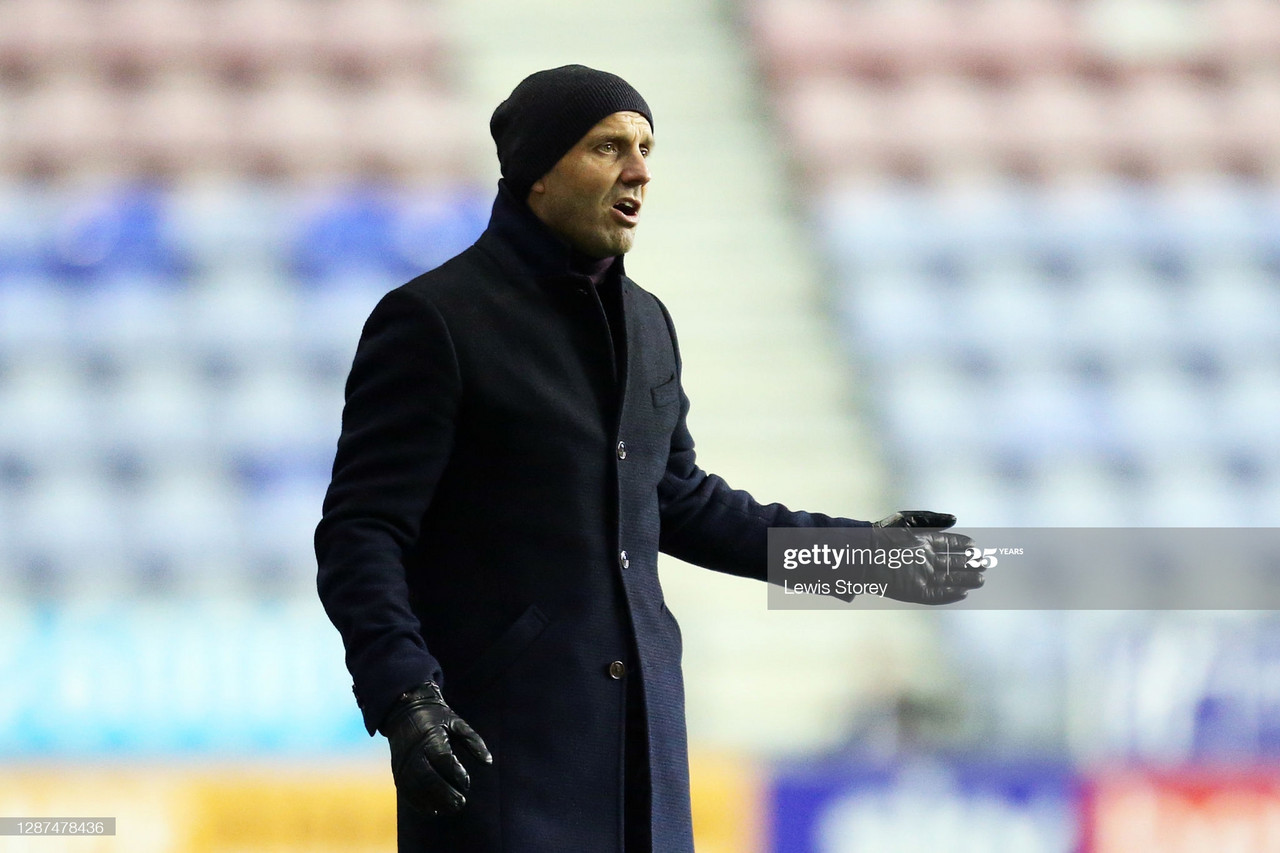 Paul Tisdale claimed his first win as Bristol Rovers manager, thanks to a double brace from Brandon Hanlan and Sam Nicholson. The win moved The Gas a point clear of the relegation zone.
Read: AFC WImbledon 2-4 Bristol Rovers: Paul Tisdale claims first league win in Plough Lane goal fest
Here's what Paul Tisdale had to say after the victory:
On the impressive performance
The 47-year-old started off by saying "Phew!" having just watched his first league win in charge of The Gas. He continued, "I am delighted with the team. I loved their mentality today and I thanked them very much for their effort, which is a given, but they listened to me and they tried the things I asked them to do."
"We certainly had the right mentality. The Bristol Rovers teams that I can always remember, when I first watched the club as a 10-year-old at Eastville and Twerton Park, there was always a forward motion. There was always a forward momentum, running forward, passing forward, and there was some life and vigour about the team, and I saw that today."
Tisdale's side scored four goals in a game for the first time this season, however, he was slightly annoyed by their celebrations during the match.
"I was delighted that we had scored, but there were 70 minutes to go! The mentality has to be, whatever happens you're onto the next. In the same way when we were celebrating our second goal, I was really cross. I thought we were over-celebrating. There are plenty of things I would like to add to the team, but at the moment they are listening and I thank them for that."
On Sam Nicholson's brace
Whilst Tisdale was delighted for the Scottish winger, he wanted to stress how happy he was with the team performance.
"I was very pleased for the team, for me, the club and Sam (Nicholson) - in the same I wasn't over concerned when he missed chances the other day."
He continued, "I don't care who scores, I am delighted for him, of course I am, but he was the one creating chances in the last few games. I know plenty has been said about him and not having an end product, but he's at the heart of so much of the good stuff we produce."
"Sometimes you just have to stand back and let them get on with it. He's a good player and the first goal was just breathtaking. He was a live wire as ever."
On Max Ehmer's role as right-back
A midfielder by trade, Max Ehmer was thrusted into the spotlight at right-back this afternoon - and he dealt with The Dons' attacking threat very well, much to the delight of his new manager.
Tisdale said, "He played very, very well!" He continued, "I thought he was outstanding today. Every game is different and every game poses a different challenge. He is a very good footballer, and we had a back four today, other than set-pieces, that looked very solid."
Tisdale added, "It's one small step at a time, let's not get over excited about it - he had a very good game, as did everyone else."
His first two weeks in charge
The former MK Dons boss replaced Ben Garner only two weeks ago, and was keen to reaffirm his intention to build on the good result at Plough Lane.
"I have been here two weeks, I haven't got an office yet and no charging room. The players have to adhere to COVID restrictions, they come in everyday ready dressed - we're all over the place. I'm looking all across the board and thinking, 'I need to sort that out and I need to identify that.'
He continued, "We need more respect for our pitches, our club and more respect, structure and discipline and everything else, it's a complete mess but I'm loving it! The most important thing is that we have purpose on the pitch."
Looking forward and Brandon Hanlan's goal scoring prowess
Tisdale wrapped up the press conference by not getting ahead of himself after the impressive performance this afternoon.
"Every game is different - but let's take a deep breath, say 'well done, we needed the win, I needed the win', the most important thing is to score goals and to march on for the next game."
Brandon Hanlan took his tally to seven for the campaign with a fierce brace that any striker would have been proud of.
His manager had this to say, "I loved his first goal because of Zain Westbrook's run to the dead ball line and the cross from Luke Leahy was perfection. These things come off the back of being purposeful."