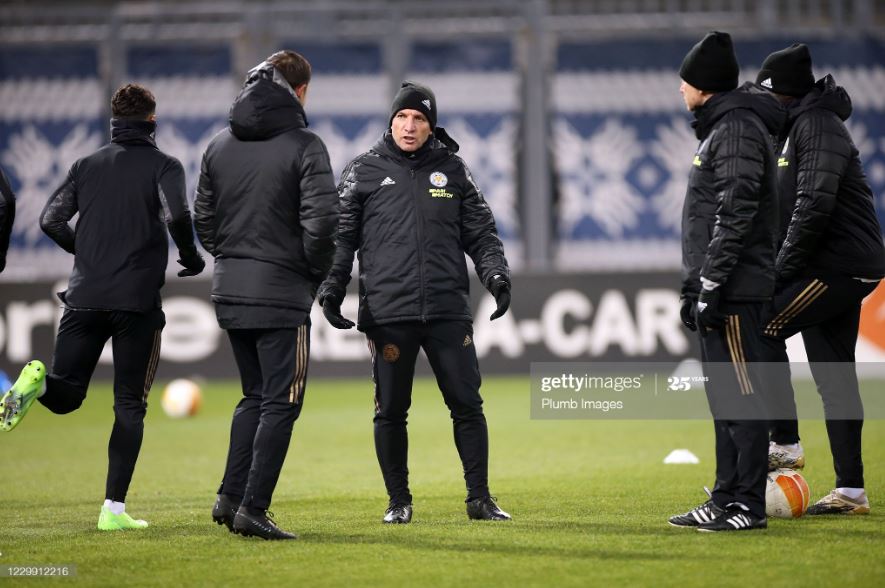 Finding themselves on a run of four winless games in all competitions, Leicester City will be hoping to return to winning ways when they travel Bramall Lane to take on Sheffield United.
The Foxes' last outing saw them lose in Ukraine as Zorya Luhansk scored late to scupper their chance to secure top spot in their Europa League group - their third loss in four games.
Despite the success enjoyed last season, the Blades are still in search of their first Premier League win this campaign as they prop up the table with a solitary point to their name.
Brendan Rodgers spoke to the media ahead of the clash and here are some of the highlights from his comments.
On Sheffield United
"I've watched a number of their games and they've been unfortunate. They've gone really close. You can see that honesty in their group and the work-rate in their group is still very much there.
"Of course, this is a league where you look to your next game, your next challenge, and it's relentless, the level of this league. The confidence doesn't look as though it's been overly affected. They're working hard and, like I say, we know it's a tough game for us."
Despite being the only team without a win in the league, the Blades have shown enough quality to make Rodgers wary of the match ahead.
Only on a handful of occasions this season have Sheffield United truly been blown away by their oppenents. The majority of their losses have been a 1-0 scoreline, meaning that most games have been tightly contested. This would suggest that Chris Wilder's side are not far off their first win of the season at all and Rodgers has a right to be wary, especially in the form that his side find themselves in.
On Chris Wilder
"I like Chris, and all managers are very different. I don't know him that well, but we've had a number of chats at Premier League manager meetings and I don't think he got the credit he deserved last season."
Rodgers was full of praise of his counterpart, who enjoyed a stellar season on his side's return to the top flight.
The Blades finished in ninth place, only two points behind Arsenal and possessed one of the most impressive defences in the league last season.
Having lost Dean Henderson from the side, as well as suffering key injuries in defensive positions, their backline has had to be changed throughout the season, meaning there has been a lack of consistency. Despite this, Wilder's side have continued to be competitive this season and once they get their first win, the confidence would come to really kick on.
Rodgers will be hoping to make sure, in spite of the complements, he denies Wilder his much needed result.
On the expectations of the side
"We know what the expectations are of this season. My feeling always was if we could be around that top six or seven into the new year, with everything we've had to cope with so far, that would be really, really good for us.
"Hopefully then with players coming back and the squad becomes even more competitive, then we can push on in the second part of the season."
Last season was a mixed bag for the East Midlands side, with the Foxes going from highly likely to secure a top four place, to dropping out into fifth after a dramatic loss of form.
While on the whole it was a good season, the sense that an opportunity was missed was certainly at the forefront of most people's minds when they assessed the campaign.
Every side will want to make improvements from the year before, meaning that Rodgers will have been looking to right the wrongs of the second half of last season and gain the consistency that would see them break into the top four.
Should Leicester find themselves comfortably in the top half of the table as Rodgers suggests with the schedule and injuries that they have had to contend with, a good foundation would be there to build upon as key players return from injury.
On injury setbacks
"[Söyüncü] is not as bad as first feared. He had a little fright on the pitch because, obviously, the pitch was very, very slippy, with the conditions and everything else.
"He felt a slight pull up when he was sprinting but he's had a scan, so we'll just look at that this afternoon (Friday).
"He feels fine in himself, he's done some tests and feels okay, but we'll just need to gauge that over the next 24 hours.
"Ricky just had a slight issue. He was due to play about 75 [minutes]. We brought him off at half-time.
"Very early on in the game, he went to push off and he may have just had a slight strain in his groin area because the pitch was very slippy. We just need to assess that."
Leicester's match against Zorya saw the likes of Ricardo Pereira, Caglar Soyuncu and Wilfred Ndidi return from long spells on the sideline with injury, though Pereira and Soyuncu did not last as long as planned.
Soyuncu was substituted at 17 minutes, while Pereira was pulled off at the interval as the conditions of the pitch contributed to injury flare ups for both players.
While it has been revealed that neither injury is serious, it is a blow that the pair's rehabilitation was halted, especially due to the dwindling number of players available to play in their respective positions.
On positive injury news
"Wilf's come through it fine, he didn't look like he'd been away in all honesty. His physicality is very important for our team, so that was good for him to get 55 minutes.
"[We've had] some really good news as Daniel Amartey's come back in and trained with the team today, which is great news for us."
Wilfred Ndidi has developed into one of Leicester's star players and when he is unavailable, the side feel his absence.
The fact that the midfielder has come through his first match unscathed is a huge boost for Rodgers and his presence on the pitch would go a long way in helping the defence add to the three clean sheets that they have kept in the league this season.
Daniel Amartey's progress also provides a huge boost as it represents more depth at the back, something they have not enjoyed for the majority of the season.
Amartey had played well after returning from his long term injury but was unlucky to pick up another problem. Should he find his feet on his return once again, it would be invaluable for Rodgers who will have another player that he can depend upon when asked.