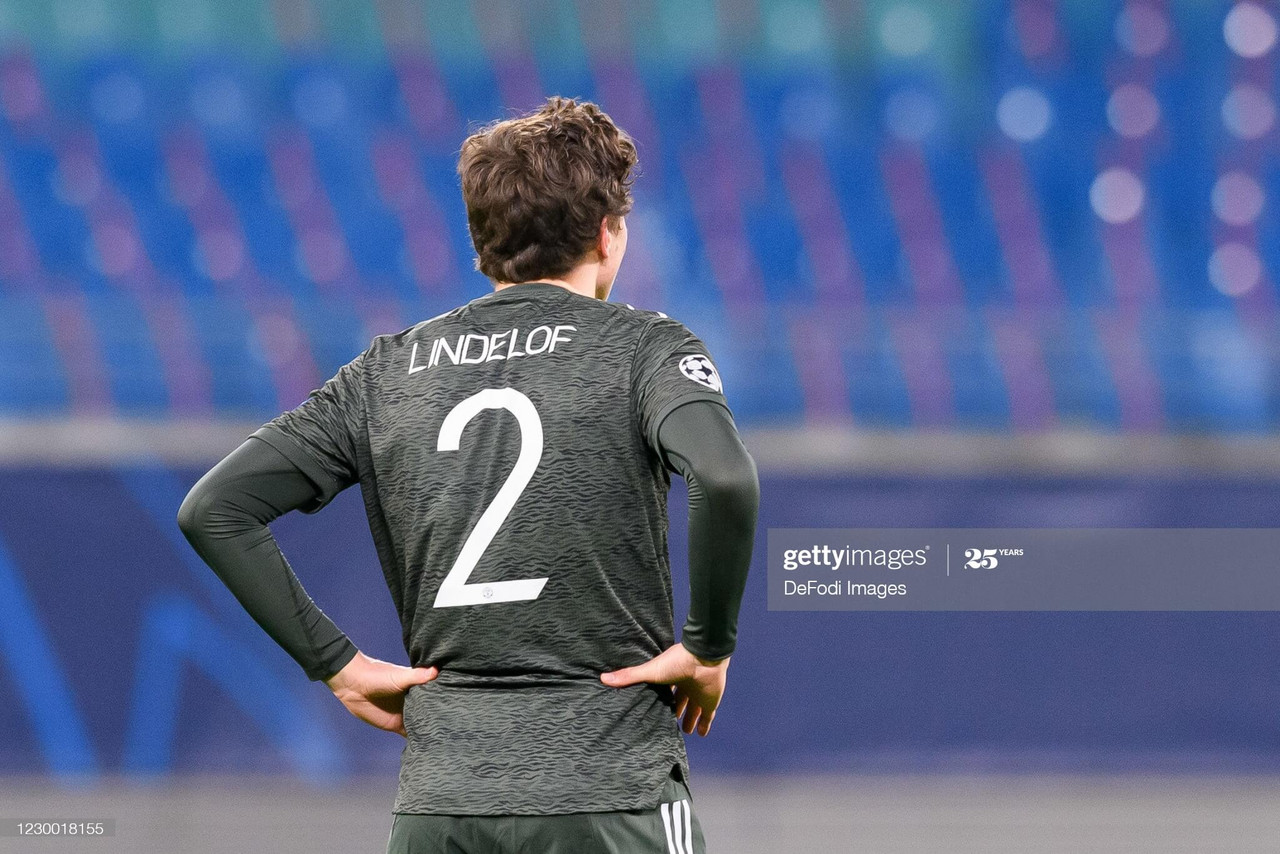 "Everyone has a plan until you get hit in the mouth."
That quote from Mike Tyson was probably the best way to summarise Manchester United's plan as they looked to force a draw to qualify for the Round of 16 stage of the UEFA Champions League.
Despite being in the driving seat for the majority of the Group Stages, United crashed out with an abject performance that, despite a late resurgence, really didn't put up much of a fight against a well-structured RB Leipzig side.
Here are the ratings from a poor performance from Ole Gunnar Solskjaer's men in Germany.
David de Gea: 6/10 – There wasn't much David de Gea could do against Leipzig tonight. He made the saves he could but the goalkeeper was ultimately let down by a calamitous performance from his defence. The Spaniard perhaps could have done better with the hosts' third goal, but the blame will ultimately lie with captain Harry Maguire on that one.
Aaron Wan-Bissaka: 4/10 – Stranded for the first goal, out of position for the second and nowhere to be seen for the third – Wan-Bissaka had possibly the worst performance of his Manchester United career against Leipzig, and he'll be hoping to rebound ahead of this weekend's welcoming of Manchester City.
Victor Lindelof: 5/10 – Similar to Wan-Bissaka, Lindelof's positioning was poor against Leipzig. The centre-half couldn't get going and he was unable to outmuscle any of the hosts' attackers.
Harry Maguire: 4/10 – Maguire's showing was poor, which is perhaps an anomaly for the skipper given his solid form over the last few weeks. However, he was at fault for the third Leipzig goal – he couldn't get going and was all over the place during the majority of both halves.
Luke Shaw: 5/10 – The left-back-turned-centre-half made his first appearance since early November against Leipzig, and that rust and the subsequent benefit of the doubt has probably given him a mark higher than he deserved, but no defender for United earned above a rating of five. He was brought off in favour of Brandon Williams, and his positioning was poor for the majority of the evening.
Alex Telles: 4/10 – Unfortunately, despite some recent good form, Telles was unable to get going and was brought off at the break in favour of Donny van de Beek as the Red Devils looked to go more attacking towards the end.
Nemanja Matic: 4/10 – The Serbian midfielder was poor against Leipzig and wouldn't have played if Fred was not suspended. His lack of mobility really cost him in the middle of the park and he was always under serious pressure from the quick, high-pressing opposition.
Scott McTominay: 5/10 – Scott McTominay looked fairly good without his usual midfield partner as he worked between the lines to connect the defence and attack in the second period. While he wasn't spectacular, he certainly wasn't awful.
Bruno Fernandes: 7/10 – The only United midfielder to create any sort of chance against Leipzig, Bruno Fernandes set up a few strong chances, hit the bar from a free-kick and slotted away the penalty to give United a fighting chance with ten minutes to go. Where would United be without this man? The answer – nowhere near the Champions League.
Mason Greenwood: 7/10 – Greenwood looked assured and confident going forward and made a few decent, striving runs forward. He had a shot saved early in the first half that could have completely changed the game. However, his efforts shouldn't be forgotten about after a solid evening of football.
Marcus Rashford: 6/10 – Far from Rashford's best United performance, the striker from Wythenshawe didn't completely underwhelm. He had a free-kick come relatively close and was crucial in putting the Leipzig defence under pressure in the second-half, but overall, he was outplayed by Greenwood.
Donny van de Beek: 7/10 – Van de Beek's entrance at half-time changed United's outlook in the match, as they immediately looked more inspired going forward. The addition of another midfielder gave United some momentum back in the middle and he was always on the ball or around it.
Paul Pogba: 6/10 – Pogba helped create the second goal with eight minutes of normal time to go, but that doesn't mask an underwhelming performance from the bench. The midfielder's agent's comments were the centre of attention as he entered the fray, but his showing of a flash of skill before lethargic play summarised well his United career.
Brandon Williams: 5/10 – Williams didn't really get going against Leipzig, but he at least looked to have some life in him. He won a strong tactical foul but was largely uninspiring.
Axel Tuanzebe and Timothy Fosu-Mensah also came on late in the game, but didn't have enough time to significantly impact the match.