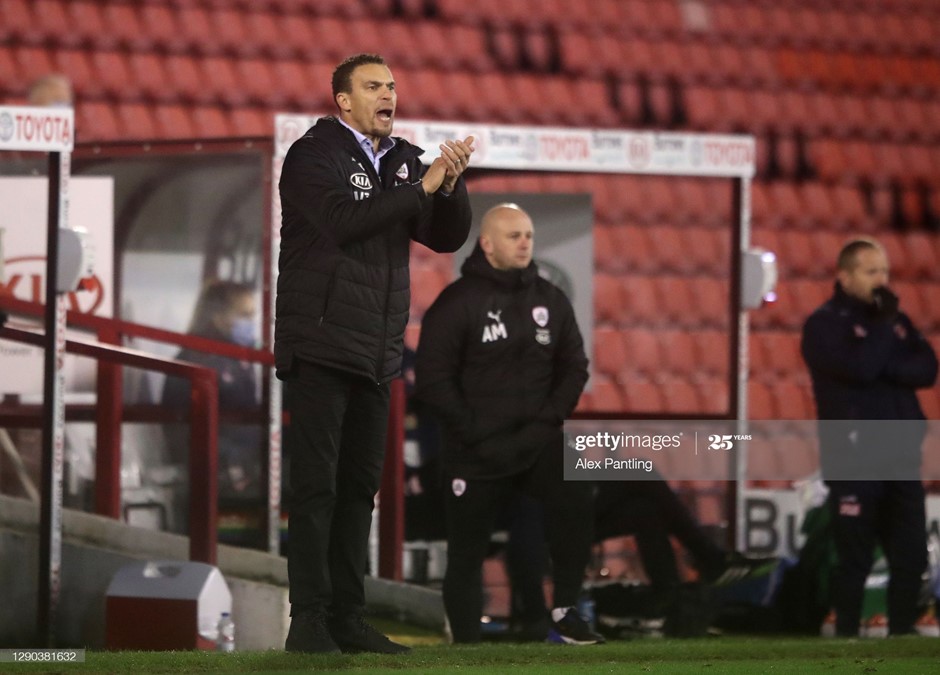 Barnsley made it six wins in 10 matches since the appointment of Valerien Ismael with a scrappy victory over Wycombe Wanderers.
In a Championship contest that was eagerly-fought but deprived of quality, Callum Styles and Cauley Woodrow goals got the business done for the Reds.
It might not have been pretty, but the fact that his Barnsley side were able to battle for the win in such circumstances was pleasing for Ismael in itself.
"That's the most important thing tonight," he said of the three points. "You can see with tactics, we tried to find a way wide. It was the gameplan and it worked, on the goal and in some situations.
"We took the fight. It was set pieces, second balls, it was a fight until the end."
After Styles' opener, both second-half goals came from the penalty spot. Joe Jacobson levelled for Wycombe after Garath McCleary was sent down by a tangle of legs with Aapo Halme before Barnsley hit back with McCleary tripping Luke Thomas for Woodrow's winner.
"We showed another mentality because the goal that we conceded, (the foul) was outside the box, it was not a penalty," Ismael said. "That's why it was very good to come back in the game, to show mentality and to win this game."
He also added on the general performance of referee Geoff Eltringham: "There were strange decisions. Sometimes it's like wrestling (and a foul isn't given), sometimes a small foul was directly a free-kick."
As well as showing a good response to the blow of losing their lead shortly after half-time, it was also a good reaction from a run of three defeats in four, and particularly their previous fixture when they were humbled 4-0 by Bournemouth.
"The young guys have to learn with pressure," said Ismael. "I think for the moment the response is good, the guys are very focused, they show a lot of togetherness which we need.
"The performance against Bournemouth, I saw the game another time and it was really good in some situations - the intensity, how we won the ball - but the mistakes were the key.
"But we learn about this situation, we speak about this situation with the guys, and now we are focused on our way."
Ismael has called for his players to be more ruthless and few have been so as much as wing-back Styles, who made it three goals in his last six matches with a sweetly-driven opener.
The head coach smiled: "We need more goals from Styles now! The next game is on Saturday, you need consistency in your performance. We play in a very good level now, but we have to stay at this level.
"We need to raise the bar to another level if we want to stay there, and that's why I'm very happy for him and the guys."
The win puts Barnsley in a comfortable position in the Championship table. Not only is there now a 10-point gap between themselves and the relegation zone but despite sitting in 16th they are only six points off the play-offs.
On the relegation picture, Ismael insisted: "It's not finished, that's why we have to stay concentrated. The Championship is a tough league.
"You can win, you can lose, and these close games (in the schedule) don't give you the confidence that you need sometimes. When there is more time between the games to speak with the guys to explain something, to train something, (look at) the mistake you did.
"All the time you have to recover, and that's why it's a sensitive situation. That's why I try to get the points (across) quickly, as soon as possible, to create a big gap between the last three teams."