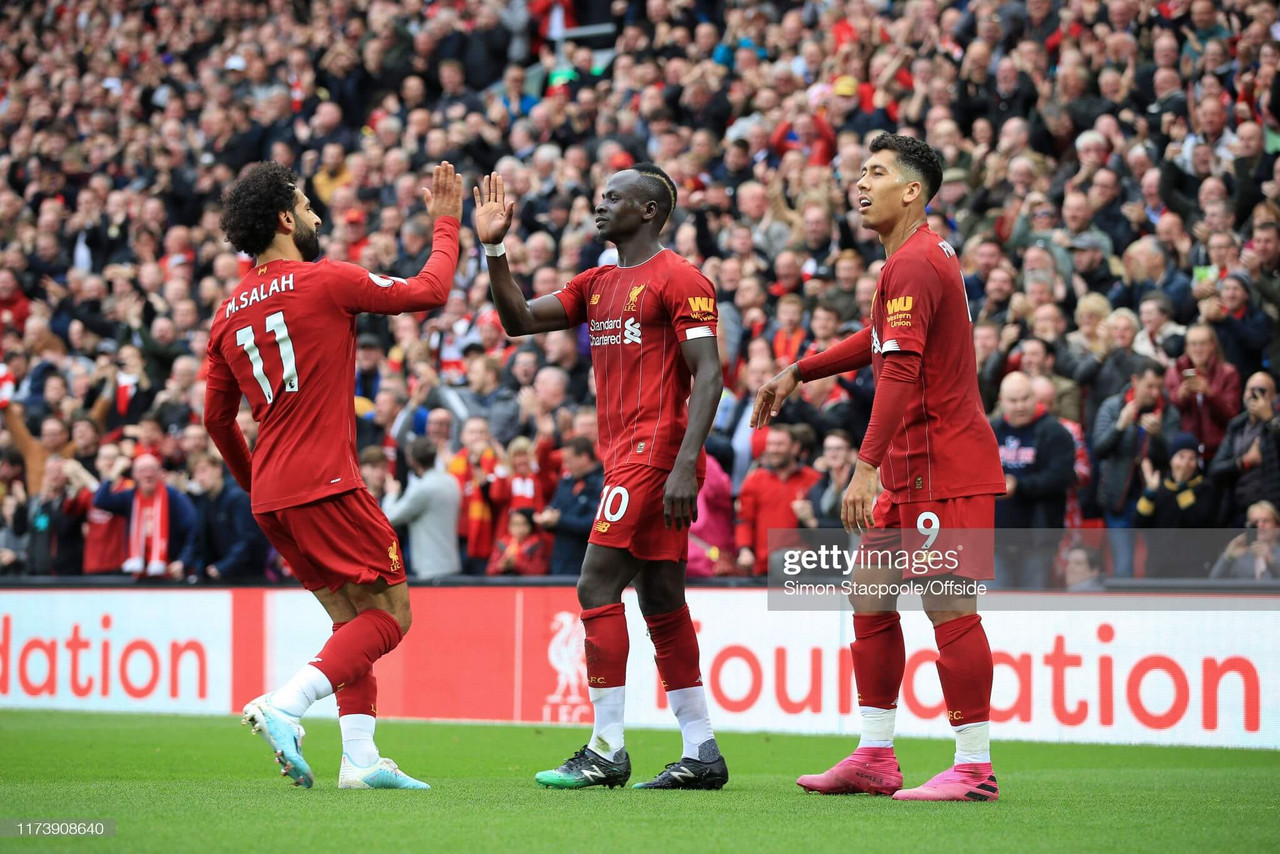 Liverpool's front three of Mohamed Salah, Sadio Mane and Roberto Firmino have filled Liverpool fans with excitement and glorious memories over the four years that they have been playing together. The elusive strike force have looked telepathic at times, constructing incisive attacks on a weekly basis. Their goalscoring record between them and the amount of winning goals from them speaks volumes. It would not be an understatement to suggest that they will go down in Liverpool and Premier League history as one of the best attacking forces ever.
However, is this the last season we see them together? Things have begun to slow down, with all of them struggling to find the net.
Mane has only two goals in his last 13 league games and went nine without a goal during that time; his worst goal drought in a Liverpool shirt. Whilst he has looked lively in games and has arguably been one of Liverpool's best players for the past month, his goals return cannot be overlooked. For all of his quality, Mane is in a goal slump that has gone on for long enough to cause some concern.
A similar thing could be said for Salah too. His last league goals came nearly a month ago, against Crystal Palace. That being said, maybe it would be wrong to be overly critical of the Egyptian. He is still the league's top goalscorer with 13 goals from 17 games. In his last two seasons he scored 19 and 22 Premier League goals and is on course to have his second-best goal return season during his Liverpool career, behind his record-breaking 32 goal season. But things do not look great for him at the moment.
As for Firmino, the creative striker is strangely never expected to score too often. He has five league goals at the moment which, again, puts him on course to beat his return last season. Against Manchester United, Liverpool's best chances fell to him and he probably should have taken them. Most other strikers, certainly those playing for top six clubs, would have. Yes, he is a system player, but fundamentally a team's striker needs to be capable of scoring goals.
For all of the front three's exceptional play over the past four years, we may now be seeing the start of their decline. Have they been found out? Are their best years together over?
Liverpool's stutter in the Premier League has been largely down to not scoring enough goals. For all of the Reds' defensive problems, they have generally done a good job in that department. But it now seems that it is the offence that is struggling. Liverpool have scored just one goal in their last four Premier League games. They have not scored in their last three. The last time Liverpool did that was in the 2004/05 season.
Hopefully, this period will be seen as a stutter come the end of the season and Liverpool will get over this difficult run of form. However, should it continue for any longer, serious questions would have to be asked of the front three. Following the end of the season, manager Jurgen Klopp will have to answer some big questions regarding the front three. This could see the start of a new attacking force. Liverpool may have already bought the future stars for this.
It cannot be understated how much Liverpool have definitely missed Diogo Jota. He started his Liverpool career so brightly with five league goals in nine games. He also netted winning goals against Sheffield United and West Ham United and scored Liverpool's only goal in a 1-1 draw against Brighton. Jota also has a Champions League hat-trick to his name, scoring three against Atalanta.
It is evident that the Reds miss his quality and tenacity. It is also very impressive that Jota has made Liverpool's front three better than it already was. Many people would have thought it would take someone already at an elite level to do so. It is probably the biggest compliment the Portuguese can be given.
With Liverpool's recent slump and Jota's energetic start to his Liverpool career, it wouldn't be a surprise if he became a permanent face up front next season. Liverpool appeared to play better with him in the team and it would certainly be justified if he was to become a regular face next year.
Firmino will be 30-years-old next October, whilst Jota will be 24-years-old. This could very well be the start of transitioning out the original front three, who will all be around that 30-year-old bracket, for younger talents.
Making funds for the summer?
It has been widely reported that Liverpool will be looking to spend in the summer to strengthen the team. Despite constant reports last summer that Liverpool did not have the funds to spend, they still brought in both Jota and Thiago Alcantara, leading many to believe that the money is there to be spent.
Both Kylian Mbappe and Erling Haaland have both been linked with signing for the Reds. It is still unclear whether the speculation is accurate due to the funds that would be needed for those signings and Liverpool's position on not wanting to break their wage structure. But if either deal were to happen, players would need to be sold to make way for them.
Salah would likely fetch around £100million if he were to depart. This would go some of the way to finding the money to bring either Mbappe or Haaland in and would have to be considered good business when taking Salah's age into account.