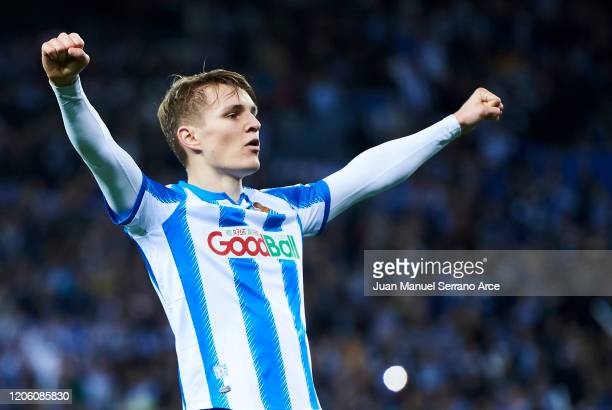 The 22-year-old Norwegian midfielder has joined an Arsenal side that pre-December was absolutely void of any creativity or guile in the middle of the park.
Having said that, the 'emergence' of Emile Smith-Rowe has served as a reminder of the outstanding crop of Hale End academy prospects that are pushing the Gunners' first team.
But the troubled injury past of the young English man along with the need for Arsenal to avoid burning the youngster out - Emile needs competition to push and improve himself whilst allowing the Croydon boy much needed rest at times.
Martin Ødegaard now comes into a Gunners side that has recouped 16 points out of a possible 18 on offer in the league; largely down to the industry of Smith-Rowe and an all round improvement in creativity.
For this reason, it may take some time for the Real Madrid man to break into the starting XI in the league.
But through the rumours he supposedly turned down both Real Sociedad and Tottenham Hotspur; one would assume he has been promised a fairly decent amount of game time at the Emirates for the remainder of this season.
Moreover, with the somewhat shock exit at the hands of Southampton in the FA Cup due to some pretty weak performances from some of those players in the squad on the sidelines - Ødegaard provides more quality options going forward.
What to expect
Moving on from logistics of the move and looking into the qualities Ødegaard will bring to the Arsenal side it is easy to see why he attracted so many suitors this month.
Last season at Spanish league outfit Real Sociedad we caught a glimpse at Martin's first real full season in top-flight football. In 31 league games for the northern Spanish side he registered 4 goals and 6 assists taking his team to Europa League qualification.
But also, notching three goals and three assists as he carried his side to a Copa Del Rey final - including a man of the match performance at the Bernabeu against his parent club.
These stats alone may not get Arsenal fans off their seats alone but as a 21 year old last season he sat comfortably amongst the top five Under-21 players in terms of expected assists and chances created - along with the likes of Trent Alexander-Arnold, Jadon Sancho and Kylian Mbappé to name but a few.
But more than this he has great progressive passing coupled with a really high carry and dribbling volume whilst also being a very effective presser; forcing a high number of turnovers per 90 minutes.
Where will he play?
These are all things Arsenal fans will be happy to see. We have seen through Mikel Arteta's treatment of the enigma Mesut Özil and Smith-Rowe's energy that the Spaniard demands athleticism and industry along with vision and technique in that number 10.
But despite his ability at number 10, one would be silly to just expect to see Martin play solely that one position. In his young but expansive career we have seen him play a number of positions to a high level.
At Sociedad we saw him play on the right-side of midfield where he liked to cut in on his stronger left foot and pick out diagonals or underlapping runs.
But also in games for the Spanish side you would see him crop up on the left of midfield too as he looked for space to attack between the oppositions midfield and defence such is his intelligence and spacial awareness.
Along with that even; was Mikel's interesting press conference answer talking about the new signing being able to play number eight too.
Possibly hinting at a situation where the Norwegian could partner Arsenal's Ghanian Thomas Partey in a deeper role, not with standing Emile Smith-Rowe's role as the number 10.
An interesting proposition for if and when Arsenal face low blocks at the Emirates - which even with the talented Smith-Rowe they have struggled to break down. Ødegaard would offer a bit more cuteness in his attacking ability to be able to pick a pass to break the block.
Patience but hope
These are things expected of the Norway international as he joins an Arsenal side on the up.
At 22 years of age and on his 4th successive loan, we are in no place to expect the finished article - but what we can expect is that little added quality in the final third.
He is still a young player; although making his full debut for Real Madrid at 16 he has been around for some time. He has achieved 25 caps for the Norway international side so has some pedigree too.
Whilst I would caution the fanbase to give him some time to settle, I would also suggest to be excited because albeit only a six month loan, Ødegaard could really help Arsenal have a successful end to the season.