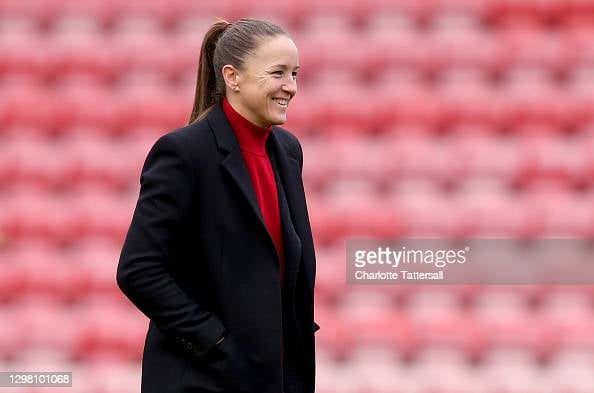 Casey Stoney knows that her side cannot afford to lose another match should they want to keep up with Chelsea at the top of the Women's Super League. Everton have recruited smartly this transfer window with the additions of Jill Scott and Alisha Lehmann on loan for the rest of the season.
Manchester United have come out with wins in both previous meetings against Everton, but the Toffees have got the better of Stoney's side in December for the Continental Tyres Cup with a 1-0 win.
"It's a game we want to win. They've got a squad capable of competing, I know their manager very well and I think it will be a very difficult game for us," said Stoney.
"They started very brightly, took a lot of results early on. They pose a threat, I know they'll have their squad back and fit, and I know they've had injuries to key players.
"Jill Scott definitely strengthens them in terms of experience and what she give to their team. We have to be at the very best of our game to make sure we can get all three points."
Tobin Heath will be out for 10-12 weeks with an ankle injury, a huge loss for Stoney. The American international has scored four in seven starts for United and has been crucial to Stoney;
"She is a big player for us so it's a big loss, and it's disappointing for her. It's part of the game but, as with all injuries, I always say, it's a window of opportunity for somebody else
"But she's still heavily influential in our environment. We will work hard to get her back as safe and as quickly as possible."
Martha Harris will be unavailable this weekend after sustaining a rib injury against Birmingham City.
United's latest signing, Maria Thorisdottir, has been "showing her strengths in training," said the Red's boss.
"She's a quality player and adapted really well to the way we play. When the moment is right she will get her opportunity."
Thorisdottir is a centre back and we could potentially see Amy Turner back at right-back and Ona Batlle return to her natural left-back position.
When asked about potential new positioning on the pitch Stoney just chuckled and said; "I can't say that ahead of Sunday."
Two concussion substitutes will be introduced in the FA WSL, FA Women's Championship, Premier League and the FA Cup as of February 7.
These will be two subs in addition to the five available in the WSL at the moment and Stoney can only see it "as a positive to the game."
"It makes decisions easier for the medical and coaching staff. You've seen it before when players have been put back on unnecessarily. It also takes that doubt out of your head to make the subs.
"If you do get a concussion there is no excuse it's about player welfare and it's the right decision."
United were fairly quiet this transfer window with just one in and one out. Lotta Ökvist returned to Sweden with Kopparbergs/Göteborg FC and Thorisdottir arrived in Manchester from title rivals, Chelsea.
In total, there were eight loan moves between WSL and Women's Championship clubs. With Brexit coming into play, there are tighter restrictions to bring players in from abroad. Players have to be a certain age, have represented their senior national team and have played top-flight football to automatically get a GBE.
"Obviously [Brexit] has an impact on our game especially when we're trying to bring in young players and young talent from overseas. It will be a lot more difficult," explained Stoney.
"I thought there was more move in this January [transfer window] than I've seen for a while. There will be an element to be forced to do that, the top clubs with more budgets will be able to go buy the more established players that have got the caps and the criteria to come over.
"You're not going to be able to find many diamonds in the rough anymore. In terms of unearthing that young talent that haven't got senior caps, haven't played in the top teams. If the transfer window was now, we wouldn't have been able to bring Ivana Fuso in.
"You might miss out on those younger players, but hopefully it will encourage clubs to invest in their British talent. I think you will see more loans in the league now, but if we want the best league in the world you want to attract the best players too."
Ivana Fuso was signed in the summer transfer window, but has failed to feature consistently for United after a long-term injury picked up at the start of the season.
Finally back to full fitness, the 19-year-old Brazilian born striker has been called up to the Brazilian national team for the first time after having represented Germany at youth levels.
Stoney mentioned she spoke to Ivana Fuso about her first call-up and her choice to join the Brazilian national team for the SheBelievesCup.
"Does she want to go? Yes, she wants to explore that opportunity she wants to go and see what the Brazil set up is like. And what an opportunity at a SheBelievesCup against top opposition.
"She's showing her potential, I signed her on potential I didn't sign her because she was an established player. If you look at how young she was, the club she played for. The talent we saw and the potential she's got, we're seeing it in training."
Previous to United, Fuso was playing in Switzerland for FC Basel and prior to that, SC Freiburg. At signing, she was at just 16 caps in professional football and none for a senior national team.
"She's still growing in this team and in the league, but I'm seeing her grow confidence. Coming from Basel to Man United is a huge move for any player, to then come to the WSL which is a tougher league," said Stoney.
"You need to give time for the players to development in your own environment. Get to know your style, your culture and philosophy. And grow confidence bring in their style and their individual qualities into the team and she's starting to do that now."
Prior to starting her managerial career, Stoney managed to play 11 years alongside Jill Scott with England.
Scott joined Everton on loan from Manchester City wanting to get more game time ahead of the Team GB selection.
"I always like to speak about her character first and what an amazing person she is," said Stoney.
"Jill has the ability to light up any room she walks in. She has an unbelievable mentality in terms of developing her game and the way I've seen her grow from the player that was at Sunderland to Everton.
"I think Man City was the making of her, in terms of her game understanding. Playing against her is annoying because she manages to get her long legs everywhere and break the game up. The intelligence she has now when she plays, she knows her strengths and she plays to them.
"She brings energy to any team and changing room. Everton have done a great job signing her."